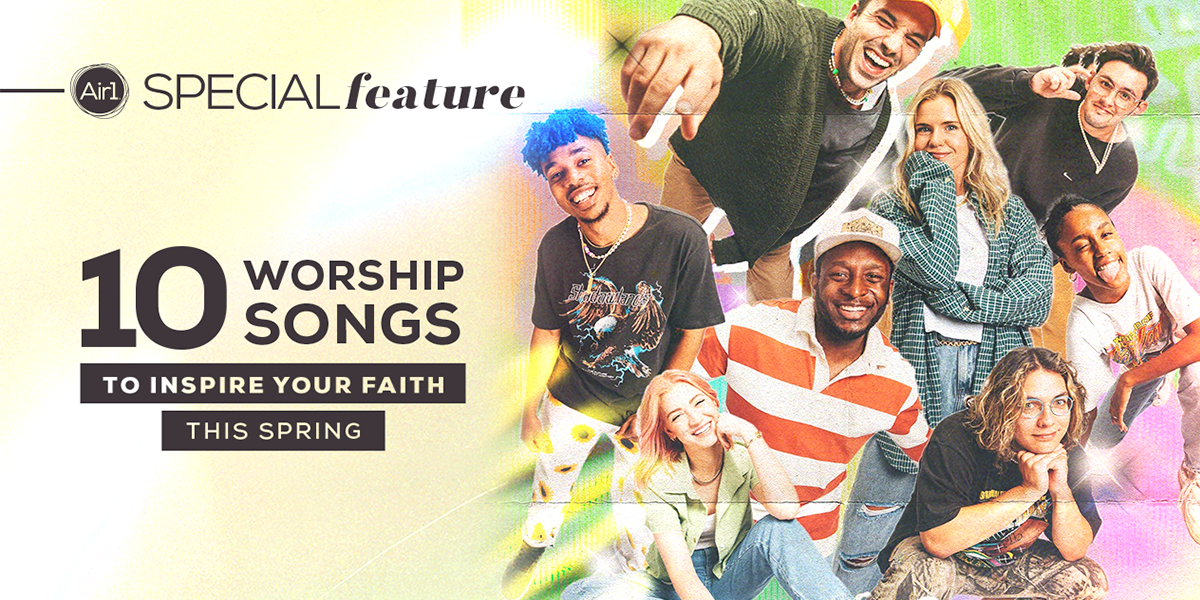 As winter fades and the world around us begins to awaken, we are reminded of the beauty of new beginnings. Spring is a time of transformation, growth and renewal, and it is the perfect season to strengthen our faith and deepen our relationship with God. Here is a list of ten worship songs that speak to the beauty and restoration of God's creation and offer a source of spiritual nourishment for all who listen.
---
1. "Easy To Praise"
RELATED CONTENT: Air1 Exclusive: Patrick Mayberry's "Easy to Praise" Music Video
It's like an effortless Sunday in spring where the sun is shining, the windows are rolled down, and the music is hitting just right. It's like your favorite home cooked meal after a long day at work. It's the feeling that all is right and the world is at peace for just a moment, and we can rest. This is the effortless, groovy feeling @Patrick Mayberry showcases in his latest song "Easy to Praise".
---
2. "That's The Thing About Praise"
RELATED CONTENT: Benjamin William Hastings & Blessing Offor Endure Using a Hallelujah in "That's The Thing About Praise"
When we pray, we pour out our hearts' deepest desires and dreams to God, knowing that it all relies on Him to make them a reality. Sometimes, though, our prayers are answered, but they are drastically different from how we thought they would be. In "That's The Thing About Praise," @Benjamin William Hastings & Blessing Offor bring us this difficult truth, reminding us that sometimes the only way to get through a difficult and undesirable situation is to send up a hallelujah.
---
3. "First Things First"
RELATED CONTENT: Consumed by Fire Confronts the Absence of Earthly Desire in "First Things First"
Every day, we see advertisements and promotions that seek to help people find what they want and learn where and how to get it, but it is rare for anything to truly satisfy. This world consistently stokes the flame of our desire for temporary things that will leave us feeling empty in the end. But the thought of losing these desires and aspirations can be daunting. These desires have become such a big part of our lives that we might fear to live without them. In "First Things First," @Consumed by Fire explores what remains when we surrender our earthly aspirations to God.
---
4. "This is Our God"
RELATED CONTENT: Phil Wickham Preaches to His Own Soul on "This Is Our God"
Singer, songwriter and worship leader @Phil Wickham declares the hope and promise of the one true King with "This Is Our God." Penned by an all-star cast of songwriters that includes Wickham, @Brandon Lake, @Pat Barrett and Steven Furtick, "This Is Our God" is the lead single from Wickham's highly anticipated new studio album arriving later this year. "This Is Our God" is an invitation to recall God's faithfulness in the past so that we can trust His faithfulness in the future.
---
5. "You've Already Won"
RELATED CONTENT: Shane & Shane in "You've Already Won"
The stories of the past help us have faith for the future. When we fall on hard times, we can bolster our faith by running back to the times that God has made miracles happen. Throughout the Bible, as well as our own lives, there are many examples of times where God has worked in strange ways to bring something amazing out of a difficult situation. In "You've Already Won," @Shane & Shane give us a wonderful reminder of the way that God has already assured us a victory. We may not understand why everything happens the way it does, but we know that the end of the story will be a good one.
---
6. "Live Up To Your Name"
RELATED CONTENT: Danny Gokey Imparts the Purpose of God's Names in "Live Up To Your Name"
We call God by many names, but these monikers do not have a real purpose if we do not understand their meanings. The various names of God direct us toward different qualities that God embodies, which can deepen our understanding of His character. @Danny Gokey's "Live Up To Your Name" reveals the truth that God's different names can directly affect our faith simply by knowing them, and give us a new way to praise Him. God's names reveal Him as our Healer, our Mighty God, our Good Father, and much more.
---
7. "Holy Forever"
RELATED CONTENT: Chris Tomlin Calls Us to Sing the Song of Ages in "Holy Forever"
It is amazing to think that the same kind of praise we lift up to God today is the same kind of praise that the heroes of the Bible proclaimed to God so long ago. Though the words and melodies may be different, the spirit of our worship to Christ remains the same yesterday, today, and forever. For eternity in heaven, we will join the songs of the angels, the saints before us, and the saints to come. In "Holy Forever," @Chris Tomlin reminds us of this fact, shifting our perspectives on our worship of God. On that glorious day in heaven, we will sing with a thousand generations, all lifting the same sound of praise to God. This is an encouraging and inspiring reminder of the day of our coming victory with Christ.
---
8. "I Believe It (The Life of Jesus)"
RELATED CONTENT: Jon Reddick Raises a Shout of Simple Belief in "I Believe It (The Life Of Jesus)"
With all of the eloquent and elegant ways that people in today's songs present their faith, we can start to feel like a simple, honest declaration of faith is not enough. Not all of us are poetic enough to craft a groundbreaking and fully original faith statement, but that does not mean that our proclamation of belief is any less powerful. In "I Believe It (The Life Of Jesus)," @Jon Reddick provides us with a straightforward, yet profoundly effective anthem for declaring our faith in Christ. Through this song, Reddick shows us that a simple statement can affirm our faith just as much as a complex one, as long as it is genuine.
---
9. "In The Room"
RELATED CONTENT: Matt Maher and Chris Brown Declare Desire to Witness a Miracle With "In The Room"
Many of us have dreamt of being there when Jesus worked miracles and healed people of their maladies. How amazing it must have been to witness such amazing feats of God's power at work in the lives of the people of that day. In @Matt Maher and Chris Brown's "In The Room," we are reminded that we can still witness miracles today. Jesus still invites us into the process, allowing us to be in the room when the people around us experience miracles of many kinds.
---
10. "Everything U Do"
RELATED CONTENT: River Valley AGES Proclaims God's Firm Foundation in "Everything U Do"
Storms seem to come often in life. Wind rushes heavily and threatens to knock us down. Without an anchor to keep us in place, we can find ourselves swept out into the wild, our hearts left adrift in a vast sea of uncertainty. In "Everything U Do," @River Valley AGES declares the way that we would be lost without Jesus, affirming their steadfast love for Him. With a rock sound that brings energy and life to their praise, River Valley AGES provides us with an anthem for our devotion to God and everything He does.