Posted on Monday, Jul 05, 2021 by Air1 Staff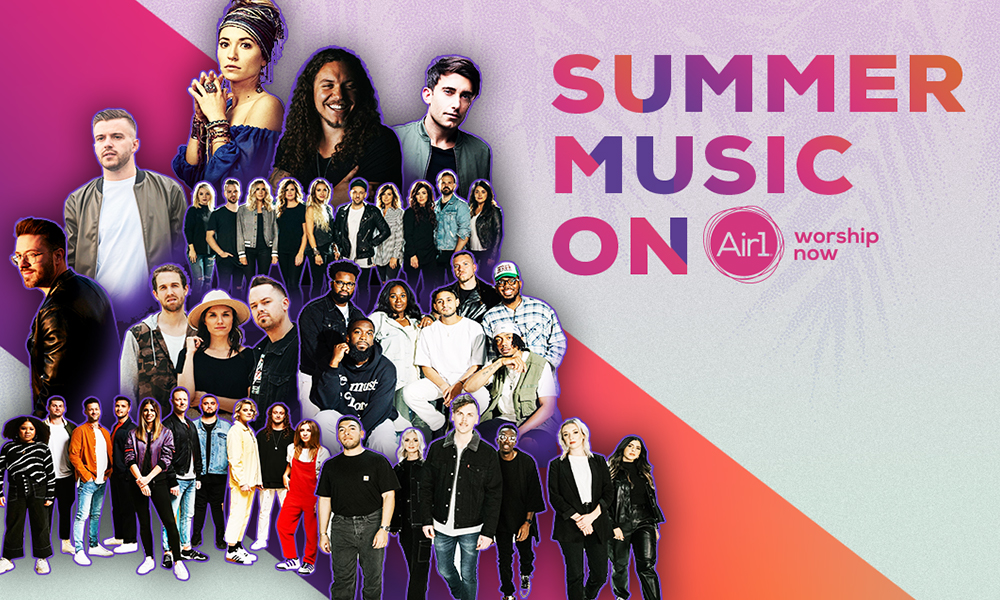 It's officially summer! While temperatures rise across the country to record highs, we've got a fresh list of hot new music to kickoff the season. These songs, now playing on Air1, will have you crying, praying, dancing, and delivering a new promise to yourself and to God. Turn up the speakers with these 10 songs and share it with friends and family who are in need of a little saving grace through song!
---
1. Brandon Lake's "Gratitude"
@Brandon Lake's new release of "Gratitude" will give you goosebumps with its soft melody and slow climb. You'll be singing Hallelujah at the top of your lungs as you listen to this deep love song for our Lord and Savior Jesus Christ as you shower Him with your gratitude.
RELATED CONTENT: "Gratitude" by Brandon Lake
---
2. Maverick City Music's "Move Your Heart"
The steady climb and faint flutter in @Maverick City Music's tone will truly move you as you listen to the blend of voices and pure gospel as they sing praise to the lord this song "Move Your Heart."
RELATED CONTENT: "Move Your Heart" by Maverick City Music (feat. Dante Bowe & Elyssa Smith)
---
3. Elevation Worship's "Jireh"
Jireh, literally meaning "The Lord Provides," is another chilling performance by @Elevation Worship featuring @Maverick City Music. The song begins at the piano, but soon accompanied by everyone else in the room as they rise up and create a powerful choir feel. This song is about guiding you. It is about lifting your spirit up, and reminding you that YOU are enough!
RELATED CONTENT: "Jireh" by Elevation Worship (Feat. Maverick City Music)
---
4. Maverick City Music's "Rest on Us"
@Maverick City Music does it again with their song "Rest On Us." This song will make you feel blessed in ways you cannot explain. It will have the broken crying and the lost praying as you'll feel the spirit move over you. It will make you want to free dance while connecting you back to the beautiful elements of nature, and it will fill your soul with emotion. You will channel God through this song as it truly draws you closer to Him.
RELATED CONTENT: "Rest On Us" by Maverick City Music
---
5. Phil Wickham's "House Of The Lord"
God has a plan, trust his process. @Phil Wickham will have you on your feet jumping with praise and feeling closer to God in his new song "House of the Lord." This song will encourage you to push through all your ups and downs and remind you to worship the almighty creator and King.
RELATED CONTENT: "House of the Lord" by Phil Wickham
---
6. Maverick City Music's "Promises"
God is faithful in his pledge in @Maverick City Music's song Promises. He never fails us, He gives us challenges and tests us, but His faithfulness is everlasting and never runs out. This song preaches to never give up, never get discouraged when the storms come, to remain steadfast as God will never let you down.
RELATED CONTENT: "Promises" by Maverick City Music
---
7. Evan Craft's "Be Alright" feat. Danny Gokey
Simple acoustics and three harmonious voices will have you singing in Spanish in no time in @Evan Craft's song "Be Alright" featuring @Danny Gokey and Redimi2. This song radiates and reinstates that He will catch every tear, be with you through every step of your journey, and remind us that everything will be alright because He has the whole world in His hands.
RELATED CONTENT: "Be Alright" by Evan Craft feat. Danny Gokey and Redimi2
---
8. Lauren Daigle's "Hold on to Me"
@Lauren Daigle's song "Hold on to Me," has the sound of prayer as it asks you call out to God. Daigle reminds us to trust Him as he will hold on to us in the best of times and in the darkest of nights. For those of you struggling that can relate to Daigle as she pours her testimony into this song, remember to never give up as he will always deliver.
RELATED CONTENT: "Hold On To Me" by Lauren Daigle
---
9. Brooke Ligertwood's "Fresh Wind" feat. David Ware
@Brooke Ligertwood's soft melody is another song about prayer. Praying that He would breathe a fresh wind of hope, of revival, and of strength, which is something we could all use right about now. This song shows us the way and reminds us that he will guide you to you to your destiny and reclaim his disciples as he lifts us all back up from the depths of despair.
RELATED CONTENT: "Fresh Wind" by Hillsong Worship
---
10. The Belonging Co's "Every Victory" feat. Danny Gokey
@The Belonging Co and @Danny Gokey team up in their song "Every Victory," an anthem for every believer to sing and celebrate Him. Stand up and worship...every victory is yours, he will heal your brokenness and rebuild your strength. The only fight worth facing is the one that continues to believe.
RELATED CONTENT: "Every Victory" by The Belonging Co. (Feat. Danny Gokey)
---
I know we said 10 songs, but why not throw in a bonus track and make a solid 11 songs for that Summer playlist!
11. NONAH's "Jump"
One guitar and 3 incredible voices bring together this beautiful acoustic harmony that will uplift the spirits of God's people as you listen to @NONAH's new song "Jump." The lyrics "Meet him in the freefall, He is faithful, He will rescue you" perfectly iterates all that needs to be said about this song as it leaves you wanting to jump back into His arms as he will always be forever faithful.
RELATED CONTENT: "Jump" by NONAH