Posted on Monday, Dec 27, 2021 by Katie Clinebell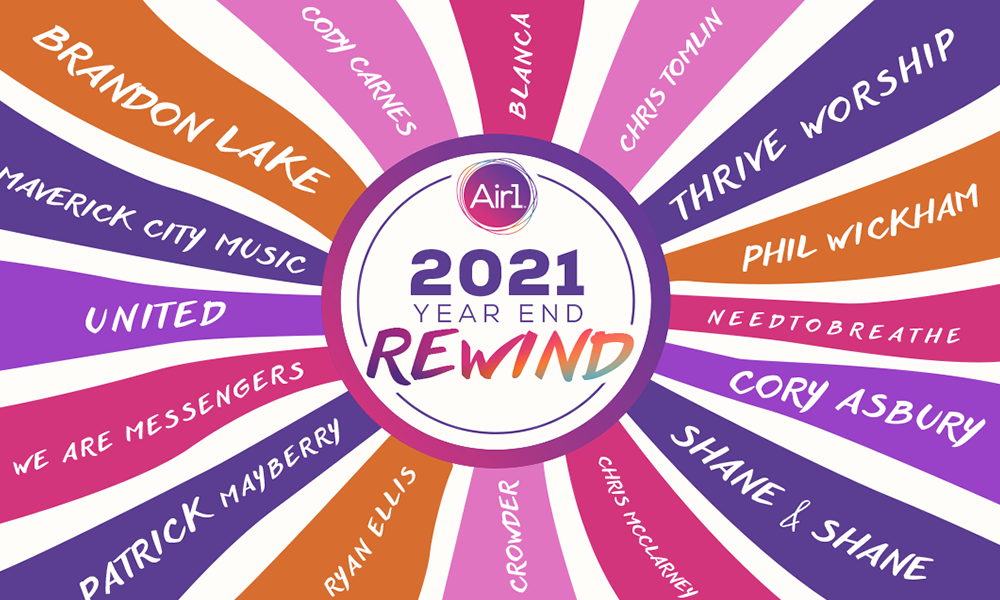 As this year has seen change happen like no other, God has continued to move and change things in His children as well. God has worked through some of our favorite bands and worship collectives throughout the year to bring us closer to Him and remind us of His unchanging and never-ending grace. No matter what may be changing around us, we can always be reminded of God's love for us year after year, and 2021 hasn't really changed at all in this regard.
So, before the final countdown to the new year begins, join us as we count down with some of Air1's favorites from 2021.
---
21. "Look What You've Done"
by Tasha Layton
We've all done things that we are not proud of. Each of us has fallen down and made our own mistakes, and many of us tend to be hard on ourselves when we fail. In "Look What You've Done," @Tasha Layton reminds us that we should not be focusing on our failures. Instead, we should focus on the redemption that Christ has given us from those failures. Through this beating anthem of grace, Layton reminds us that our failures have been washed away, and turns our eyes back to Christ and His redeeming love.
---
20. "Promises"
by Maverick City Music (feat. Joe L. Barnes & Naomi Raine)
Every now and then, we can forget the amazing assurances that God gives us. When we lose sight of God's guarantees, we can forget just how faithful God is to us. "Promises" reminds us that God is always faithful and never changes, even if our surroundings might. The powerful voices of Naomi Raine and Joe L. Barnes rise up, along with a choir of God's committed followers to help us remember that God will never let us down from the rising to the setting of the sun.
---
19. "Gratitude"
by Brandon Lake
In "Gratitude," @Brandon Lake brings a humble hallelujah to God. Lake begins his song softly by gently playing on his guitar, and gradually builds with the rest of the worship team to bring about a growing and genuine ballad of praise. This song shows us that our praise matters to God as long as it is genuine and real. When we praise, we do not need to have a microphone, or be the loudest voice in the room for God to receive it and be pleased.
---
18. "Even at My Worst"
by Blanca
Through our failures and our struggles, it can be easy to feel like God is disappointed in us, but in "Even at My Worst," @Blanca reminds us that God continues to give us things we do not deserve, even with all our flaws and faults. Blanca's unique voice lends itself well to this modern hit that reminds us that we are always beautiful to God. We will not be perfect until we reach the gates of Heaven, but when we make mistakes, we can follow Blanca's lesson, and rest in the grace of God; standing strong again and continuing to do his will.
---
17. "Faithful"
by Erik Nieder
One of the most amazing things about God is that He remains committed to us even if we forsake Him. Just like the story of Jonah, we can run the other way, and God will still love us and be there for us, ready to get our hearts back on course. With a classic worship sound, @Erik Nieder's "Faithful" brings us back to a humble trust in God, declaring that even when we doubt, and even when our faith wanes, God remains faithful and true to the end.
---
16. "Pour Your Spirit Out"
by Thrive Worship
Sometimes our situations can seem hopeless, with no end in sight. "Pour Your Spirit Out," one of this year's best worship anthems, brings us hope and recalls the stories of Lazarus' resurrection and Paul and Silas being freed from their prison while worshiping. @Thrive Worship shows us that, just like these incredible stories, God can change whatever situations we may find ourselves in as well.
---
15. "I See You"
by Chris Tomlin & Brandon Lake
Brandon Lake shares his second entry on this year's list of songs with @Chris Tomlin as they team up for "I See You", each lending their iconic voices to different verses of the song and ultimately joining together as the song reaches its peak. These seasoned worship veterans bring us a bright and poppy reminder that God can be felt in every moment of life. In the good and the bad, Tomlin and Lake show us what it looks like to see God in every circumstance.
---
14. "House of the Lord"
by Phil Wickham
In @Phil Wickham's electric and bold proclamation of worship, "House of the Lord", Wickham shouts out the never-ending joy of the Lord in the never-ending house of the Lord. Wickham unapologetically declares that the church "won't be quiet" in their praise and love of God.
---
13. "God You Are"
by We Are Messengers
There are too many qualities of God to describe in a single song. However, in "God You Are", @We Are Messengers describes many of God's best characteristics through His actions. In seeking out God's character, We Are Messengers implores us to look to the physical reminders of his actions, including the empty tomb, the rugged cross, and Jesus' scars. With a soulful melody and a steady beat, this song reminds us of just the kind of God He is in those moments where we may have forgotten.
---
12. "I Am Yours"
by NEEDTOBREATHE
In @NEEDTOBREATHE's "I Am Yours," we are powerfully reminded of not only God's grace and forgiveness, but also God's authentic and passionate love for us, his people. NEEDTOBREATHE uses a deep, gospel sound to tell us of the eternal love story that we find ourselves in as God pursues us, dances with us, and invites us to the table with Him. This song invokes a sense of amazement, reminding us of just how awe-inspiring it is that we are His, and He is ours.
---
11. "God Really Loves Us"
by Crowder (feat. MCM & Dante Bowe)
The Bluegrass, modern country aesthetic of @Crowder blends masterfully with the gospel-church choir sound of @Maverick City Music and @Dante Bowe in "God Really Loves Us". This song sings of the friendship and salvation that we can find in Jesus, bringing us back to the threefold relationship that we have with God. As Crowder, Maverick City Music, and Bowe sing out, He is our Father, Friend, and Savior.
---
10. "Homecoming"
by Cory Asbury (feat. Gable Price)
@Cory Asbury's triumphant rock-worship song, "homecoming," begins on a somber, repentant note, as Asbury confesses his knowledge of falling short and being "far from innocent". The song quickly turns, however, as the music swells and Asbury and Gable Price turn our attention to the future, where we will stand on the shores of paradise with our families, basking in Jesus' light and love. Never before has repentance had so much energized hope and wonder, as Asbury brings to mind images of roses rising from the ashes, and rivers, composed of tears of joy. We can only hope this song will be played during the day of our true, everlasting homecoming.
---
9. "In the House"
by Crowder
Crowder consistently keeps his newest releases fresh and exciting, as is the case with "In the House", a song that brings to the table a mix of Crowder's iconic banjo, as well as a hip-hop beat and a fast pace that brings out a sense of modernity. "In the House" has a unique and accessible sound that encourages newcomers to bring whatever they're carrying through life into God's house. Whether it's been a tough day or a tough year, Crowder encourages everyone to bring their heartaches and their burdens into the house of the Lord, where they can find the energy to sing a hallelujah.
---
8. "Living Water"
by Shane & Shane
@Shane & Shane bring a classic country sound to a new gospel song with "Living Water". The song begins by painting a picture of the thirst we have without God, drinking water that only ever leaves us thirsty again. However, Shane & Shane call to God, asking him to give us the water that will "saturate" our innermost being. As a choir of voices joins into the tune, Shane & Shane declare that they can never have enough of God's love, just like we can never have enough of this gospel hit!
---
7. "Heart of the Father"
by Ryan Ellis
@Ryan Ellis' hit, "Heart of the Father", sends praise out to God through a Christian-rock anthem that emphasizes the connection between Jesus, the Holy Spirit, and God the Father. Ellis shows how the name of Jesus and the power of the Holy Spirit both point back to the inner character of the Father himself. This song reminds us to rest in the safety and security of God's arms, leaning into his power for our strength, as we interact every day with the name of Jesus, the power of the Spirit, and the heart of the Father.
---
6. "Speak to the Mountains"
by Chris McClarney
We have all had difficult battles, and faced odds that we weren't sure we could overcome. In @Chris McClarney's song, "Speak to the Mountains", we are reminded that God has the power to move our mountains because he is "bigger, better, stronger, greater". This gospel song powers up with the voices of a church choir, becoming a bigger, better, stronger, and greater anthem for overcoming whatever battles or problems we might be facing in our lives.
---
5. "Holy Spirit Come"
by Patrick Mayberry
In "Holy Spirit Come," @Patrick Mayberry quickly amps up, building the energy of his call to God with electric guitars and a rocking worship sound that is sure to fill a room with joy and praise. This song is perfect for preparing to see God's will be done, such as before a church service or even at the beginning of one. Mayberry's lyrics perfectly encapsulate the excitement of waiting to see God's Spirit move and His power be shown.
---
4. "Come What May"
by We Are Messengers
While many songs approach sorrow and hardship as obstacles to be overcome or worked through, We Are Messengers recognize that "sometimes sorrow is the door to peace", viewing their struggles and trials as a welcome part of the journey in "Come What May". The song quickly shifts gears into a defiant riff against our difficulties. Instead of being disheartened or dismayed when trouble comes, We Are Messengers express their trust in God through the song, reiterating that He is our Shepherd who makes us lie down in green pastures.
---
3. "Know You Will"
by UNITED
@UNITED's purpose for "Know You Will" is to "provide an anthem of hope for uncertain times", and that mission has certainly been completed. UNITED brings their own unique and attention-grabbing sound that sticks in your head and makes you want to praise. In this song, UNITED also includes many references to Old Testament events, such as the great flood of Noah, the garden of Eden, and the Israelites crossing the Jordan river, tying all of these classic stories back into the principle that God makes a way, even when we can't see a way. UNITED encourages us to sing along in faith and proclaim that we know He will, even when we don't know how He will.
---
2. "Wait on You (feat. Dante Bowe & Chandler Moore)"
by Elevation Worship & Maverick City Music
Taking the Silver Medal in our list today is @Elevation Worship & Maverick City Music's "Wait on You", a powerful worship ballad that encourages us to wait for the breakthrough to come with patience, having faith in those moments of waiting. The song begins, stating "I don't believe in fairy-tales" and transitions to show that there are still some things worth believing in. Such as those times when the doctor says it is impossible, yet God makes it possible. It is never truly over with God, and Elevation Worship & Maverick City Music have given us a powerful anthem to keep us satisfied during the waiting.
However, you don't have to wait much longer for one of Air1's favorite songs of 2021:
---
1. "Too Good to Not Believe"
by Cody Carnes & Brandon Lake
The #1 spot on our list of 2021's best songs chooses to focus on what God has already done in the past, using those miracles as evidence of God's grace, and driving our faith in the present and the future. In "Too Good to Not Believe," @Cody Carnes & Brandon Lake collaborate to bring us a wonderful anthem of faith and trust, as they look back on some of the most amazing miracles that have been seen, and use it to inform their faith about what is still to come. Carnes and Lake finish out the year, journeying into 2022, rebuking any claim that God is unable, and refusing to harbor disbelief as 2021 comes to a close.
---
Bonus: "Jireh (feat. Chandler Moore & Naomi Raine)"
by Elevation Worship & Maverick City Music
Of course, we couldn't make a list of 2021's songs without mentioning this one in some way: "Jireh", focusing on one of God's many names, shouts out that God is enough, encouraging contentment in every circumstance. Jireh, which means, the Lord will provide, is the perfect title for this song, which declares that not only is God enough for us, but that we are enough for God. Through an ensemble of voices, Elevation Worship and Maverick City Music have created one of the most noteworthy songs of the year, and this one should be remembered as we journey into the new year.
And there you have it! These are some of Air1's favorite songs from 2021. Whatever you may have needed this year, one or more of these songs might have helped you continue to trust in God through a difficult time this year, and could potentially do so again in the new year. Stay tuned to Air1 to hear the best songs from 2021 and beyond!