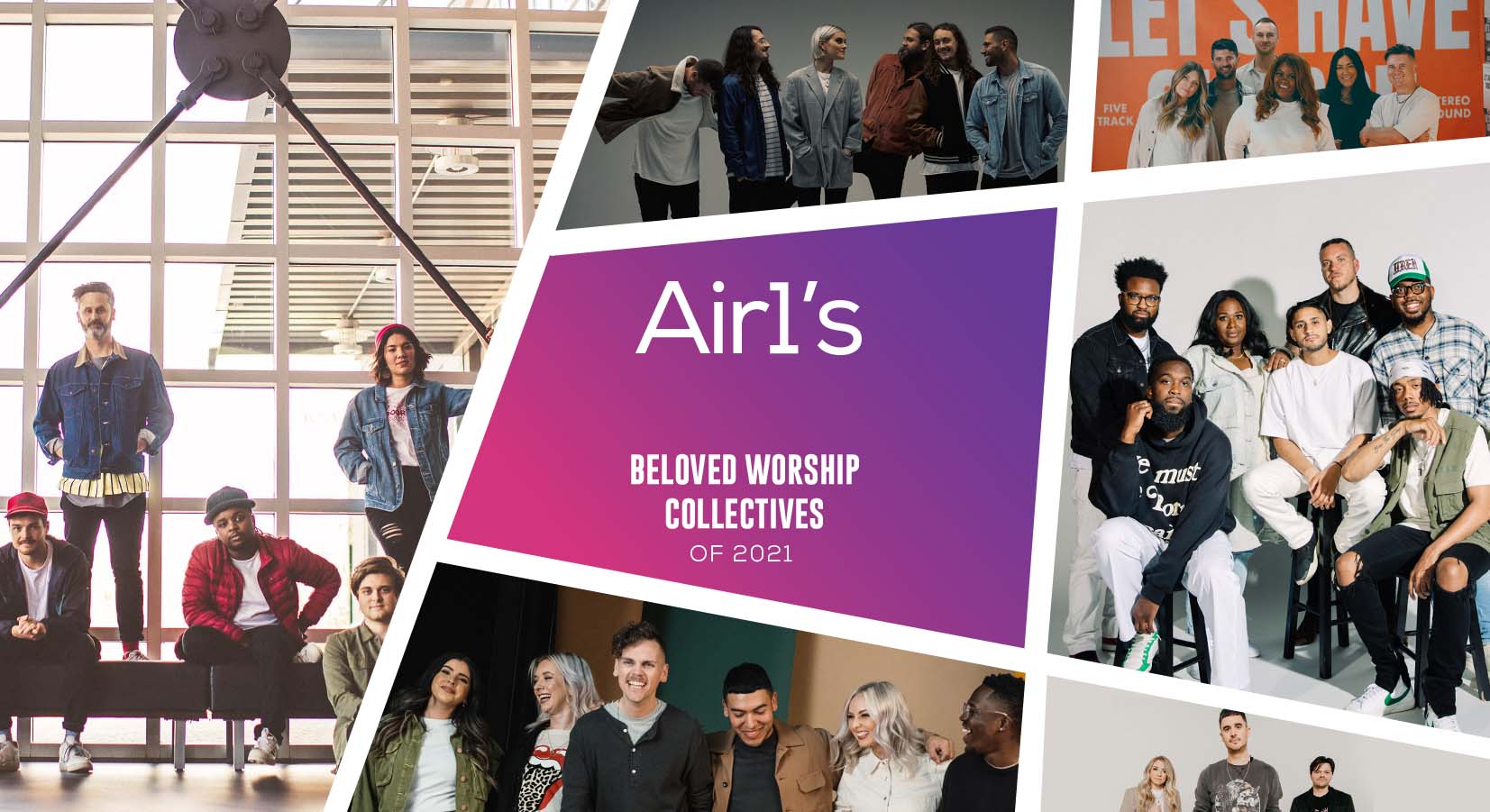 2021 brought many changes and an array of new situations to our lives, but one constant that we have relied on in these changing times is God's love and grace. When thinking back on all that has transpired throughout the last year, some may think fondly of the new and exciting changes that have been brought about, feeling confident about their start in the new year, while others might focus on the hardships and struggles that they will be leaving behind as they journey into 2022, hoping that this year will bring with it a fresh start. The end of 2021 brings with it a new beginning, as well as a chance to reflect on the past year and everything that has taken place over the turning of the last 12 calendar pages.
Throughout this unique year, we have been reminded of God's presence through worship music, as it has calmed our troubled souls and brought a sense of serenity in difficult times. Worship music can give us a way to express our joy and triumph on the mountaintops, as well as a way to surrender to God, as we begin climbing out of the valleys we can find ourselves in. As the year comes to a close, and the next adventure begins, this list can help you take some time to appreciate the worship collectives who have kept our spirits up throughout the year. These are Air1's 12 top-played worship collectives of 2021:
---
1. Maverick City Music
@Maverick City Music is a diverse group of worshippers, each coming together in unity to praise the name of Jesus and bring their listeners, "The beautiful harmony of long-lost family." This year, Maverick City has kept us going with songs such as, "Wait on You" and "Promises." Maverick City frequently collaborates with other worshippers such as @Crowder and @Elevation Worship in an effort to create the best worship possible. Maverick City's songs most frequently feature the voice talents of @Chandler David Moore, @Brandon Lake, and Naomi Raine among others. These members of Maverick City Music have continued to praise through the highs and lows of 2021 alike, such as Moore's marriage to Hannah Poole in June, the hospitalization of Lake's grandmother, and the celebration of Raine's 15th year of marriage to her husband, Jermaine Solomon.
---
2. Elevation Worship
Elevation Worship, the worship collective of Elevation Church, has brought some of 2021's most memorable songs, such as "Might Get Loud," "Jireh" and "Million Little Miracles". Elevation's talented members include Chris Brown, who often sings lead vocal while playing guitar. Brown often finds support from his wife and two children, while performing with fellow leading vocalists Tiffany Hammer Hudson and married couple, Jonsal Barrientes and Jenna Winder. Elevation Worship continues to proclaim that Jesus is enough, declaring, "I will be content in every circumstance".
---
3. United
Originally hailing from Sydney, Australia, @UNITED has carefully crafted numerous worship anthems that have allowed people in and out of the church to connect with Christ in a real way, and they continue to do so, with songs such as this year's "Know You Will." UNITED'S long-time members, Joel Houston, Taya Smith, and Jadwin "Jad" Gillies always bring an energy and a hope to their live audiences and radio listeners alike. Houston, UNITED's foremost songwriter and worship leader now lives in California with his wife and son, and continues to write UNITED's latest hits.
---
4. Thrive Worship
@Thrive Worship seeks to include every type of individual in their praise for the Savior, creating songs that seek to be accessible and moving for veteran churchgoers, as well as those who have never picked up a Bible. With this year's outings including "Pour Your Spirit Out" and "Let's Have Church," Thrive has sought to keep worship music fresh and exciting for everyone. Thrive's founding members, Corbin Phillips, Charmaine Wells, and Peter Burton want to promote the message that "the best is ahead," encouraging their listeners to walk into the new year with their heads held high.
---
5. North Point Worship
@North Point Worship was formed in 2012, at North Point Community Church, established by Andy Stanley, and has grown in their mission and vision ever since. For years, North Point has sought to bring worship to both English and Spanish-speaking believers, with songs such as "Death Was Arrested." Through worship music, North Point's worship leader, Brett Stanfill, brother to Passion vocalist Kristian Stanfill, seeks to bring hope to those who are struggling during a difficult time.
---
6. Passion
The @Passion movement, created by Louie and Shelley Giglio, has spawned some of the most memorable worship songs of the past decade, such as "Follow You Anywhere" and "There's Nothing Our God Can't Do." Passion's current lineup of headline members includes Kristian Stanfill, Melodie Malone, and Brett Younker, each providing their talents to different songs. The members of Passion consistently show their devotion to God, as well as their love for Louie and Shelley Giglio.
---
7. Jesus Culture
The band that has brought us instant worship staples including "Your Love Never Fails" continues to bring us new anthems of praise even in 2021. After releasing two @Jesus Culture albums in 2020, longtime Jesus Culture members, such as @Kim Walker-Smith, continue to spread their praise for Jesus in solo worship albums, such as Walker-Smith's recently released "Revival Nights Pt. 2," which features fellow Jesus Culture worshipper, @Chris McClarney. In-between recording sessions and concerts, Walker-Smith lives as a loving wife and mother to her three children.
---
8. Vertical Worship
@Vertical Worship uses multiple campuses to reach the world with their message of salvation through Christ, proclaiming that, "The Lord is our banner," and bringing us worship hits such as "Yes I Will" and "Spirit of the Living God." Judd Harris, lead vocalist of "Yes I Will" and "Faithful Now," has been worshipping on stage since his time as a member of Liberty University's worship collective, and has continued to bring glory to God through his daily life and through special moments where God has touched his heart.
---
9. Church of the City
The @Church of the City Worship Collective seeks to help Christians in their process of being formed into the image that God is molding them into. In this process of learning and discipleship, driven forward by worship leader @Jon Reddick, the Church of the City is an up-and-coming worship collective that has quickly gained momentum. Reddick's vocal talents can be heard in Church of the City's hits such as, "God Turn it Around" and "You Keep Hope Alive". When he is not on stage, Reddick spends much of his free time being a father to his "three kiddos". The Church of the City has also collaborated with Jesus Culture alumni, Chris McClarney to bring us songs such as, "Speak to the Mountains" and "Send Me".
---
10. The Belonging Co
The @The Belonging Co. began as a small church in Henry and Alex Seeley's basement as recently as 2014, but has already expanded to encompass services with thousands of attendants, an all-star worship team, and even their own dedicated college program. The worship that The Belonging Co. has brought us this year features the talents of some of the most talented worship leaders in recent years, such as @Kari Jobe and her husband @Cody Carnes, Natalie Grant, and Christian pop-singer, @Danny Gokey. The Belonging Co. 's founding pastor, Henry Seeley continues to act as lead pastor alongside his wife. Seeley's vocal talents can be heard on songs such as "War Cry," as he and the rest of The Belonging Co. seek to bring "Jesus over everything".
---
11. Red Rocks Worship
The mission and vision of Red Rocks Church is to "make Heaven more crowded," and this mission is being carried out by Red Rocks Church on multiple campuses, including satellite locations inside of several prisons. One method that Red Rocks Church has employed to fill up Heaven is through powerful and genuine worship of Christ with their worship collective, @Red Rocks Worship. Red Rocks Worship continues to bring us fresh and original worship songs that allow us to speak to God through a melody. Some of this year's songs from Red Rocks Worship include "The Battle is Yours" and "Things of Heaven". One of this collective's most prominent members, Jake Espy, equips Christians to lead worship and create new songs themselves, as he, along with his wife and daughters, seek to fill the seats at Heaven's tables.