Posted on Saturday, Dec 11, 2021 by Katie Clinebell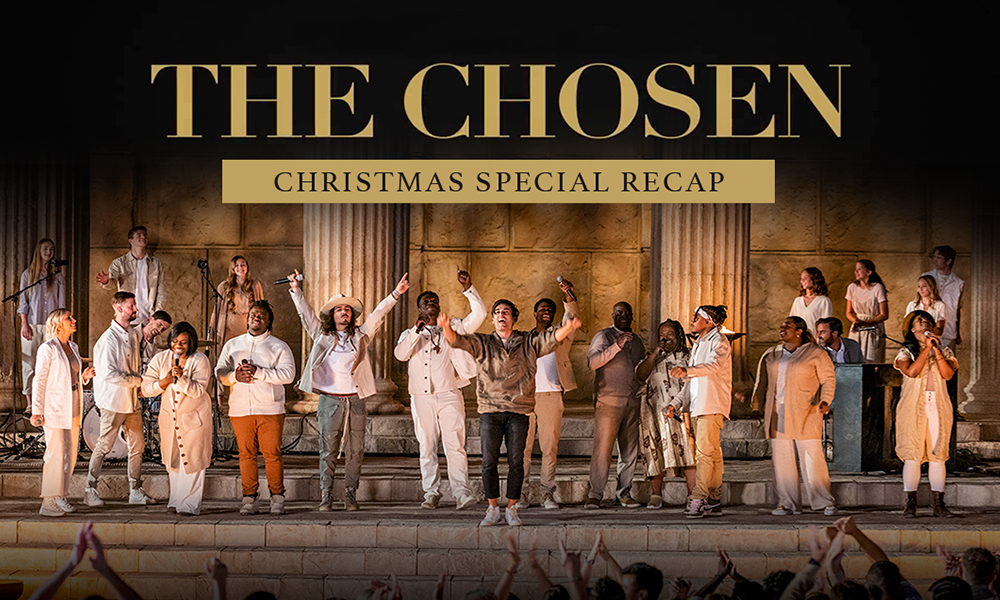 As the Christmas season approaches, we are reminded again of the Christmas story and the goodness of our Savior. His everlasting grace, his everyday new mercies. His relentless pursuit of us remains insatiable and proves as a constant reminder of the pure and unfiltered love he holds for his children. The Christmas story gives us a glimpse at his birth and is a unique one of faith and the fulfillment of God's promises. This season, The Chosen series brought the story to life for their audience in "Christmas with the Chosen: The Messengers". The film, which could be seen in theaters on December 2-12, follows Mary and Joseph as they make preparations for the birth of Jesus.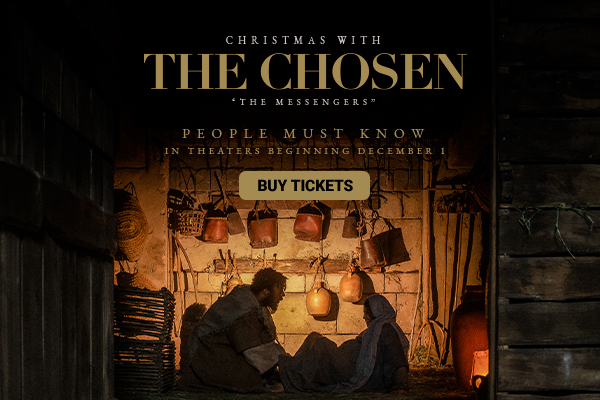 A fresh episode and newly introduced characters aren't the only elements that made Christmas with the Chosen a proven fan favorite. As with most memorable films, it's impossible to ignore the influence of a powerful soundtrack. The film soundtrack includes performances by Christian artists such as @We The Kingdom, @Phil Wickham, and @Brandon Lake, providing viewers with an effortless bridge to both spiritual connectivity and feelings of seasonal nostalgia. Read on as we take a closer look at what makes the songs such a meaningful addition to the film.
1. "Silent Night (Heavenly Peace)" by @We The Kingdom (featuring One Voice Children's Choir)
In this beautifully personalized version of a Christmas classic, We The Kingdom partners with Maverick City Worship and One Voice Children's Choir to combine the timeless lyrics of Silent Night with an original chorus encouraging listeners to find hope and peace in Jesus. The collaboration of keys and airy percussion create a slow and melodic pace, not lacking in power, that is sure to transport listeners back in time to the Christmas story and forward into the presence of God in their everyday lives.
2. "Angels We Have Heard On High" by @Phil Wickham
Listeners won't miss the piano at the start of Phil's version of this well-known Christmas carol. Although he makes no lyrical adjustments, musically, listeners have the pleasure of catching an acoustic guitar joined with the unique sounds of a synth bass and bells throughout. Rising notes leading into "Gloria" make the updated carol one to remember this holiday season.
3. "Go Tell It On The Mountain" by @for KING & COUNTRY
A brilliant mash up of for KING & COUNTRY and American Idol favorite Gabby Barrett create a stand out version of this bubbly Christmas tune. The band provides an organic sound while Gabby interjects an opportunity for listeners to experience an emotional response to an otherwise typically lighthearted carol. In addition to guitar and piano, a ukulele makes this version musically unique.
4. "Gratitude" by @Brandon Lake
What better time of the year to give thanks to God than the Christmas season? In "Gratitude" Brandon Lake leads listeners to remember their enthrallment of the King and humbly sing praises of gratitude. This one of a kind ballad, overwhelmed by Lake's powerhouse tenor and filled with a dynamic pairing of guitar and piano, is certain to impact the hearts of all who listen.
5. "Emmanuel (God With Us Forever)" by @Brian and Katie Torwalt
Led by the compelling vocals of Katie Torwalt, this emotionally climatic worship song reminds listeners of what God has done for us, His faithfulness, and His promise to never leave us. Minimal musically, the song ushers listeners into the presence of God with elegant piano and guitar riffs. Simple, engaging, powerful.
6. "What Child Is This?" By One Voice Children's Choir
This unique rendition begins with "Noel" and effortlessly moves into the classic lyrics of "What Child Is This" that we know and love. A noticeably slower pace provides listeners with a chance to absorb each lyric and musical transition while a wildly impressive integration of voices and instruments encourages a dramatic and holy listening experience.
7. "Hark! The Herald Angels Sing" by @Matt Maher
This English Christmas carol, originally written to celebrate the reconciliation of sinner to Christ and proclaim the good news of the Savior's birth, has always been one of joviality. Matt Maher's brings listeners into a folk-like experience with his version of the popular Christmas tune. True to its original intention, introductions of an accordion, violin, mandolin, and flute might just have audiences up and dancing.
8. "How Great Thou Art" by The Bonner Family
This eternal hymn has forever been one of hope. It reminds listeners of the majesty of God, the sacrifice of Jesus, and the promise of eternity in heaven. A strong percussional introduction and the symphonic voices of The Bonner Family add even more dynamism to this beautifully constructed, soulful rendition of a timeless hymn.
9. "Wonderful" by @CAIN
From a seat at the holiday table to the foot of the cross, this six-song EP manages to eloquently remind listeners of the true reasons for celebrating Christmas. Euphonic male and female vocals surround an instrumental assemblage of bass and acoustic guitar, keys, and percussion elements that are sure to captivate any audience.
10. "Breath of Heaven" by @Leanna Crawford
Breath of Heaven walks through a prayer so many pray, one for mercy, guidance, and strength. Written from the perspective of Mary, the mother of Jesus, this song provides listeners with a look at Christ's birth through Mary's eyes. Including a dramatic introduction inviting listeners onto Mary's journey, Leanna has created a beautiful version of the well known Christmas song originally sung by Amy Grant.
11. "Joy to the World (Joyful, Joyful)" by Phil Wickhan, Bryan and Katie Torwalt, @Maverick City Music, The Bonner Family, One Voice Children's Choir, @Jordan Feliz
This light and airy carol is a declaration of what God has done and what he continues to do. He brings light into the darkest places and creates rivers in the wasteland. "Joy to the World" is a song of joy, gratitude, and adoration for the Savior. This rendition, featuring a collab like this carol's never seen before, will most certainly bring overflowing joy to audiences this Christmas season.
12. "O Come O Come Emmanuel" by Dawson Hollow
True to its nature, this indie folk rock band created an urgent rendition of this holiday classic filled with undeniable energy. The surfer themed rhythm and twangy instrumentation bring lowkey California energy to this classic Christmas anthem. With a chorus that encourages listeners to rejoice in the coming of Emmanuel, Dawson Hollow meets listeners in a place of easy listening that quickly resounds with jubilant celebration.
The Christmas Chosen Soundtrack can be purchased in CD form HERE and the songs listed above are available now for streaming on Spotify and Apple Music.