Posted on Monday, May 30, 2022 by Katie Clinebell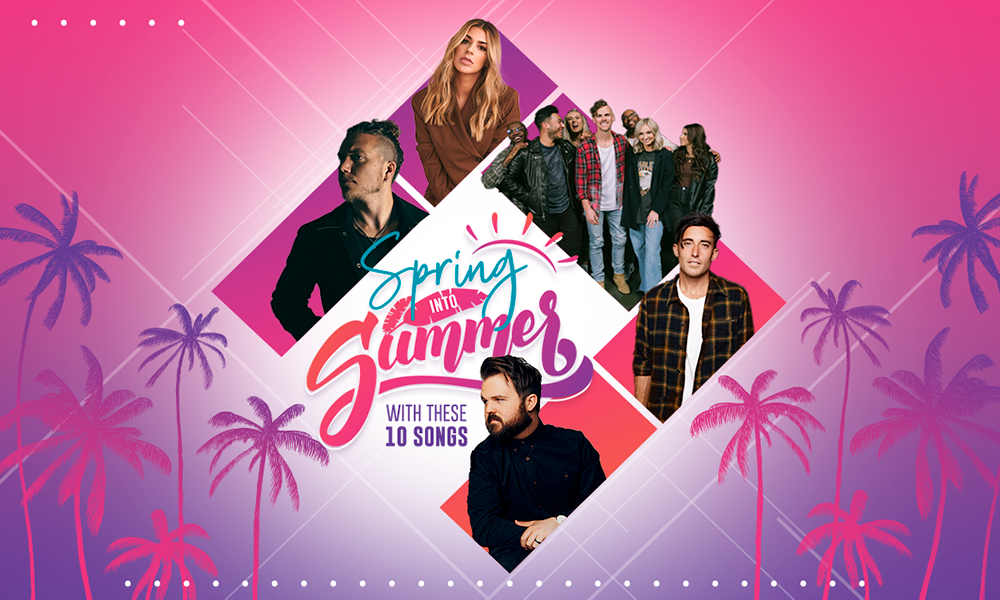 The seasons are changing, and we are trading in our winter coats for our bathing suits once more. With the weather getting warmer, we need to constantly be warming our souls with Jesus' praise as well. As the seasons shift, so too will our lives. God has provided us with many inspiring songs to keep our hearts and our minds on the things of Heaven through the coming seasons. We've selected 10 songs that you can use as a soundtrack for this summer. As you journey into the summer fun to come, you can keep these worship songs on repeat to brighten your day and keep the faith through the fun!

"Honey In The Rock" by Brooke Ligertwood & Brandon Lake
This song goes down as smooth as the honey it refers to. With a new summer comes another reminder that God keeps blessings flowing to us. Everything we need is in Him. @Brooke Ligertwood and @Brandon Lake's vocals make an excellent pairing, bringing joy and fullness to the praise that "Honey In The Rock" proclaims. Through the joyful, home-grown sound of this song, we'll be praising God for all the blessings we may have overlooked in our lives.
RELATED CONTENT: Brooke Ligertwood & Brandon Lake Profess God's Providence in "Honey in the Rock"
---
"Firm Foundation (He Won't)" by Cody Carnes
As everything continually shifts around us, it can be difficult to find anything solid and unmoving in life. In "Firm Foundation (He Won't)," @Cody Carnes shows us that Christ is the only firm and unmoving foundation that we can have in this world. With a steady beat and a wave of energetic song, Carnes reminds us that Christ's love has never failed us, and it won't start now. When we feel like we are in rough waters, we can put on this song and remember that our faith in Christ will keep our heads above the surface.
RELATED CONTENT: Cody Carnes Builds His Life on the Rock of Christ in "Firm Foundation (He Won't)"
---
"Where I'm Standing Now (Feat. Brandon Lake)" by Phil Wickham
We have all been through some uniquely trying situations over the past few years. With so many difficult and scary things happening in the past, it felt at times like hope was forever lost. As we venture into this summer, however, hope is on the horizon. With @Phil Wickham and Brandon Lake's "Where I'm Standing Now," the duo lifts a shout of praise to Christ by looking at where God has brought them, compared to where they were before. With this choir-backed, confident anthem for gratitude to Christ, we can lift our hearts in thankfulness to Christ for every difficult thing He has brought us through to bring us to where we are today.
RELATED CONTENT: Phil Wickham and Brandon Lake Celebrate the Redemptive Power of Christ in "Where I'm Standing Now"
---
"What I See (Feat. Chris Brown)" by Elevation Worship
In our lives, we have seen God do some amazing things, and the Bible gives us even more stories of God's incredible miracles. Perhaps the most notable miracle is God's resurrection of Jesus Christ from the grave. In His promises, God assures us that we will rise from the grave just like Jesus if we have faith in Him and proclaim it with our mouths. In @Elevation Worship's "What I See," we are given an electric, rock-powered reminder of our coming resurrection along with Christ. No matter what we face during this coming season, we can use this song as an anchor, bringing ourselves back to the security of God's promises for the future.
RELATED CONTENT: Elevation Worship Provides an Anthem for a Resurrection in "What I See"
---
"Just As Good (Feat. Ellie Holcomb)" by Chris Renzema
A new summer brings new adventures, and the potential for new bruises along with those adventures. As we run into new situations, it can feel like everything in existence can change around us. We forget that God does not change even when everything else might. In "Just As Good," @Chris Renzema and @Ellie Holcomb give us a grounded sound that we can use to bring ourselves closer to an unswerving faith in the unchanging love and provision of God.
RELATED CONTENT: Chris Renzema and Ellie Holcomb Raise a Musical Altar in "Just As Good"
---
"Miracle In The Works" by Bryan & Katie Torwalt
Oftentimes, it can feel like we are waiting in the cold for Summer to come for ages. Yet, when Summer comes, we feel that we are still waiting for something. A simple change of season does not change everything. For those of us who have been in a difficult situation for a long time, waiting for something to change, @Bryan & Katie Torwalt's "Miracle In The Works" is a hopeful ballad for times when we are eagerly awaiting God's power in our lives. Even when we have been waiting for a long time, we can know that God will make miracles happen. He always has, and always will.
RELATED CONTENT: Bryan & Katie Torwalt Herald Spiritual Revival in "Miracle in the Works"
---
"In Jesus Name (God Of Possible)" by Katy Nichole
Some of us are limping into the next season, carrying major wounds from things we have been through. In @Katy Nichole's "In Jesus Name (God Of Possible)," Nichole raises a hymn of prayer for her listeners, asking for healing and a change of circumstances. As seasons change by God's word, so too can God change our lives for the better with a single utterance. Keeping this song close by can allow us to ask God for our own situations to change, as well as sending out a prayer for God to come to the rescue of those around us who might be in challenging circumstances.
RELATED CONTENT: Katy Nichole Sends Out a Prayer For You With "In Jesus Name (God of Possible)"
---
"Same God (Feat. Jonsal Barrientes)" by Elevation Worship
Every season brings about its own mountains that must be climbed, and its own valleys that must be traveled. In Elevation Worship's "Same God," Jonsal Barrientes' vocals offer us an anthem that allows us to seek out God's help when we face down our own giants and our own battles. Until we reach Heaven, we will still be called upon to fight battles for the kingdom of God. This might look different for everyone, but one thing will be the same for everyone: we all need God's strength to make it through. By raising this song to God, we can seek out the power we so desperately need each day.
RELATED CONTENT: Elevation Worship & Jonsal Barrientes Reveal that God Still Makes Miracles in "Same God"
---
"Hymn Of Heaven" by Phil Wickham
While we might be coming out of a dreary season, entering into a Summer filled with possibility, this Summer will eventually end. The day is coming, however, when God will call us into the glory of eternity with Him. In "Hymn Of Heaven," Phil Wickham creates a humble reminder that our final victory and our final peace is still to come. With this song, we can weather any storm, knowing that God already has a plan to see us through to the other side.
RELATED CONTENT: Phil Wickham Brings Heaven's Triumph to Earth in "Hymn of Heaven"
---
"My King Forever" by Josh Baldwin
For some of us, this Summer might be the first full season we will experience with salvation in Christ. For others, our faiths may be renewed as we look back on everything He has done in our lives thus far. In "My King Forever," @Josh Baldwin gives us a soulful ballad of commitment to Christ. When we belt out this song this season, we can reinvigorate our faith in Him and stir our hearts to faith for the future.
RELATED CONTENT: Josh Baldwin Lifts the Lordship of Christ in "My King Forever
---
These songs are sure to bring you through this season, no matter what your summer might look like. These songs have kept us going in seasons past, and we sincerely hope that they give you the same kind of faith-boost that they have given to us. Wherever you go this Summer, you can take God with you by keeping these songs close to your heart. To hear all of these songs and more, stay tuned to Air1 for all of your Summer jamming!