Posted on Tuesday, Oct 05, 2021 by Katie Clinebell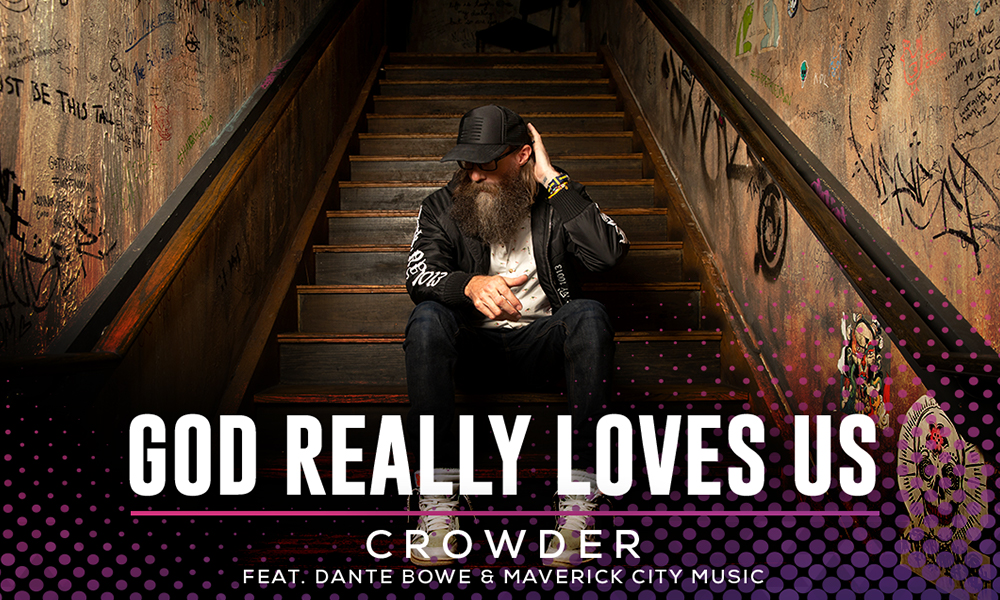 Simplicity is the Key to Intimacy with God in Crowder's Hit "God Really Loves Us"
"I've got a friend
Closer than a brother
There is no judgement
Oh, how He loves me"
"God Really Loves Us" is a welcomed call home to the roots of the Christian faith. The intimate solo piano that leads listeners into the song is coupled with the simple and raw lyrics that paint the bare Truth that Jesus is a friend to us. A friend that sticks closer than a brother, in fact. These tender reminders align the listener with the sometimes forgotten reality that, while God is King, Jesus is also our closest, most steadfast companion. The same comfort that we feel in engaging our closest friends with our mistakes, experiences, and thoughts because we know they will accept us is the same confidence we should take into our relationship with Jesus.
LISTEN NOW: Crowder (feat. @Dante Bowe and @Maverick City Music) "God Really Loves Us" Official Audio
As Crowder builds the anthem from an intimate piano ballad into a swelling proclamation, Dante Bowe and Maverick City enter the second verse and join in the declaration with a unity that inspires the listener to sing along. As the chorus swells with voices and organs, listeners are grounded in the simple, foundational Truth that we are not alone. It is because God really, truly does love us that we can have an intimate relationship with Him. It's because He really does love us that we will never find ourselves forsaken by Him. It's these simple Truths that comfort our souls in our biggest moments of darkness and are also the pieces of comfort we tend to forget the quickest.
"Hallelujah
We are not alone
God really loves us"
"God Really Loves Us" comes from Crowder's latest album, "Milk & Honey", which was released in June 2021. In spite of being written in the isolation of the COVID-19 lockdown, Crowder realized that the songs he was creating were laced with hopeful messages and designed to be sung in a group setting. Crowder shared the vision for the album in an interview with New Release Today as he said, "I had the idea of the milk and honey metaphor before we even started writing songs. It was great to have a future-oriented theme; we were looking forward to what's on the other side... I can't wait to get to be in a room with people to finally sing these new songs."