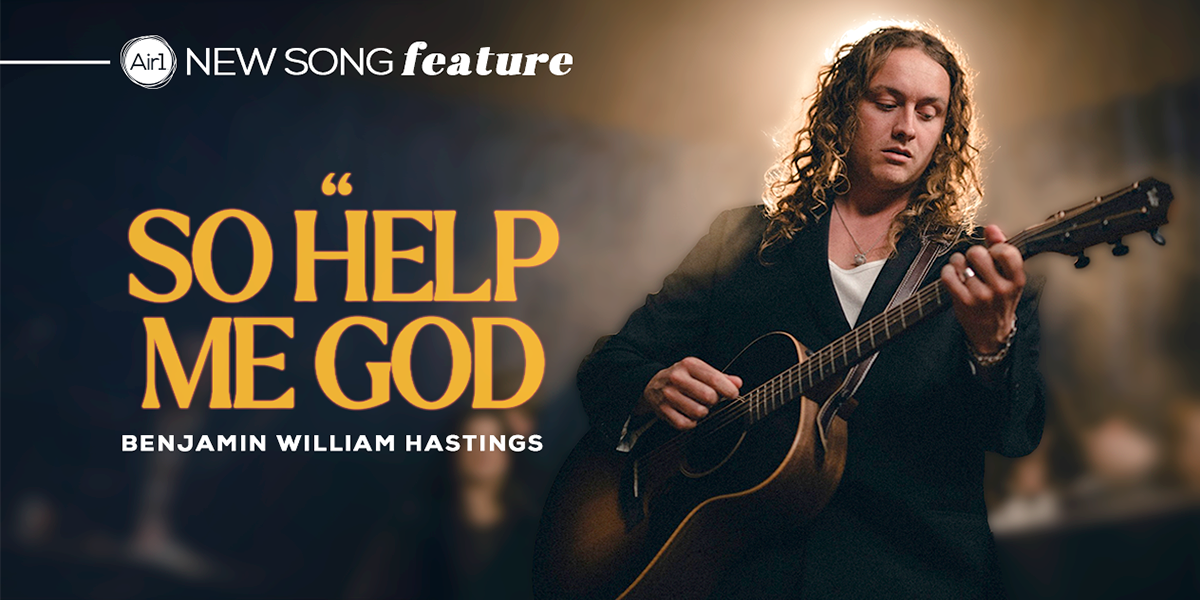 @Benjamin William Hastings is a storyteller at heart. If you need proof, you won't have to look any farther than his latest single, "So Help Me God." The lyrically rich declaration affirms that God doesn't promise to remove the challenges life throws our way, but He does promise to lead us through the valleys.
RELATED CONTENT: Benjamin William Hastings & Blessing Offor Endure Using a Hallelujah in "That's The Thing About Praise"
The raw, instantly memorable chorus simply states, "I'm gonna get through this." It's a phrase Hastings began plucking out on the piano in the midst of COVID lockdowns in Australia. The Northern Ireland native says he initially never intended for the refrain to evolve into a contender for his solo debut. In the moment, the "That's The Thing About Praise" singer simply found himself depressed and in need of an anchor to help him believe this sentiment was actually true.
The personal "So Help Me God" ended up inspiring many of the larger thematic elements explored on Hastings' self-titled collection. The hopeful, yet untidy, anthem concludes the narrative he tells across the album's ambitious 25 tracks. Filled with poetic musings about faith, doubt, relationships, parenting and every other facet of the human experience, the record culminates in the ultimate selection.
RELATED CONTENT: Songs of Ascent: The Benjamin William Hastings Story
"I feel like it sums up the story really well, actually, 'cause the resolve of the album…to me, is a really unpolished one. It isn't, 'Oh, I'm all better now. And life's good, and God's good.' It's like, 'Oh no, I'm going to make it. I'm going to get through this.' In reality, in life, I don't feel like you have many of those moments where you feel like you arrive and everything's all good," he asserts, "but there's a direction at the end, as opposed to the aimlessness of the beginning."
Describing the Christian life as a journey versus a destination, "So Help Me God" frames the clever turn of phrase as both a prayerful plea and a proclamation of resilience. "The pursuit of God — the pilgrimage, like we talk about — is a never-ending process," Hastings offers of the message behind the song. "Maybe heaven — the afterlife — maybe that's the arrival."
RELATED CONTENT: Benjamin William Hastings Chats Life in LA & Funny Parenting Moments
Known for co-penning songs like @UNITED's "So Will I (100 Billion X)," @Cory Asbury's "The Father's House" and @Brandon Lake's "Gratitude," Hastings has just recently ventured out on his own as a solo artist. The prolific lyricist will showcase his thoughtful ruminations set to music on Lake's "Coat of Many Colors Tour" this fall.