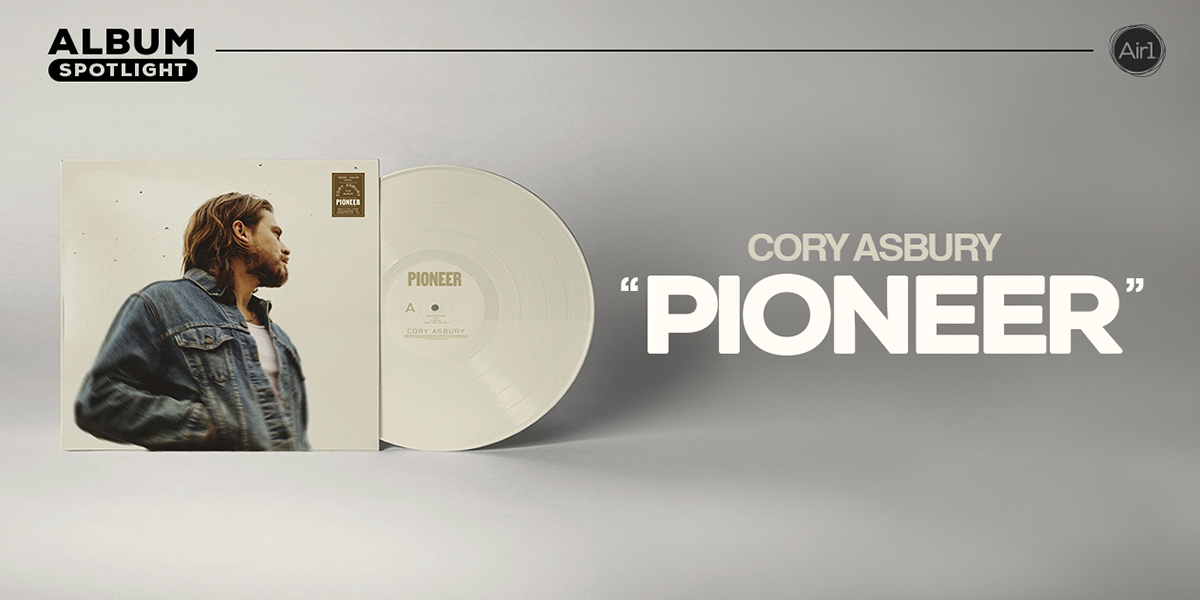 @Cory Asbury unveiled what is, quite possibly, the most unexpected release of 2023. "Pioneer," his follow-up to 2020's poetic "To Love a Fool," is — simply put — a country record. Historically a worship artist up until this point, "The Father's House" singer and his family recently made the move to Nashville. And evidently, it didn't take long for Music City's love of storytelling to seep into his veins.
RELATED CONTENT: The Road to Reckless: Cory Asbury
"I'll always be the 'Reckless Love' guy, but my art has evolved," Asbury admits. "I've changed. I've grown. And hopefully after more than three years, I've got something new to say. After all, that is the office of the artist — to give language to the things we all feel and experience."
Collaborating with some of country music's most esteemed songwriters such as Lori McKenna (Tim McGraw, Little Big Town) and Tom Douglas (Luke Bryan, Cody Johnson), as well as legendary Christian writers like Paul Mabury (@Lauren Daigle, @Chris Tomlin) and Ethan Hulse (Andrew Ripp, Zach Williams), among others, Asbury embraces the cowboy within on the 11 lyrically rich tracks that comprise "Pioneer."
RELATED CONTENT: Cory Asbury & Naomi Raine in "Reason To Praise"
Aptly titled, "Pioneer" finds the father of four bravely traversing uncharted territory — both sonically and lyrically. While the instrumentation is deeply embedded in traditional country music with a steady through line of acoustic guitar, the lyrical content is rooted in Asbury's family tree.
The openly revealing "My Inheritance" traces his lineage — and love of music — back to his alcoholic father, who wasn't in the picture long. The raw and empathetic "Misunderstood" was written for his wife, following her difficult battle with postpartum depression; and the tear-jerking "These Are The Days" details the beautiful heart-wrecking journey of parenthood. (Incidentally, Asbury recently tapped Christian music matriarch Amy Grant for an all-new version of the song.)
Meanwhile, lead single "Kind" asks the hard questions of faith most of us are too scared to utter out loud:
Sometimes marriages don't work, and sometimes babies die
Sometimes rehab turns to relapse and you're left just askin' why
And for all the prayers I've prayed, I still wonder if He's real
And if He is, how is He choosin' who He does and doesn't heal?
While Asbury doesn't pretend to have the answers to the questions he poses, he does land on a simple truth he's experienced firsthand time and time again: "All He's ever been is kind."
It's this rare dose of unvarnished honesty that makes "Pioneer" hard to digest at times as Asbury wrestles with the full breadth of human experience, even leaving listeners to ask: Is there such a thing as too honest? When it comes to musical connection, probably not. And Asbury serves up some of the finest, most relatable songwriting of his entire career on "Pioneer" — the kind of lyrical genius that will have you crying one moment and smiling and nodding your head with resigned conviction the next.
RELATED CONTENT: "Egypt" by Cory Asbury
At the risk of stating the obvious, this "country" record doesn't fit the typical, neat and tidy Christian mold, much less the modern worship lane. And it likely won't receive the critical praise it deserves because of that. But this album — top to bottom — might just be Asbury's greatest offering of worship yet.
Is it void of Jesus? Hardly. If the penultimate track, "Only Jesus For My Pain," doesn't settle the argument, the astute listener won't have to probe far to find His divine fingerprints all over this collection of absolutely exquisite songs. "Pioneer" is largely about looking for God in the midst of every facet of life. And, not surprisingly, Asbury finds Him in everything.
Was "Pioneer" a risky move for an artist who is still on an upward trajectory? Absolutely. But if "Reckless Love" didn't affirm Asbury's fearlessness, this detour of an album undoubtedly will. Truth be told, we need more of Asbury's frankness. His artistic evolution is stunning, and his transparency is as commendable as it is brash. These songs might make you wince at times — they're that brutal — but the certainty of the truth ingrained in them swiftly takes the bite out of the sting. Fair warning, however: "Pioneer" is best listened to by yourself in a dark room with a box of tissues nearby.
And for those naysayers who still might claim Asbury "sold out" or he's "switching genres," the bold singer/songwriter seems to have coyly buried his rebuttal in the opening lines of the arresting first track, "The Promise Is the Same," following an instrumental intro:
"They might say I'm a sinner, if I don't sing "hallelujah"
That I'll be forgotten if every song I sing's not to Ya
But I find peace and holy ground in a little farmhouse in a no-name town
Where we say our prayers each night
Maybe I'm a dreamer, I still get high on hoping
I might close my eyes sometimes, but I keep my hands wide open
I question every word I choose, but the answers all come back to You
I'm just tryin' to get it right"