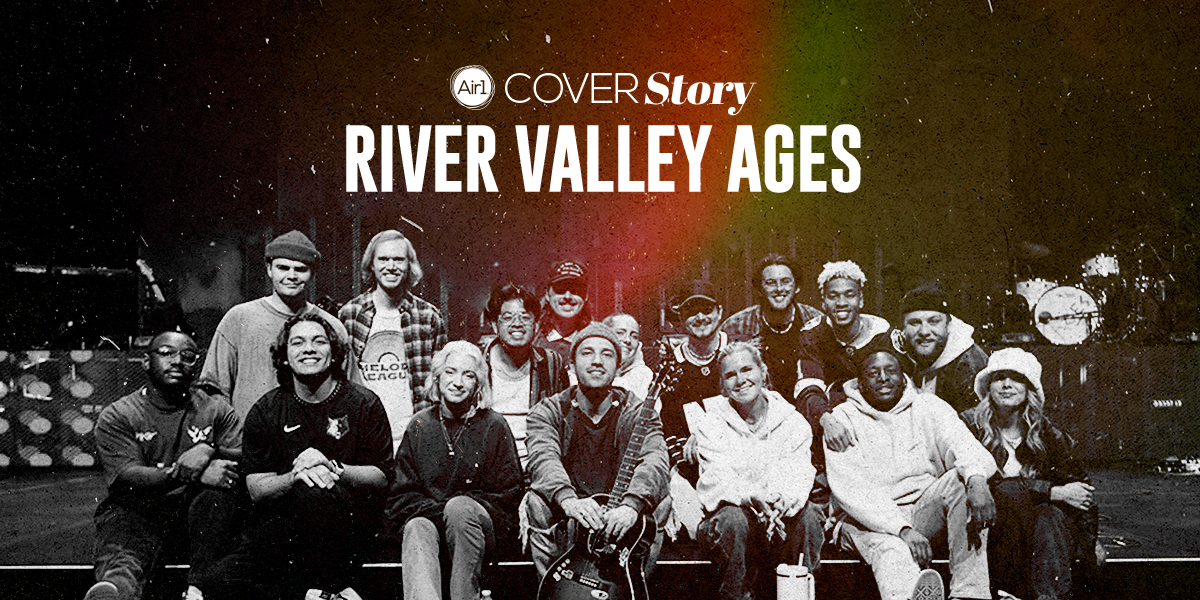 Summer camp. It's raw. It's real. It's life-changing. And it's a week you'll never forget.
At least, that's what the members of @River Valley AGES will tell you. Primary AGES leaders Noah Melan (vocals), Lexy Topp (vocals), Bella Stebbins (vocals), Dévonjé Anderson (keys) and Blake Grainger (drums) all have fond memories of summers spent at church camp. Now, the group of 20-somethings gets the opportunity to help create a similar experience for the students in their youth group at Minnesota's River Valley Church.
Freshly back from youth camp — the smell of late-night bonfires and altar calls still on their layers of denim — the quintet talks enthusiastically about the rite of passage as they sit down to chat about an upcoming new project they captured one night during the transformative week — a trio of songs called "AGES: Live at Camp, Open Heaven Type Stuff," slated to release Oct. 13, 2023.
RELATED CONTENT: River Valley AGES Reminds Us of the Constant Nature of God in "Sunrise"
"It had always been a dream to record at camp, because that's always been our testing ground for new songs," shares Noah, a primary lyricist for the collective. "Some of the most special moments of my life happened at summer camp, and it feels really good to be able to give our kids something that they can look back on and say, 'That was the night God changed my life forever."'
One of the church's worship pastors, Ryan Williams, unintentionally helped title the EP. "I was asking a bunch of people to pray over the recording that night," Noah remembers, "and Ryan was just like, 'Man, I'm praying for beautiful moments, praying for God to show up — open-heaven-type-stuff.'"
RELATED CONTENT: Faith Behind The Song: "Sunrise" River Valley AGES
For one of three selections on their highly anticipated camp collection, AGES used an iPhone in lieu of fancy camera equipment to film a music video for "What Are We Even Doing?" (affectionately known as "WAWED"). For anyone remotely familiar with the worship group, this tracks. Like the low-budget clip, the album art of their eponymous debut, which bowed in March 2022, perfectly embodies the collective's unvarnished aesthetic. An open pizza box, a stuffed bear and a disco ball are haphazardly strewn across a couch that's as outdated as the wood paneling that lines the wall behind it. A silver boombox perches precariously on top of the couch's muted plaids. Takeout boxes, chopsticks and candy litter the coffee table, which also prominently houses a classic Nintendo console; and a thin layer of popcorn and cheese puffs carpet the forest green rug. The visual is as untidy and scrappy as the music they make, but it's undoubtedly striking a chord with listeners.
Following their unorthodox studio set, the group quickly released their first live project, "All Ages ADMITTED," which showcased their uninhibited praise. The album also spawned two radio hits: "Everything U Do" and current chart-climber "Sunrise."
RELATED CONTENT: River Valley AGES Proclaims God's Firm Foundation in "Everything U Do"
"It's all about God's faithfulness and how consistent He is," shares Lexy, who sings lead on the obvious earworm and admits she's now often referred to as "the 'Sunrise' girl." "It's such a fun song that just brings life and lift," she continues. "I love opening a set with it and proclaiming truth."
"Sunrise" traveled an extensive, winding path to end up in the capable hands of AGES, however. It was originally birthed in 2017 when River Valley Worship, AGES' parent collective, took a writing trip to Los Angeles. Unsure it was a fit for the record they were working on at the time, the song got shelved until 2021 when a group of songwriters from the church returned to LA to work on AGES' studio effort. "The producer we met with there had a completely different vision for the song," Noah recalls. "'Sunrise' took a long time to come to fruition, but we've come to see it be an anthem for our church. It's just one of those songs you cannot be upset when you sing, because it brightens your day. It brings so much joy. But it's had a beautiful, long journey."
The song's lengthy voyage has now culminated in a spot on Air1's playlist — an opportunity AGES never saw coming. "I think us getting to this point is just God's way of honoring us stewarding the first however many steps it took for us to get here," Dévonjé offers. "Some were easy, some were hard; but I think our closeness with God, our attentiveness to the Holy Spirit, and the way we back each other have allowed us to become so strong of a unit to where I feel like we can handle anything. Even having our songs played on the radio — that's a great thing — but that could easily fill your head. And we have a process in place for holding each other accountable, for not letting out heads get too big."
RELATED CONTENT: River Valley AGES: The New Faces in Worship Music
Part of that accountability lies in the fact that AGES has always been and always will be rooted in their youth group. The genesis of the band started at a dining room table where several youth leaders tossed out ideas for band names. A few of the initial contenders? River Valley Future. River Valley Generation. River Valley Next. (Early on, the group briefly released music under the moniker YTH.)
"They were all terrible names," Lexy admits with a laugh.
Finally landing on River Valley AGES, Bella says, "We just wanted this music to reflect the struggles and victories of this generation and how God can work in a younger person's life."
Some of the more seasoned songwriters in @River Valley Worship stepped in to help AGES find their footing as more and more young adults expressed interest in wanting to write and create music for the church's youthful worship expression.
The intended AGES' audience might be their youth group, but their songs are already resonating on a global level. Noah and Lexy recently had the opportunity to travel to Istanbul, a predominantly Muslim country. While there, they visited a local school. Prepared to sing a set full of Chris Tomlin standards, you can imagine their surprise when the children requested some of their original songs — several of which they were already familiar with.
Viewing their music with a missional mindset, AGES hopes to empower students, giving them an opportunity to learn, experiment and hone their individual gifts, talents and callings within the church. Sometimes that looks like students crafting music through songwriting or playing an instrument. Other times, that looks like a student helming a video camera or helping with graphic design. One student even remixed a track on the group's latest "Sunrise EP," which features six different versions of the hit single.
The push and pull of various people contributing an array of perspectives is one of the attributes that sets AGES apart. "Honestly, it's a lot of different influences," Blake says of the unique sound they've extracted. "I think you end up with a much better product when you have people who have different opinions coming together instead of just, 'Nope, we're all on the exact same page. It should be this.' You get something great when you have people who are passionate about their thoughts and feelings and what you're working on."
Free to steward their creative gifts, those who contribute to the lifeblood of AGES also get the chance to write from real-life relationships. After all, it's often the students themselves who inspire the music. Their struggles, their fears, their dreams — it all gets distilled into the evocative, retro nuances that comprise AGES' diverse sonic terrain. That's where the stripped-down, sparsely produced "an ep of some songs u can read ur bible + journal to" was born.
"We feel like that morning quiet time is where the Lord speaks, and that's where the Lord reveals His promises. So we were writing songs for that one kid who was struggling with seeing the value in opening up his Bible at 6 a.m. and reading it and spending time in prayer," Noah explains of the four-track devotional set.
For AGES, the secret to "success" lies in one song at a time, one student at a time.
"It's really special to have the freedom to write for the one," Blake observes. "And sometimes when you do that, it tends to make a more genuine connection anyway, because it's such a specific thing."
Whatever evolution AGES takes — be it studio, live or scream-every-word-at-the-top-of-your-lungs-Taylor-Swift-style — the group hopes to become a safe space where students can try, fail and try again. "We're not going to be here forever," Lexy asserts. "Our heart is that it doesn't end with us. We're going to pass the baton onto the next generation."
For now, the starting lineup for River Valley AGES is simply intent on making music that resources, encourages and strengthens the students they get the pleasure of hanging out with every Wednesday night. "I think we always operate out of the idea that home is the prize for us. Although it's amazing that God blessed us with the opportunity to be a part of the Air1 radio family and stuff — that's incredible — we always write for our kids, for our church, and that's number one," Noah says. "As we're serving in youth ministry, as we're going to camp, we see all these different people as they're working out their faith. We want to write a soundtrack to that."