Posted on Sunday, Mar 20, 2022 by Lindsay Williams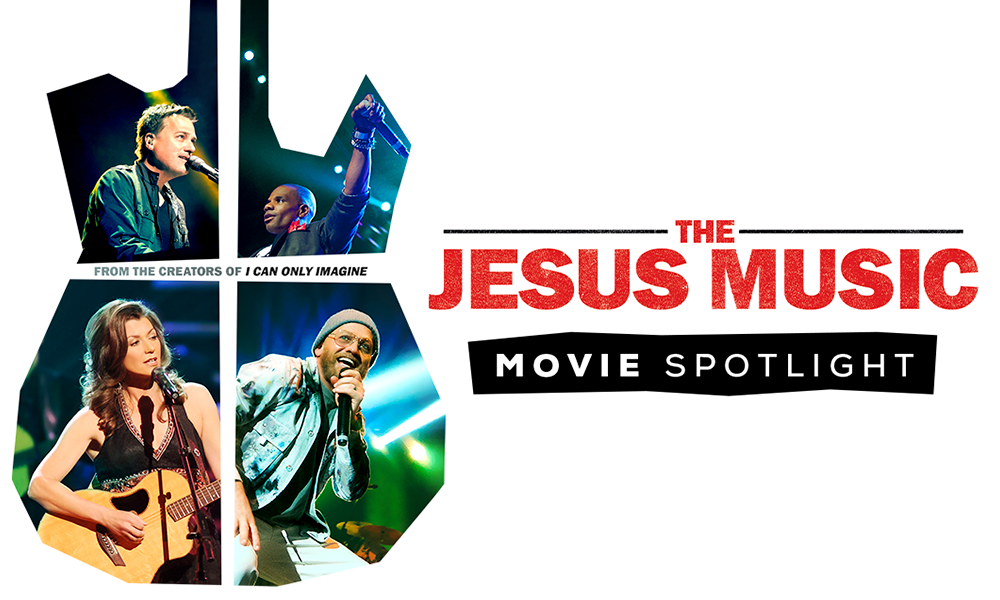 When The Jesus Music premiered in theaters on Oct. 1, 2021, the San Francisco Chronicle called it "the most important roc doc of the year." In truth, The Jesus Music is significant because it's the first time the history of Contemporary Christian Music (CCM) has been chronicled on the big screen.
Brothers Jon and Andrew Erwin — the siblings behind recent biopics like @MercyMe's I Can Only Imagine and @Jeremy Camp's I Still Believe — set out to create the ambitious film with the intention of making a mini series. As they began piecing their story together, however, their initial idea evolved into one feature-length movie. And the result is a comprehensive look at the evolution of a genre that has impacted countless people around the world.
WATCH NOW: "The Jesus Music" Movie Trailer
Christian music eventually made its way around the globe, but it started in California at a church in Costa Mesa called Calvary Chapel, where hippies were coming to Christ and encouraged to set their newfound faith to music. Alongside raw images and footage from those early days, artists, industry professionals and thought leaders provide commentary about their own experiences with the burgeoning art form that combined faith and rock 'n' roll as pioneers like Larry Norman, Petra and Stryper made indelible impressions on the youth of their day.
Undertaking this massive project, the Erwin Brothers interviewed upwards of 100 different artists, including Michael W. Smith and Amy Grant, who are central characters in the storyline and also executive producers of the film. In addition, the brothers captured exclusive conversations with TobyMac, @Lauren Daigle , Russ Taff, Bill Gaither, Lecrae, Steven Curtis Chapman, @Chris Tomlin, Kirk Franklin, and many others. Respected voices like Air1 CEO Bill Reeves and pastor, author and evangelist Greg Laurie also offer insights into their personal encounters with God through Christian music.
While there's an emphasis placed on the genesis of the genre, The Jesus Music walks viewers through each decade unraveling the songs, the trends and the stories behind each 10-year span. Moreover, transparent discussions delve into deeper issues behind the music, quick to not dismiss the humanity of these artists battling real life behind the scenes. Addiction, divorce and racism are all addressed to varying degrees with equal parts truth and grace. Shining a light on their struggles inevitably reminds fans that artists, like us, are real people too.
Grant and Smith's respective pasts get ample screen time — and rightly so as two of the genre's most pivotal artists. In separate interviews, Toby McKeehan (aka @TobyMac), Michael Tait and Kevin Max candidly unpack the milestones that led to DC Talk's demise. And artists of color like Lecrae, Kirk Franklin and CeCe Winans explore Christian music's complicated relationship with Gospel music and the work that remains to be done when it comes to unifying the broader genre of faith-based music.
From its organic beginnings in the '60s to CCM's peak in the '90s to its transition to worship in the 2000s, The Jesus Music celebrates each decade's important contribution, revealing how one time frame formed the foundation for the next.
This is also apparent as newer artists like Lauren Daigle and @for KING & COUNTRY speak to the ways in which veteran acts have both inspired and influenced their artistic endeavors. It's a beautiful picture of the way one artist is always standing on another's shoulders.
Although longtime CCM fans might argue that their favorite artist was overlooked in the documentary, the Erwins hit the majority of the major players, while also acknowledging there were many people who didn't get coverage simply due to time constraints and interview logistics. As it stands, the film is already nearly two hours long. For the record, a companion book, The Jesus Music: A Visual Story of Redemption as Told by Those Who Lived It, delves even deeper into the history of Christian music for those hungry for more.
RELATED CONTENT: Air1 Feature Story: The Jesus Music
Beyond the frankness of each artist and the sometimes surprising revelations disclosed during the film, The Jesus Music connects the dots between decades providing a full sketch of a genre that continues to flourish in new ways.
RELATED CONTENT: Lionsgate Releases Official Trailer for Documentary "The Jesus Music"
To look forward, you have to look back. And The Jesus Music leads viewers on a journey through time to reveal that today's generation of Christian artists is able to make music simply because artists before them were brave enough to blaze a trail.
Parents of young children should know this film is rated PG-13 for mild thematic content and references to drug use.