Posted on Tuesday, Apr 05, 2022 by Katie Clinebell
"I can feel it rising on the inside
A fire burning wild and bringing me to life
My God You're so much more
Than just a feeling"
The world has begun to devalue Christian belief, claiming that people invent the idea of God in order to satisfy their need for meaning. They say that God was invented by human minds for human reasons, believing God to be nothing more than a nice feeling. This could not be more wrong. One of the main things that we can point to in order to show the real power of God is the change He brings in the people who come to Him. As fallen creatures, everyone is broken in one way or another. In "The Healing," @Blanca and @Dante Bowe show that God brings change to all of His faithful in the form of recovery for their souls. In all of our maladies, we can lean into the power of the Great Physician for help, no matter our predicament.
WATCH NOW: Blanca "The Healing (Feat. Dante Bowe)"
"The Healing" begins with an assured statement, as Blanca sings out, "I believe in You." Blanca's voice shows its power as the song rises. Dante Bowe's iconic vocal joins in with a backing chorus, combining the sound of a gospel choir with today's best worship anthems. With these two powerhouse voices singing in tandem, our fears and failures quickly recede to the back of our minds, as a confident hope begins to fill the air.
God is more than just a feeling. He is our loving Father, our wise King, and our Friend who sticks closer than a brother. When the world tries to flip the truth on its head by saying man invented God, we can root ourselves in the truth like a tree in solid ground by remembering everything we have seen Him do. He has healed not only our bodies, but our souls. This kind of healing cannot be fostered by man. Only God can bring about the recovery that we need. We must abandon our fear and run to Him for our healing.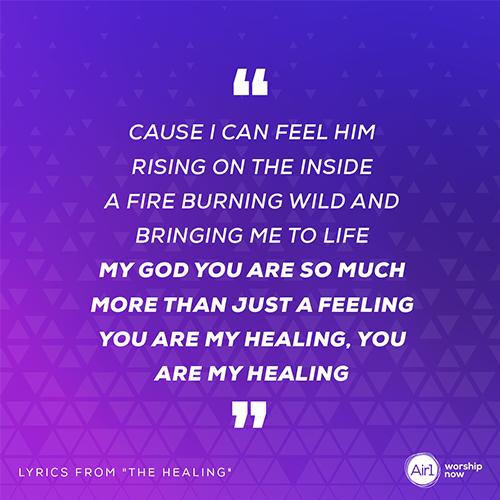 "The Healing" was released as a single by Blanca & Dante Bowe in March 2022. On her collaboration with Bowe, Blanca says, "His music, along with songs from the Mav City camp were some of the main songs that walked me through this past season of my life. They were a part of my healing. And here I am, getting to share my upcoming single alongside this legend! God is good."