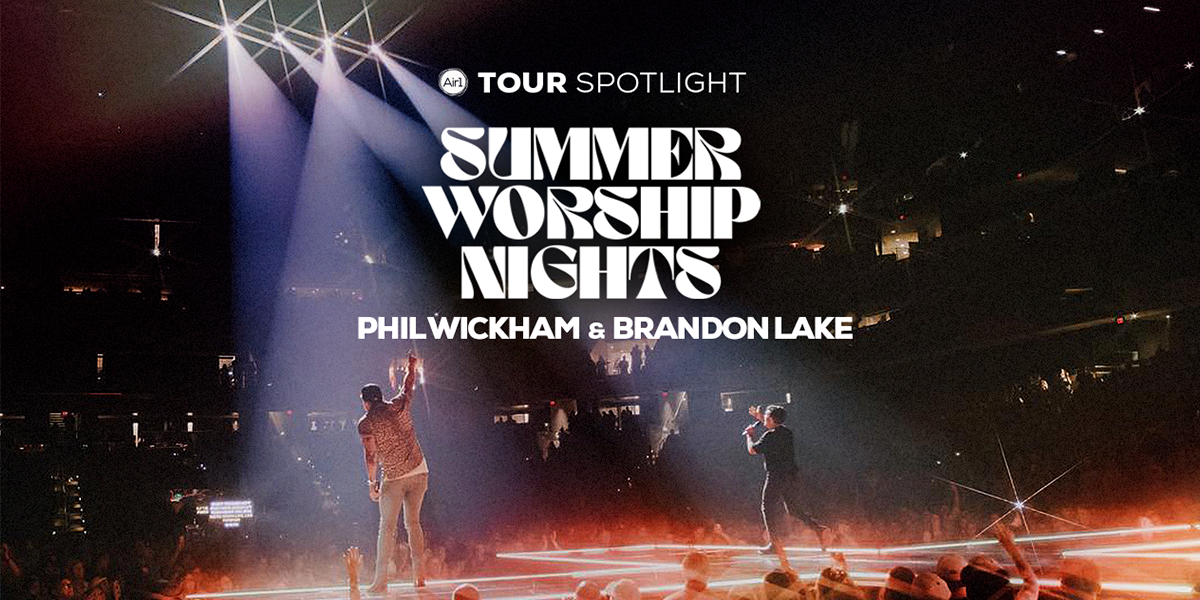 @Phil Wickham and @Brandon Lake marked the halfway point of their "Summer Worship Nights" tour with a stop at Nashville's Bridgestone Arena on Thursday, Aug. 24, 2023. The epic co-headlining bill captured two of Christian music's biggest hitmakers in the midst of their ascent. Together, the worship-leaders-turned-full-fledged-artists commanded a one-of-a-kind evening built on massive songs, next-level production and genuine camaraderie.
With the exception of a handful of songs, both men remained on stage together for the entirety of their collaborative set — a full two hours and 15 minutes of nonstop hits. With both of them confidently taking the stage to Lake's current single, Wickham helmed harmonies on "Praise You Anywhere" before assuming lead on his own "House of the Lord," on which Lake steered the second verse. And so the night went. For the most part, the two men stuck to this pattern of equally trading off songs and organically assisting the other on both guitar and vocals at times. All of this while they bounced around on the extensive catwalk in the intentional shape of a cross.
RELATED CONTENT: Brandon Lake Sings Through the Struggle in "Praise You Anywhere"
Backed by a full band that included double drum kits, Wickham and Lake were full of energy, as was the packed crowd. Wickham's song selections were stacked with well-known anthems, highlighting his immense contributions to the Church's cannon through the years, while also spotlighting recent songs from his brand new album, "I Believe," including "This Is Our God," "Battle Belongs," "The Jesus Way" and the frenetic title-cut. Meanwhile, Lake, whose career trajectory has been that of a rocket ship in just a short period, handpicked tracks mostly from his extensive songwriting catalog like @Elevation Worship's "Graves Into Gardens," "RATTLE!" and "Same God," @Brooke Ligertwood's "Honey in the Rock," and @Maverick City Music's "Fear Is Not My Future."
RELATED CONTENT: Phil Wickham Unveils His Statement of Faith on New 14-Track Collection, 'I Believe'
Each artist had their own brief solo moment with Lake using his singular time on stage to preview new music from his highly anticipated third studio record arriving Oct. 20, 2023. Backed by smoke and distinctive red lighting, the Charleston, S.C., native performed the dark and powerfully aggressive "Count 'Em" followed by the unreleased title-cut of his forthcoming album, "Coat of Many Colors." Wearing a long, tattered patchwork coat for the song, he encouraged concertgoers to go after the dreams God has placed on their hearts. Tapping into the familiar story of Joseph, Lake sang, "I gave You my heart. You gave me Your coat of many colors."
For his short independent set, Wickham celebrated the truth of Romans 10:9: "If you openly declare that Jesus is Lord and believe in your heart that God raised Him from the dead, you will be saved." "I Believe" was even more vibrant performed live in front of an enthusiastic audience. He followed his current radio offering with recent gem, "Hymn of Heaven" — an undeniable standout moment in a night bursting with them.
Midway through, the pair donned matching Preds jerseys and perched on stools in the middle of the catwalk for an unforgettable acoustic set. Generously bragging on one another, they each sang a song by the other that had greatly impacted them personally. Lake performed a portion of Wickham's poetic "Heaven Song." Then Wickham, in turn, sang the chorus of Lake's "Too Good To Not Believe." Hilariously dubbing themselves "Lakham," the duo then set out to offer an ambitious mashup of their songs in what became one of the sweetest segments of the entire evening. The purity of their voices took centerstage as they wove their way in and out of "This Is Amazing Grace," "House of Miracles," "It's Always Been You" and "Talking To Jesus," among other poignant selections.
Late in the night, the co-headliners brought out a special surprise guest exclusively for those attending the show in downtown Nashville. Introducing @Chris Tomlin to raucous applause, together the three men performed Tomlin's "Holy Forever," the GRAMMY®-nominated track he co-wrote with Wickham, before seamlessly transitioning into the chorus of "How Great Is Our God." At one point, Lake stopped singing and simply knelt down, hands raised to heaven. More than just a transcendent moment of worship, with the trio strumming their guitars and singing their hearts out side-by-side, it felt like a divine milestone. Three generations of some of Christian music's most prolific songwriters in one room with Lake claiming Wickham as his hero and Wickham heralding Tomlin as his musical icon and Tomlin extolling the talents of both artists standing beside him. What a beautiful full-circle moment those gathered witnessed.
RELATED CONTENT: Chris Tomlin Calls Us to Sing the Song of Ages in "Holy Forever"
Keeping heart transformation at the center of it all, Lake extended a gentle altar call before closing out the night. "Nothing else matters than for you to have a relationship with God," he said. "Tonight, I can't think of a better opportunity to get right with God. I don't even need to preach the Gospel because it's been preached on every single one of these songs we've sung."
Following a tender moment of Wickham leading "Living Hope," the men threw all their remaining energy into Lake's K-LOVE Fan Award-winning "Gratitude." In a classy move, they left the stage, shoulder-to-shoulder, before the choir of voices filling the arena had even finished the last chorus. Still, the dynamic pair wasn't quite done. Wickham and Lake took the stage one final time for a confetti-filled performance of their latest collaboration, "People of Heaven," a song that celebrates a real eternity that stretches out before all those who believe.
Beyond the on-point song selection and the unique collaborative nature of the night, the impeccable production elevated the atmosphere ushered in by every strategic sonic turn. A backdrop of moving screens made each song feel fresh with a myriad of configurations and bright visuals. An intricate light fixture dropped down for the acoustic portion, and the catwalk, as well as various platforms where the band members stood, were encircled with playful patterns of light that changed color to the music.
Earlier in the evening, hip-hop act @KB artfully folded favorite worship choruses into his rap-filled set; and author Carlos Whittaker brought a message of unity and hope.
In total, the "Summer Worship Nights" tour is only visiting 16 cities this year, but for those fortunate enough to experience this show, the all-too-brief outing affirms what we already know to be true. Wickham and Lake are two of Christian music's finest worship writers, and they're leading the songs they write with gracious amounts of authenticity, integrity and conviction. If Wickham's the current (high) standard and Lake is the future, the trajectory of Christian music is very bright.
The "Summer Worship Nights" tour is set to conclude Sept. 2, 2023, in Wickham's native San Diego with We Are Messengers providing direct support in place of KB for the trek's final four West Coast dates.
Summer Worship Nights Tour Setlist
Bridgestone Arena // Nashville, TN
August 24, 2023
"Praise You Anywhere" (Lake)
"House of the Lord" (Wickham)
"Graves Into Gardens" (Lake)
"Battle Belongs" (Wickham)
"RATTLE!" (Lake)
"This Is Our God" (Wickham)
"Count 'Em" (Lake)
"Coat of Many Colors" (Lake)
"Fear Is Not My Future (Lake)
---
Acoustic Medley (Wickham & Lake)
"Heaven Song"
"Too Good To Not Believe"
"This Is Amazing Grace"
"Honey in the Rock"
"It's Always Been You"
"House of Miracles"
"God of Revival"
"Rest On Us"
"You're Beautiful"
"The Jesus Way"
"Talking To Jesus"
---
"I Believe" (Wickham)
"Hymn of Heaven" (Wickham)
"Holy Forever" / "How Great Is Our God" (Tomlin)
"Same God" (Lake)
"Living Hope" (Wickham)
"Gratitude" (Lake)
"People of Heaven" (Wickham & Lake)