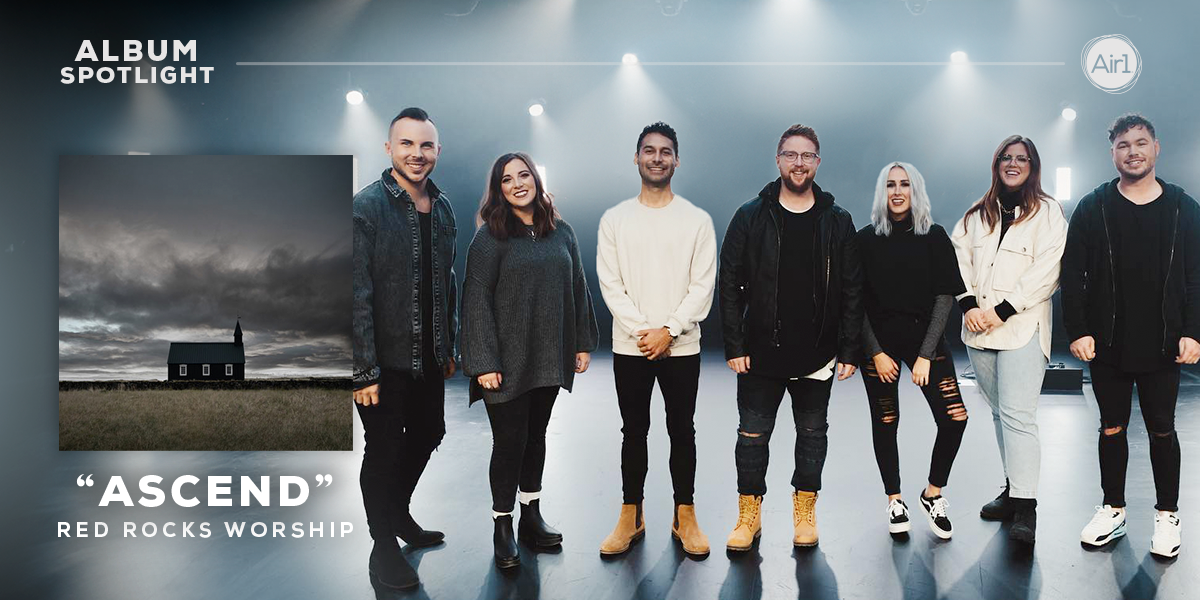 "Who can ascend the mountain of God, who can be in the presence of the Lord? Those with clean hands, and those with pure hearts." —Psalm 24:3-4
This is the Scripture that inspired @Red Rocks Worship's new album, "Ascend." The 14-track LP is the collective's fifth full-length project. The live set gives listeners a preview of the passionate, authentic worship that visitors experience when they visit a Red Rocks Church location. Based in Denver, the vibrant congregation — which now has campuses across Colorado, Texas and even an international campus in Belgium — was founded in 2005 by pastor Shawn Johnson, an outspoken advocate for mental health and the author of "Attacking Anxiety."
RELATED CONTENT: Red Rocks Worship "Good Plans" Exclusive Performance
"Ascend" helps weary followers of Jesus continue to climb the mountain of faith, acknowledging that the journey is less about the summit and more about the Christ-centered character forged along the way. The album's fresh original selections are weapons for battle as much as they are resources for worship.
The newly minted batch of songs comes two years after the group's acclaimed "Things of Heaven" album, which spawned global worship anthem, "Echo Holy." In a similar vein, Red Rocks Worship's latest live recording recaptures the reverent spirit of their signature hit with a tracklisting that's ballad heavy and brimming with co-writes from some of the best songwriters in the modern worship space today, including Jacob Sooter, Mitch Wong, Ethan Hulse, Ricky Jackson, @David Leonard, Jason Ingram and Mia Fieldes, among others.
RELATED CONTENT: Red Rocks Worship "Echo Holy" Exclusive Peformance
This pedigree of writers is automatically guaranteed to spark the interest of worship leaders far and wide. Yet, lesser-known members of Red Rocks Worship also hold their weight in songwriting gold, especially when it comes to songs like the title-cut, which opens the project, and the memorable "Good Plans," an example of how individual experiences can serve the greater collective as a whole.
Psalm 23 was the catalyst for "Good Plans." "It became the focal point of every word we wrote for that song," shares Red Rocks Worship leader and lyricist Kory Miller. "It feels like a major personal revelation that turned into a corporate revelation for our church."
Many tracks on "Ascend" follow suit, projecting a shining example of how the Body of Christ is meant to work — one body, made up of many parts.
"For us, it's been a year of pruning, of laying down pride and chasing God, and searching for what worship is and what it looks like to really go after the Lord and enter His gates with praise," adds Red Rocks Worship member and key songwriter Tyler Roberts. "Every single song on the album has a story behind it that means something to all of us."
The third track ("Miracle in Me") boldly believes for Christ's miraculous power at work within us. Midway through, track seven gives listeners a taste of a Sunday morning service at Red Rocks Church with a brief, motivational interlude from Johnson titled "Fighter Spirit." Meanwhile, track nine ("What a Gift") is a unique take on the Fruits of the Spirit (Galatians 5:22-23), extolling the benefits of love, joy, peace, patience, kindness, goodness, faithfulness, gentleness and self-control. Track 14 ("Hope of the World") closes the offering with a benediction of expectation.
"I couldn't be more proud of Red Rocks Worship. Their vulnerability, their authenticity, their passion for God and people… I'm telling you — you can feel it all in this album," Johnson says of the recording. "These songs will encourage you, embolden you, remind you who you are, and more importantly, who your God is. For me, these songs are anthems of faith that take good days to a new level and have become a foundation from which to battle on the bad days."
The burgeoning outfit will give listeners an even greater glimpse into the Red Rocks Church culture when they bring "CHURCH with Red Rocks Worship" to select cities this fall.