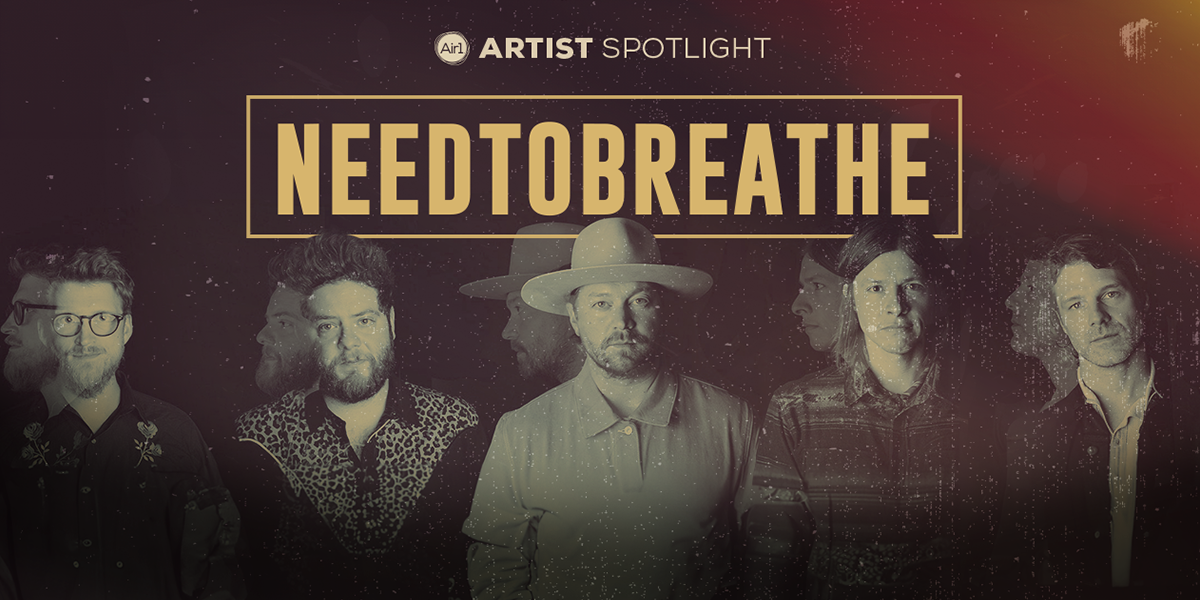 "We're a rock 'n' roll band from South Carolina" — that's always how @NEEDTOBREATHE frontman Bear Rinehart introduces the group he formed with his brother, Bo, and friends Joe Stillwell and Seth Bolt more than two decades ago. With lyrics that regularly speak of their faith, multiple hits at Christian radio and 18 GMA Dove Awards lining their mantle, the outfit is regularly referred to as a "Christian rock band," a label they like to minimize so their music can reach a wide cross section of listeners regardless of religious affiliation. This stems from how the Rinehart brothers grew up. The sons of a pastor, the talented siblings were raised in a household in small-town-South-Carolina where they were only allowed to listen to Christian music. Thus, when Bear and Bo launched their band in college, they sought to make the kind of music they wish they could have listened to growing up — music filled with a lot of heart and ardent belief, but backed by a sonic palette influenced by all the modern-day artists who were off-limits to them as kids.
RELATED CONTENT: "Who Am I" by NEEDTOBREATHE
With their all-caps moniker inspired by a story about Socrates, who claimed he wanted to be as passionate about his calling as he needed to breathe, NEEDTOBREATHE made the collegiate coffee house circuit with their original tunes while Bear simultaneously became a star wide receiver at Furman. Meanwhile, Bo was studying art and architecture at nearby Clemson University. Upon graduation, the four-piece turned up the heat on their touring and released several independent projects that caught the ear of a major label.
Although they chose to sign with an established mainstream label, from the beginning, NEEDTOBREATHE has always partnered with a Christian imprint to distribute their music as well. While their 2006 major label debut, "Daylight" — recorded in the U.K. — did little to bolster their profile, it was 2007's "Washed By The Water," from their sophomore set, "The Heat," that caused people to stop and listen. Their breakthrough hit — a soulful tribute to the Rineharts' parents — paved the way for 2009's career-defining album, "The Outsiders."
Praised by both critics and fans alike, "The Outsiders" heralded the beginning of the band's signature sound — an undefinable mix of Gospel, soul, pop, rock and country helmed by Rinehart's unmistakable vocal and defined by lyrics that cut straight to the core of the human experience. Introducing the banjo into their regular instrumentation, perfecting their harmonies, and finally surrendering to the reality that they would never seamlessly fit into either the mainstream world nor the Christian genre, the group discovered their sweet spot simply by being themselves. Their landmark third release also captured the attention of Taylor Swift, who personally invited the band to open for her massive "Speak Now Tour." That opportunity led the way for NEEDTOBREATHE to share the stage with other mainstream acts, including Train, OneRepublic, Tim McGraw, Faith Hill and Keith Urban, among others.
The highly anticipated successor to "The Outsiders," 2011's "The Reckoning," upped the ante on every front. The darker undertones, underscored by the unabashed rock flavor of the record elevated the prestige of the band, who became widely known for their meticulous live shows and impeccable musicianship.
If "The Reckoning" was an undeniable rock effort, 2014's introspective "Rivers in the Wasteland" was largely an acoustic record — namely because Bear and Bo were so busy fighting that they didn't have enough time to add ample production. Although fueled by strain between the brothers, their redemptive fifth LP proved to be one of their most successful, garnering them a GRAMMY® nod for "Multiplied" and a Platinum certification for "Brother," an apology-turned-hit that reunited the brothers after weeks of not speaking. Much to the delight of fans, their first live album followed, giving longtime supporters a tangible souvenir of the band's legendary concert experience. NEEDTOBREATHE has since gifted listeners additional live projects, including a recording of their fan favorite acoustic tour.
2016 dawned an era of pop for the Southern rockers, who experimented with fresh electronic elements and heavy synth on "Hard Love." In addition to a headlining tour in support of the project, the band partnered with some of their friends for a couple rounds of the popular "Tour De Compadres," where they shared the stage every night with like-minded artists like Switchfoot, Colony House, Ben Rector, Mat Kearney and Drew & @Ellie Holcomb, among others.
Between albums, however, tension between the brothers once again escalated, and in early 2020, Bo announced his departure from the band. A few months later, the group released their seventh studio collection, "Out of Body," which included songwriting contributions from Bo on nearly half of the selections before he officially exited. Their self-dubbed "pandemic record," "Into the Mystery," marked the band's first body of work without Bo as they quarantined together in a rented house in Columbia, Tenn., and ambitiously attempted to create a full album in only three weeks.
Establishing a fresh creative resurgence and a new relational chapter for the band, who is now independent of a label, NEEDTOBREATHE's ninth LP, "Caves," cemented their current lineup that includes founding members Bear Rinehart (lead vocals, guitar) and Seth Bolt (bass); along with Josh Lovelace (keys), who took over piano duties from touring keys player David Leonard in 2011; Randall Harris (drums), the group's former intern who began playing percussion upon Stillwell's departure; and Tyler Burkham (lead guitar), a former member of Audio Adrenaline who officially joined the band following Bo's exit.
"The Caves World Tour," featuring direct support from alternative band Judah & The Lion, is currently underway, hitting a slew of U.S. cities this fall and next spring with international dates expected to be announced for 2024. The multi-country outing continues to reaffirm NEEDTOBREATHE's reputation as one of today's best live acts with the band headlining a full slate of arenas. Continuing their philanthropic efforts, which have defined the seasoned group of musicians for the better part of the past 12 years, a dollar from every ticket sold on "The Caves World Tour" goes to benefit foster care focused non-profit For Others.