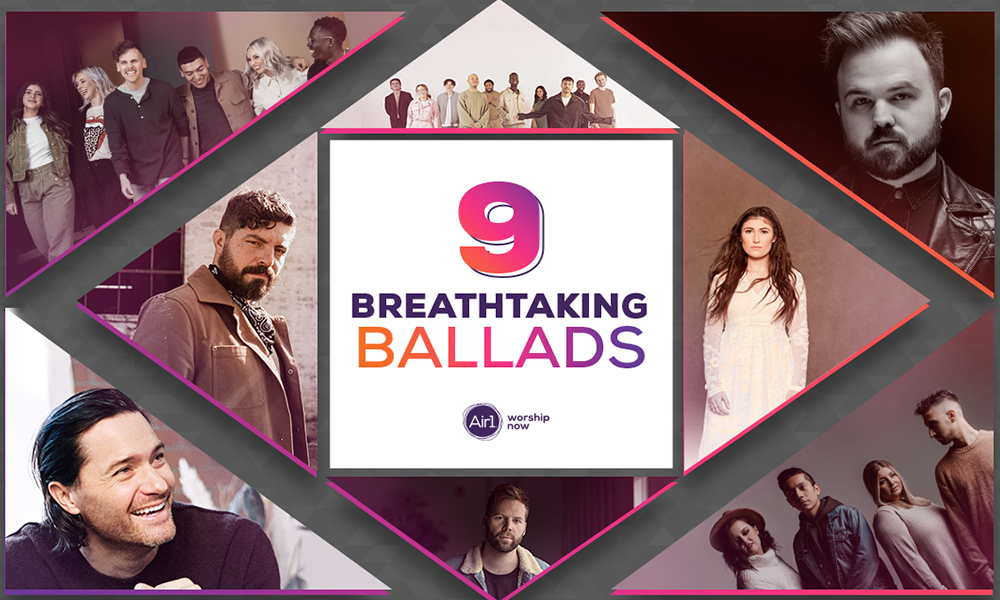 Although Valentine's Day is only once a year, God's love chases us and consumes us all year round! As love still looms in the air, draw near to the Father's love with these 9 beautiful ballads. Join us and sit in the Father's presence through worship with these new and up-and-coming songs that are a must-add to your daily worship routine!
---
1. Cody Carnes "Firm Foundation (He Won't)"
@Cody Carnes releases chain-breaking single, "Firm Foundation (He Won't)." Carnes declares the truth that Jesus is an unshakeable foundation that will never fail, and that when we build our foundation on Him we will always make it through even when the winds blow and the rain falls.
RELATED CONTENT: Cody Carnes Builds His Life on the Rock of Christ in "Firm Foundation (He Won't)"
---
2. Elevation Worship "Same God (Feat. Jonsal Barrientes)"
As humans that are in desperate need of God's love and power, we may seem to cry out to God almost every day. In the new song "Same God," @Elevation Worship cries out to the faithful God of the Old, and New Testament by confessing our need for Him. Listen to this powerful anthem when you need reminding that God is the same as He was yesterday, today, and forever.
RELATED CONTENT: Elevation Worship & Jonsal Barrientes Reveal that God Still Makes Miracles in "Same God"
---
3. Pat Barrett "Morning by Morning"
Pat Barrett releases multi-track single "Morning by Morning (I Will Trust)" that connects with listeners who are walking through seasons of uncertainty. Barrett's lyrics show us the truth about feeling overwhelmed and finding trust in the Lord. Reminding us that our future is secure in Jesus.
RELATED CONTENT: Pat Barrett Renews His Surrender in "Morning by Morning"
---
4. Elevation Worship "What I See (feat. Chris Brown)"
Another powerful single off @Elevation Worship's new album, LION, releasing March 4, "What I See" boldly calls upon the power of the Lord and how He is bringing the dead things back to life. Elevation Worship reminds us of the hope we have in the risen king, that all the dead things in our lives will come alive, and that we can see the work He is doing around us!
RELATED CONTENT: Elevation Worship Provides an Anthem for a Resurrection in "What I See"
---
5. Katy Nichole "In Jesus Name (God of Possible)"
Born from her powerful testimony of suffering through scoliosis, @Katy Nichole releases her debut single, "In Jesus Name (God of Possible)." As Katy encountered the healing power of Jesus, she felt led to write and share this song with the world who is also in desperate need of the saving power and love of Jesus.
---
6. Mosaic MSC "This is How I Thank the Lord"
Fresh from the studio, @Mosaic MSC releases "This is How I Thank the Lord," paying homage to the one who saves and can do all things. If you're looking for a song that fully worships and praises the Lord for who He is and all He has done, this is the song for you!
---
7. Patrick Mayberry "How You Love Me"
@Patrick Mayberry turns us back to the glorious, good news that rests in Jesus Christ. In the new song "How You Love Me", Mayberry encourages us that all this time God has loved us through it all and there is nothing to prove because of His grace. In this eye-opening melody, we can be reminded that it's about relationship over religion, and Jesus wants us to bring everything to Him.
---
8. Switch "Perfection"
@Switch, a collective group of worship leaders, points out that when we are critical of ourselves, God instead sees perfection. Their new song, "Perfection," gives encouragement that you are worthy and beautiful. This song will be your new best friend that speaks truth over you, constantly reminding you of your perfection in the eyes of God.
---
9. Josh Baldwin "My King Forever"
Apart of @Josh Baldwin's latest album, Evidence, "My King Forever" gives praise to the Lord for what He did on the cross. Baldwin ushers us into a state of powerful praise, inviting us to lay our lives down and surrender it as an offering to the one who holds the keys to the Kingdom and makes all things new.