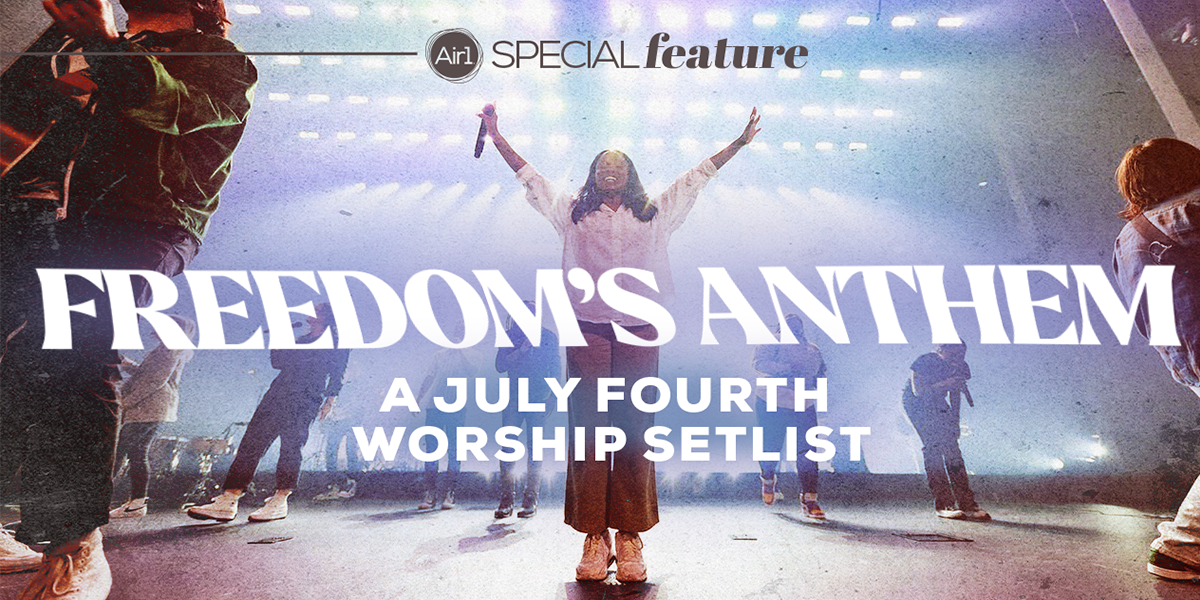 Join in with the spirit of freedom with the 'Freedom's Anthem: A July Fourth Worship Setlist.' With this compilation, we come together to commemorate the birth of a nation, embracing the profound significance of liberty, unity, and faith. Through an exquisite selection of songs, we seek to uplift hearts and voices in praise, drawing inspiration from the rich tapestry of American heritage and the timeless truths of our faith. Join us as we weave a musical tapestry of contemporary worship music that celebrates the blessings of freedom, acknowledges the sacrifices of the past, and propels us toward a future filled with hope, gratitude, and awe for the One who grants us true liberation.
---
1. "The King is On The Way"
RELATED CONTENT: Jonathan Traylor Heralds Christ's Imminent Return in "The King Is On The Way"
Jesus tells us in the Bible that He will be returning soon. Though the Lord had to go up to the Father for a time, He will be coming back to show us how the story is meant to end. While at times, we can feel as though He will never return, the day of His triumphant arrival back on Earth is surely coming soon. In "The King Is On The Way," @Jonathan Traylor reminds us of that truth, charging us to work diligently until the moment of His return arrives. How do you want to be found when He does?
---
2. "Praise You Anywhere"
RELATED CONTENT: Brandon Lake Sings Through the Struggle in "Praise You Anywhere"
It seems that in order to grow, we often have to go through difficult situations and learn to trust God even though we might be hurting. Throughout scripture, we see heroes of the faith who choose to hold onto faith rather than their fear. Like Shadrach, Meshach, and Abednego, we need to remember that God can save us from the fire. But even if He doesn't, our faith should still be in God. In "Praise You Anywhere," @Brandon Lake brings us back to that powerful truth.
---
3. "I've Witnessed It"
RELATED CONTENT: Passion Helps Us Believe in Miracles in "I've Witnessed It"
It has often been said that seeing is not the same as believing. Oftentimes as Christians, we see amazing things happening all around us, but we can be blind to God's part in it. When we receive blessings we rejoice, but we do not realize how important God's part in it was. In "I've Witnessed It," @Passion brings us the revelation that we have seen God working, performing miracles and changing the lives of those around us, and we must remember the things we have seen, passing them on to others as testimony of His power and love.
---
4. "Plead The Blood"
RELATED CONTENT: Chris Davenport, Brandon Lake & Cody Carnes Shield Themselves with Sacrifice in "Plead The Blood"
Throughout our lives, the enemy tries to discourage us and condemn us because of the ways we have sinned. The enemy loves to tell us that we are not worth Jesus' love because of the ways we have fallen short, but this message is a lie. In "Plead The Blood," @Chris Davenport, @Brandon Lake and @Cody Carnes all collaborate to declare that Jesus' blood is our defense against any accusation that is thrown at us. Jesus' sacrifice testifies in our defense, so we do not need to be condemned any longer.
---
5. "Always So Good"
RELATED CONTENT: Thrive Worship Holds to God's Fulfilled Promises in "Always So Good"
When standing at the base of a mountain that we are asked to climb, we often find ourselves worrying that the feat will be too much for us to handle. We think that God will be unable to see us through to the top, having forgotten that He already has in the past. In "Always So Good," @Thrive Worship reminds us of the miraculous things we have seen God do in our lives, using it as evidence that He will see us through the challenges of today.
---
6. "This Is Our God
RELATED CONTENT: Phil Wickham Preaches to His Own Soul on "This Is Our God"
Singer, songwriter and worship leader @Phil Wickham declares the hope and promise of the one true King with "This Is Our God." Penned by an all-star cast of songwriters that includes Wickham, @Brandon Lake, @Pat Barrett and Steven Furtick, "This Is Our God" is the lead single from Wickham's highly anticipated new studio album arriving later this year.
---
7. "More Than Able"
RELATED CONTENT: Elevation Worship Shows The Possibilities With God in "More Than Able"
In life, there will always be situations we face that will seem impossible. Situations where we feel hopeless, like there is no way to pull out a win. For every season of our lives, there will be a seemingly unscalable mountain that God is asking us to climb. These mountains can make us want to throw in the towel when we stand at their bases and look up, but in every one of them, God provides a way up for us. In "More Than Able," @Elevation Worship reminds us that God has enough power to see us through, and then some. No matter the mountains we face, God always provides a way to climb it.