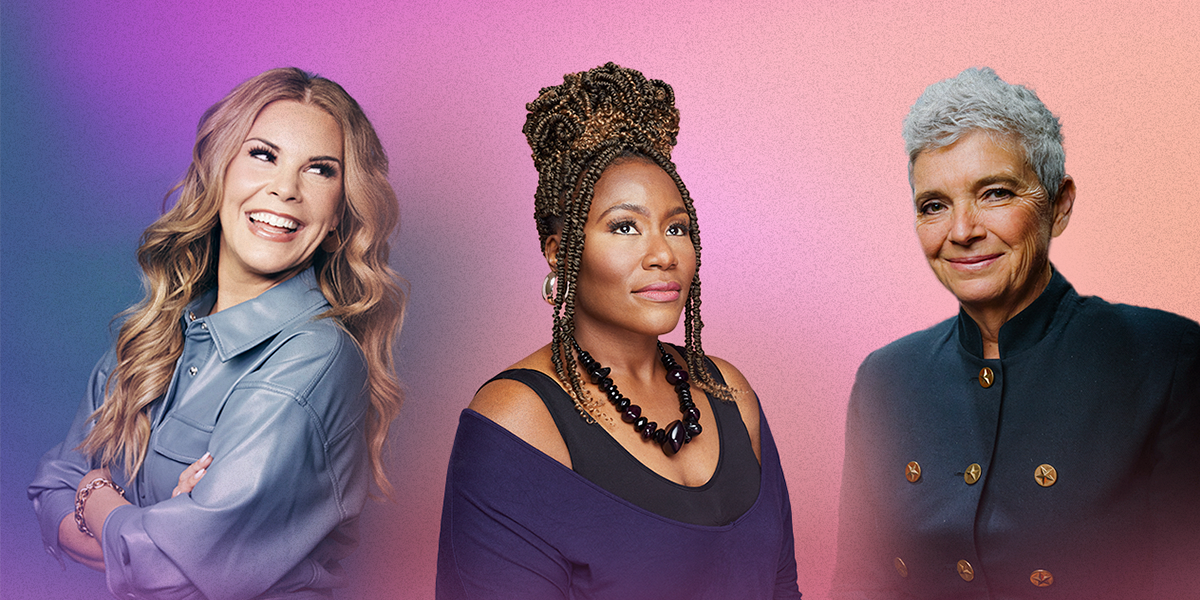 Stepping out in faith, standing firm in the midst of struggle and staying open-handed all require surrender. K-LOVE authors Helen Smallbone, Mandisa and Tasha Layton each learned this lesson firsthand. All three of these fearless females have tackled life's twists and turns with an incredible amount of equal parts grit and grace, while holding on to the only One who holds it all. In the hopes of helping others, they graciously shared their respective journeys via three K-LOVE Books titles that will inspire you to allow the ultimate Author to pen your next chapter. These women and their memoirs are proof the best stories are the ones Jesus writes.
---
Mandisa
Mandisa might be known as an "Overcomer," according to one of her biggest hits. However, the two-time K-LOVE Fan Award winner gets candid about the challenges she's overcome in her book, "Out of the Dark: My Journey Through the Shadows to Find God's Joy." The powerhouse vocalist initially penned "Overcomer" as an anthem of encouragement for her friend, Keisha, who was diagnosed with breast cancer while pregnant. Although the upbeat pop jam did serve to lift Keisha's spirits, it didn't take the cancer away. When Keisha passed, Mandisa was left with nothing but questions, doubts and growing anger. Her prayers for miraculous healing weren't answered this side of heaven, and the "American Idol" alum fell into a deep depression.
RELATED CONTENT: Book Spotlight: 'Out of the Dark,' by Mandisa
Most fans are well acquainted with Mandisa's struggles with her weight — a topic she's been open about since Simon Cowell first made rude comments about her appearance on "Idol" — but few are familiar with her long battle with depression. "Out of the Dark" is an overview of the singer's life, but it particularly hones in on the season following her friend's death that led to unbearable sadness — the kind that caused the GRAMMY® winner to sink into the depths of despair. While Mandisa admits she's now in a healthier place thanks to counseling, loyal friends and a Savior who met her in the middle of her sorrow, she also confesses her struggle with depression is ongoing. It takes great faith to be that vulnerable and also to still continue to stay in the fight.
Read more about Mandisa's battle with depression and how she's seen God use this struggle to refine her in "Out of the Dark: My Journey Through the Shadows to Find God's Joy."
---
Tasha Layton
Before @Tasha Layton was a chart-topping Christian artist, she was touring internationally as a background vocalist supporting secular pop sensation Katy Perry. While music was always something she felt called to, as a teen, someone told Tasha her motives for singing weren't pure, and those words wounded her in a profound way. While she now invests her life's work toward pointing people to Christ through lyrics and melodies, there was a time when Tasha believed music would never be a part of her future. The recent "Hits Deep" alum chronicles her search for purpose and fulfillment in Jesus in her debut book, "Look What You've Done: The Lies We Believe and the Truth that Sets Us Free."
RELATED CONTENT: Tasha Layton Embraces God's Plan in New Book "Look What You've Done"
Conflicted about her core beliefs, Tasha's personal quest for meaning took her around the globe as she explored various religions. Eventually, it led her back to the Giver of her incredible musical gifts, and in time, she rediscovered her voice. Content to use her vocal talents to serve the local church as a worship leader, becoming a Christian artist with a public platform was the furthest thing from her mind. Yet, when she fully committed her dreams to the Lord, He began giving her original songs she is now stewarding around the world as a solo act. Moreover, this surprise turn of events inspired Tasha to pray bolder prayers and believe for bigger things that resulted in ministry opportunities in Africa — a place close to her heart — and the birth of her two children after she and her husband were told it would be impossible for her to get pregnant. Tasha had to learn how to trade her plans for God's plans as she transitioned from the background to the forefront in order to fulfill the calling He had placed on her life.
Read more about Tasha's incredible journey from backing vocalist to rising star in "Look What You've Done: The Lies We Believe and the Truth That Sets Us Free."
---
Helen Smallbone
Helen Smallbone may not be a name you immediately recognize, but believe me, you already know her children. Helen is the "mum" of beloved singer/songwriter and podcast host @Rebecca St. James and the mother of Joel and Luke Smallbone, who comprise award-winning duo @for KING & COUNTRY. She also has four other talented children, many of whom work behind-the-scenes on the for KING & COUNTRY team. The pride she takes in all of her kids is evident from the first page of "Behind the Lights: The Extraordinary Adventure of a Mum and Her Family," Helen's first book. In her memoir, the mother of seven details her family's humble beginnings and the remarkable journey that took their large brood from their native Australia all the way to Music City. Her husband, a Christian concert promoter, saw real opportunity in America to further both his career and Rebecca's, who at the time was nothing more than a teenager with God-given talent and a demo. Helen had no idea what lay on the other side of this dream — or the other side of the world, for that matter — but she trusted the burning passion God had placed in her husband's heart.
RELATED CONTENT: The "Unsung Hero" Behind for KING & COUNTRY and Rebecca St. James Bows Her First Book
Once the Smallbones made it safely to America, the matriarch worked odd jobs to help put food on their table and homeschooled her children to provide them with a Christ-centered education that also allowed them the flexibility to travel together as Rebecca's career exploded. But perhaps it was the faith she modeled for her kids that was most important. By Helen's example, they learned to pray for their needs (no matter how small), work hard to earn their keep and chase after the things God calls them to do.
Read more about how Helen's step of faith resulted in two of Christian music's most celebrated acts in "Behind the Lights: The Extraordinary Adventure of a Mum and Her Family." And prepare for a deeper look into the Smallbones' story when for KING & COUNTRY's original feature film, "Unsung Hero," premieres later this year.