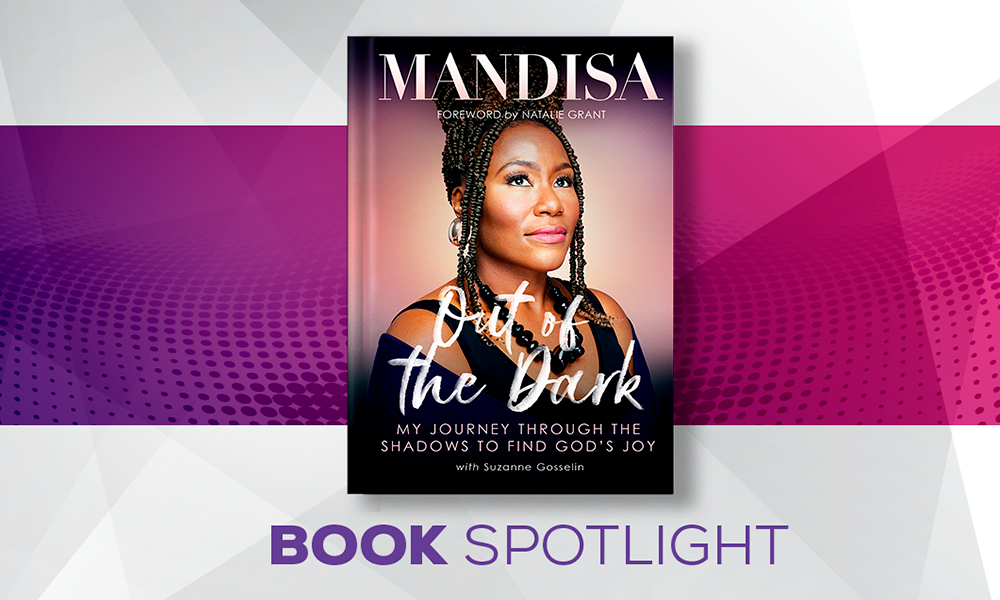 Mandisa Gets Real About Depression, Anxiety and Mental Health in 'Out of the Dark'

Two-time K-LOVE Fan Award winner Mandisa shares her personal path to wholeness and healing in brand new memoir, Out of the Dark: My Journey Through the Shadows to Find God's Joy. Her first project in partnership with Air1 Books, Out of the Dark follows the "Overcomer" singer from her California roots to her Tennessee dreams; and along the way, she vulnerably shares her story of all the peaks and valleys in between.
WATCH NOW: "Overcomer" Official Music Video
Across 12 chapters, the GRAMMY® winner opens up about her childhood and the tension that comes with being a product of divorce. For Mandisa, this meant her weeks were often split between her mom and dad and stepmother. It also meant she spent a lot of time alone, and that's when she began finding comfort in junk food, which led to a lifelong struggle with her weight. Out of the Dark, however, doesn't focus squarely on her battle with body image. Instead, the memoir covers a lot of versatile ground, hitting on everything from abuse and grief to singleness and success — all of which she's experienced firsthand.
Get your copy of Out of the Dark: My Journey Through the Shadows to Find God's Joy here.
"Since the first day I met Mandisa, she has been nothing but original and courageous. My touring family is better when she is out with us. She genuinely supports each artist that takes the stage, as well as every crew member behind the stage. In a single word, I would say without hesitation that she is one of the most authentic people I have ever met," TobyMac says of his former tour mate and longtime friend. "Her heart is to help others, and in this book, she vulnerably shares her own real life experiences and struggles in an attempt to provide insight and love others well."
WATCH NOW: "Bleed The Same" feat. @TobyMac and @Kirk Franklin
More than simply stories behind her hit songs, Out of the Dark provides a chronological look at Mandisa's rise to fame. She recalls her time on "American Idol" and her earliest insecurities as she launched a career in Christian music. She talks about leading her brother to Christ after faithfully praying for his salvation for years. She shares about buying a "pandemic puppy" and navigating a global health crisis that kept her off the road but gave her time and space to express her creativity in new ways. She even gets real about the challenges that come with being a Christian single who desires marriage and her bold attempts to challenge radio programmers to play music from a more diverse lineup of artists. But the common thread found throughout her honest musings is her experience with depression and anxiety.
As she reveals in Out of the Dark, when one of her best friends passed away from breast cancer — in spite of countless prayers for her healing — Mandisa spiraled into a dark place emotionally. Shutting out the world, she sank into the depths of sadness. While Out of the Dark doesn't shy away from the reality of this season and the truth that depression remains a struggle for the singer, it does detail where she found hope and how she discovered tangible ways to cope.
"As Mandisa shares her low points from her journey in the dark, it becomes evident that she trusts the Lord to be her light. We want Him to be your light, too," fellow recording artist Natalie Grant writes in the book's foreword. "And I believe Mandisa, through her bravery and transparency, will serve as a guide, showing many the way out of the dark."
Passionate about discussing mental health from a Christian point of view, Mandisa regularly explores the subject openly with licensed therapist Laura Williams on AccessMore's "Out of the Dark" podcast. Her book candidly expands on many of the difficult topics she and Williams tackle together throughout their growing collection of conversations.
WATCH NOW: Laurie's Exclusive Interview with Mandisa
"Out of the Dark is my story. I share about the good, the bad and the dark, challenging times I've experienced. And along the way, I learned how to trust God fully even when I couldn't see or hear Him," Mandisa says. "If you've ever found yourself in a dark place as the result of grief, depression, or even loss, I assure you that even when you're walking through dark valleys, God can lead you on a path to joy and hope."
Purchase your copy of Out of the Dark here.