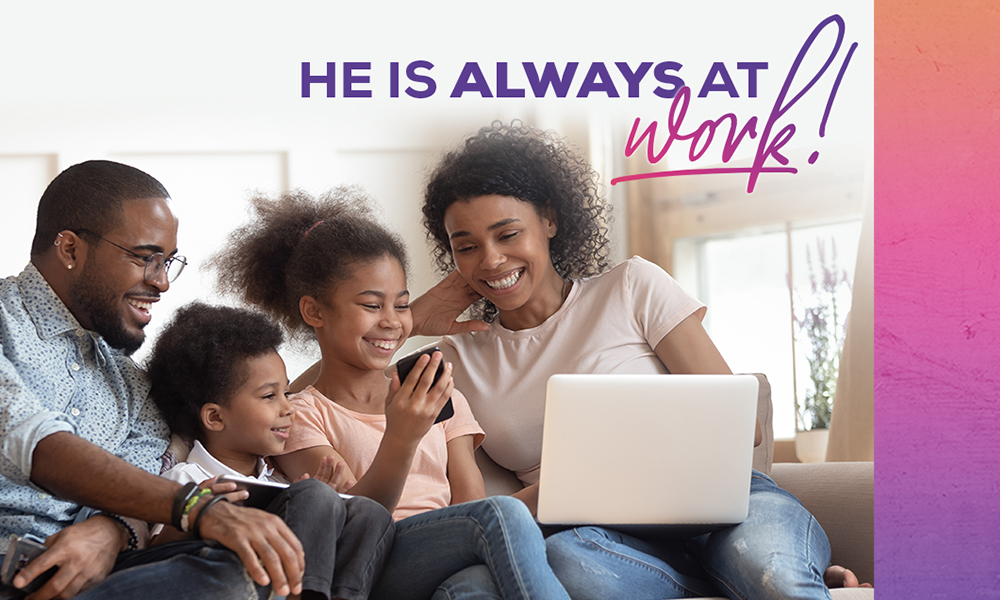 Have you ever tried to tell a parent who is potty-training "this too shall pass?"
Ever tried to tell a college student who is working on 3 term papers that are - shocker! - all due on the same day "you'll get through this?"
It's tough to see beyond the difficulty you're in. When my wife and I had 3 kids under 3 (and two of those were twins), I would head to Costco and start with diapers and wipes. By the time I got 3 boxes of diapers (somehow our twins didn't fit in the same size) and a box of wipes, I had already spent $150. If you ever saw a dry sobbing dad in a Costco in Arizona, that was me!
I wondered if that season would ever end - and it did! Yet, standing in the middle of it, I struggled to have a larger perspective. My wife and I were in survival mode.
The last year has felt like a collective experience of "survival mode." If you haven't had an experience recently where you wonder if you'll get through it, you're probably heading for your turn soon! It's in those moments that we ask ourselves these questions.
Will this ever end? Will I get through this? What happens if I give up?
Sometimes, we find ourselves in literal survival mode. We're fighting an illness or disease that threatens our life. We're dealing with danger because of abuse. We're trying to keep our home or our job.
In those times and experiences, there's often an unstated question we're living in our faith. "Where is God in the middle of all this? Does God see? Does God know? Does God care? Is God at work at all?"
Now, before we start answering those questions, let's acknowledge something really important. When someone we know is in pain, experiencing loss, or grieving, their pain can make us tremendously uncomfortable. Due to our discomfort, we may seek to solve their pain by providing a quick answer in the form of a cliche.
When someone else is in pain and we're uncomfortable, pause and ask "What do they need right now?" If they haven't already communicated what they need, it's okay to ask. They may not know, but don't presume that what would make you feel better is what they need at the moment.
When we take those questions to Scripture, we find a consistent answer.
Responding to the Pharisees in John 5:17, Jesus replies, "My Father is always working, and so am I."
Speaking to people who are devastated by the destruction of their homes, Jeremiah writes in Lamentations 3:22-23, "The faithful love of the Lord never ends! His mercies never cease. Great is his faithfulness; his mercies begin afresh each morning."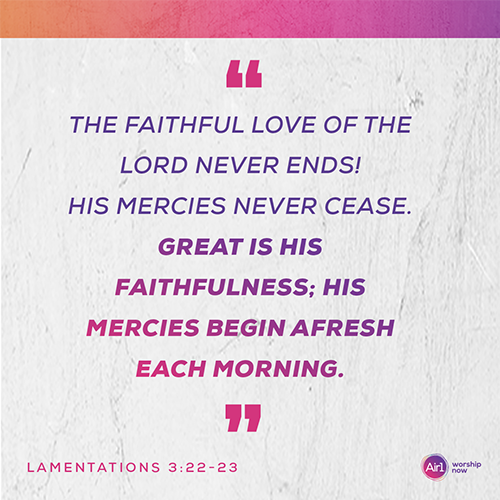 Encouraging a persecuted and struggling church, Paul opens the book of Philippians by saying, "And I am certain that God, who began the good work within you, will continue his work until it is finally finished on the day when Christ Jesus returns."
Strengthening the hope of the faithful believers who saw injustice abounding, the prophet Zephaniah declared, "But the Lord is still there in the city, and he does no wrong. Day by day he hands down justice, and he does not fail."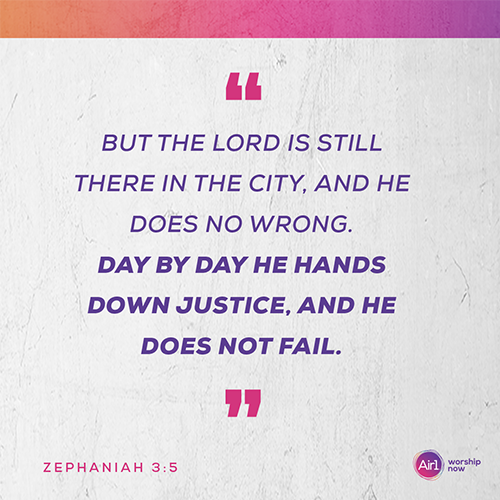 God is ALWAYS at work, even and especially when we don't see it or feel it.
However, sometimes what we need to hear is another message first. Before we can accept that God is always at work in our difficulty, we may need to know that God is always with us. We may need to know that we can always access God's presence.
The question to ask ourselves when we're trying to survive or we're trying to love someone else who is in that spot is not necessarily, "what is true?" Perhaps another question is, "What truth do they need to hear right now?"
Earlier this year, I was feeling overwhelmed. I'd been in survival mode longer than is healthy and I could feel the effects on my body and soul. When a new challenge emerged, I asked all those questions. "Does God see me? Does God care? Is God doing anything about this?"
If you had tried to quote those Scriptures to me that I included above, I wouldn't have responded with gratitude. Honestly, I probably would've brushed them off. Later that day, I stumbled on a quote from one of my favorite books. Brennan Manning once wrote, "My deepest awareness is that I am deeply loved by Jesus Christ and I have done nothing to earn it or deserve it."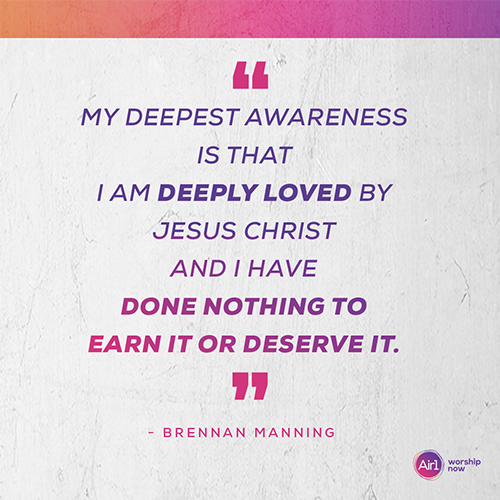 Those words cut right to the heart of my struggle. In survival mode, I felt like I had to earn, work, and hustle my way out. I felt like I would deserve God's love after all that work. Reading a reminder that I cannot earn His love; I can only receive it - that moment was so profound that I designed a poster online that day and it now hangs in my office where I'm writing this article.
Once we've felt His love or entered His presence to cry out in desperation, we are often more receptive to embrace the truth that God is ALWAYS at work.
So, if you're just trying to survive today, or you know someone who is, keep these things in mind.
Ask "What do you need right now?" rather than just doing what makes you feel better.
Consider which truth the other person might need to hear or experience first.
Asking questions and wrestling before God often precedes an experience of God's power and presence.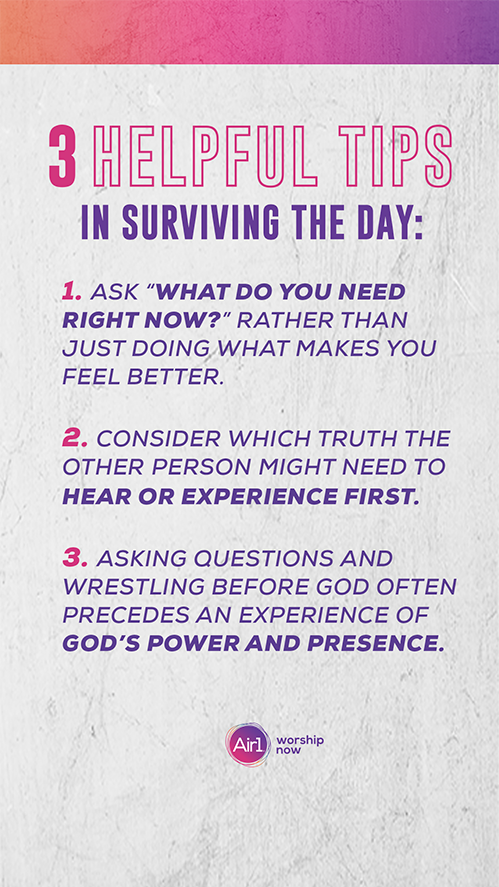 In Psalm 34, David declared, "The Lord is close to the brokenhearted; he rescues those whose spirits are crushed." According to David, the prerequisite for experiencing God's closeness is pain. The storyline of rescue requires a crushing defeat.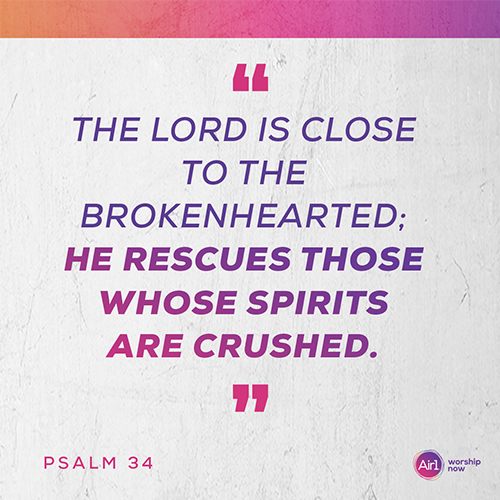 For us to know - not just intellectually, but experientially - that God is ALWAYS at work, we need a situation where God's work is necessary.
In his song, "Good God Almighty," @Crowder sings: "I can't count the times I've called Your name some broken night, And You showed up and patched me up like You do every time"
RELATED CONTENT: "Good God Almighty" by Crowder
After a year of breaking, tearing, and grieving, what a gift it is to know that God is ALWAYS with us. We can ALWAYS access His presence. God is ALWAYS at work. We can ALWAYS worship him.
---
Scott Savage is a pastor and a writer with the coolest last name ever. He leads Cornerstone Church in Prescott, Arizona. Scott is married to Dani and they are the parents of three "little savages." He helps hurting people forgive others through his Free to Forgive course and you can read more of his writing at scottsavagelive.com