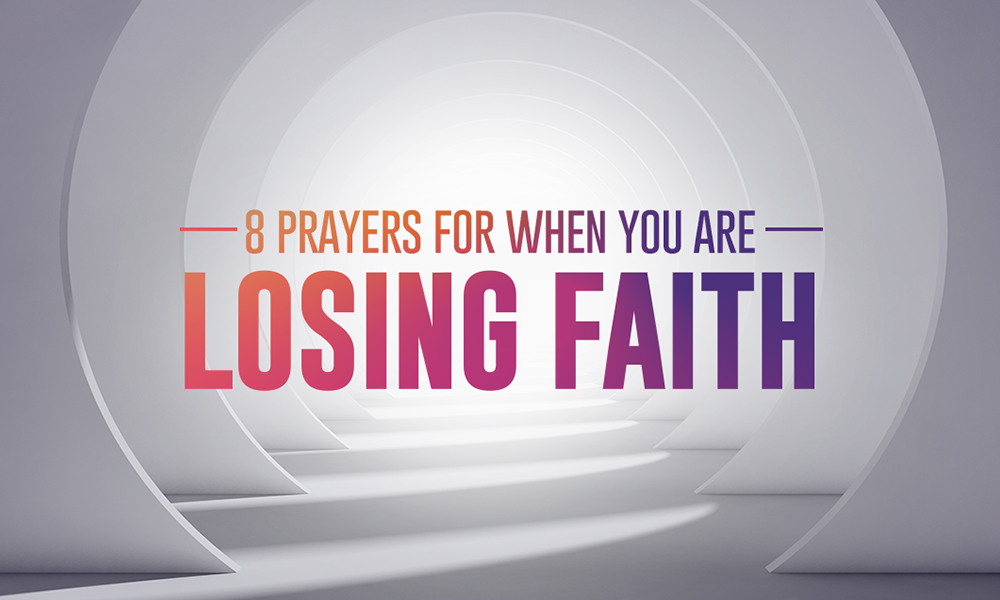 I remember when I started to question whether God was good and worthy of my trust. My husband and I had tried for over a year to have a child. Finally, after 13 long months- we were blessed to conceive. Four months into that pregnancy, we lost the baby. I felt let down and discouraged. How could a good God allow this to happen? I felt alone, abandoned, and unloved by God. In desperation, I reached out to my church family for help. Their overwhelming advice was to resist the temptation to reject God when I needed him most. I needed to refuel my faith based on who God is, not just what I wanted him to do. As I searched the scriptures, I encountered a God more powerful and better than my feelings at the time. Maybe you are experiencing a difficult season of loss or unexpected change that challenges your perception of God. Here are 8 prayers to help you reconnect with the faithfulness of God and find a renewed sense of confidence in Him.
---
Lead me by your truth and teach me, for you are the God who saves me. All day long I put my hope in you. Remember, O LORD, your compassion and unfailing love, which you have shown from long ages past. – Psalm 25:5-6 NLT
Heavenly Father, thank you for revealing yourself as compassionate and merciful. You see the circumstance I am facing, and it is not a surprise to you. You are not caught off guard or shaken by it. Help me to remember that your love is unfailing and that you are faithful. Help me discern your path and show me the right way to follow. Show me where you are already at work through this difficulty. Help me to trust in you. Thank you for being the God who saves me and for your faithfulness in helping me through this issue. In Jesus' Name, I pray – Amen.
---
O Jacob, how can you say the Lord does not see your troubles? O Israel, how can you say God ignores your rights? Have you never heard? Have you never understood? The Lord is the everlasting God, the Creator of all the earth. He never grows weak or weary. No one can measure the depths of his understanding…But those who trust in the Lord will find new strength. They will soar high on wings like eagles. They will run and not grow weary. They will walk and not faint. – Isaiah 40:27-28, 31 NLT
Help me, Lord, to remember you see everything I am enduring. There is not a tragedy or hardship on earth that escapes your attention. Help me- remember you are an everlasting God and never grow weak or weary. I submit to your will and recognize you are smarter than me and more capable of making this right. Help me, Lord, to see – you are with me and seek your understanding of the situation. Help me trust in you and find the new strength to carry on. Thank you, Lord, for your strength and the power of your Spirit to lead me through this tough time. In Jesus' Name – Amen.
---
Yet I still dare to hope when I remember this: The faithful love of the Lord never ends! His mercies never cease. Great is his faithfulness; his mercies begin afresh each morning. I say to myself, 'The Lord is my inheritance; therefore, I will hope in him!' – Lamentations 3:21-24 NLT
Thank you, Lord, for your faithful love. I will dare to hope as I remember that you are trustworthy, and your mercies do not end. Help me to see your eternal, unrelenting love at work in my life. Give me the strength to focus on you and the hope I have in you. Thank you for the promise of each new morning and your continued mercy toward me. Teach me to rely on your steadfast, covenant love. Keep me reminded of your faithfulness. In Jesus' Name – Amen.
---
Trust in the Lord with all your heart; do not depend on your own understanding. Seek his will in all you do, and he will show you which path to take. – Proverbs 3:5-6 NLT

Heavenly Father, I know you are trustworthy. I will not lean only on my own understanding. I know the way to get through this is to depend more on you. Help me to trust confidently in your ability to lead me. Help me give your word and will more value than my own. Teach me how to trust you. Help me to stay confident in you. In Jesus' Name – Amen.
---
Don't be afraid, for I am with you. Don't be discouraged, for I am your God. I will strengthen you and help you. I will hold you up with my victorious right hand. – Isaiah 41:10 NLT
Heavenly Father, I will not be afraid because you have promised to be with me. Fill me with the assurance of your will at work in my life. Help me resist the discouragement of this moment and to walk in peace. May I trust you even when I feel weak. Teach me how to reset my expectations based on your promise. Thank you for your pledge to strengthen and help me. Help me to receive your word for me. Restore my confidence in your strength, your power to hold and help me through anything. Thank you for the strength and courage I find in your word. In Jesus' Name – Amen.
---
Then Jesus said, 'Come to me, all of you who are weary and carry heavy burdens, and I will give you rest. Take my yoke upon you. Let me teach you, because I am humble and gentle at heart, and you will find rest for your souls. For my yoke is easy to bear, and the burden I give you is light.' – Matthew 11:28-30 NLT
Heavenly Father, thank you for the redemption I have through Jesus Christ. Keep me reminded of your nature as expressed through Christ. Thank you for the opportunity to exchange my doubts for the assurance of your love and your rest. Father, I ask you to teach me your ways and show me the light of your words in the tunnel of my experience. I come to you in my pain and exhaustion and ask you to lighten this burden. Father, I receive today the humble and gentle nature of Christ. I rely on the work of your Spirit in me to bring me into the knowledge of you. Renew my faith in the promise of rest I have in you. In Jesus' Name – Amen.
---
'For I know the plans I have for you,' says the LORD. 'They are plans for good and not for disaster, to give you a future and a hope. In those days when you pray, I will listen. If you look for me wholeheartedly, you will find me.' – Jeremiah 29:11-14 NLT

Thank you, Lord, for your redemptive power in my life. You are a good God. Heavenly Father, let your plans for good and hope for my future guide my thoughts during this time. Help me remember that you are here, and you will restore my life. Thank you for your power to heal, help, and redeem my pain and even my doubt. I will seek you with my whole heart. I will search for you and make your will the focus of my efforts. Help me see your plan and your purpose at work in my heart. In Jesus' Name – Amen.
---
And the Holy Spirit helps us in our weakness. For example, we don't know what God wants us to pray for. But the Holy Spirit prays for us with groanings that cannot be expressed in words. And the Father who knows all hearts knows what the Spirit is saying, for the Spirit pleads for us believers in harmony with God's own will. And we know that God causes everything to work together for the good of those who love God and are called according to his purpose for them. – Romans 8:26-28 NLT
Heavenly Father – you are here to help me. You know my heart, and You see my weaknesses. I appreciate that through the Holy Spirit- you have provided for me in my weak moments. Father, let your will be done in my life today. Thank you for the reminder that you will cause even this circumstance to work together for my good. Thank you for helping me remain in your love and submit to your purpose for my life. You are my God, and I will remember that you always provide for your children. Continue to lead me by Your Holy Spirit and help me walk in agreement with your will for my life. In Jesus' Name – Amen.
RELATED CONTENT: Have You Lost Faith?