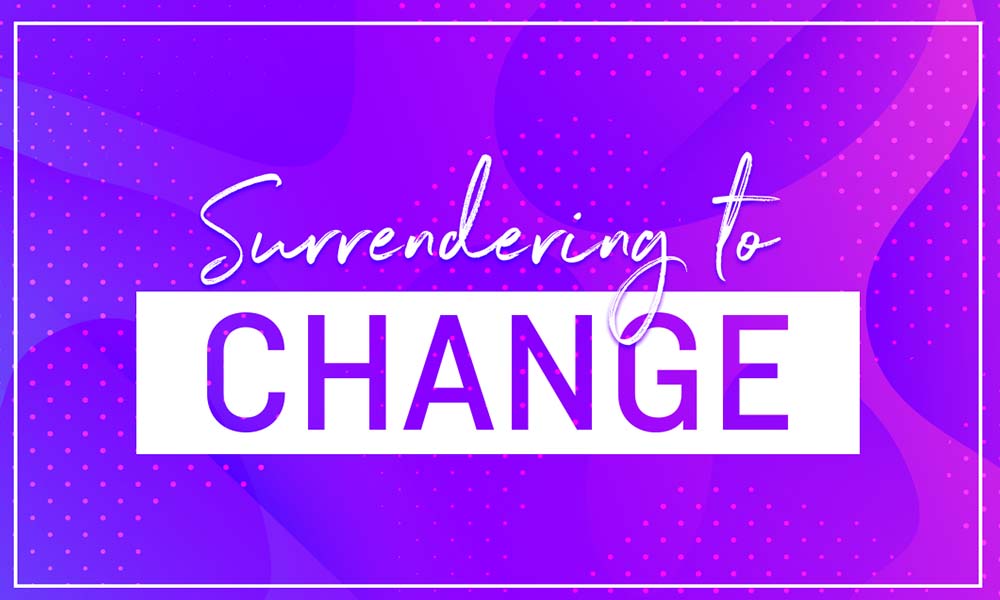 At the beginning of a new year, many of us have the word CHANGE on our minds. We're thinking about changes in our health, relationships, and money.
It's important to periodically step back and re-evaluate our priorities. As Socrates said, "the unexamined life is not worth living." Yet, our focus this time of year can often be the physical, the superficial, and the things we can control.
But, what about what lies beyond all that? What about the eternal, the deep things, and the places beyond our control? Do we ever stop at the beginning of a new year and ask ourselves, "What changes might God want to bring in me?"
Several years ago, I came under a strong sense of conviction that I was trying to follow the teachings of Jesus the wrong way.
First, to put it bluntly, I was trying to follow Jesus' teachings without Jesus. I was doing the Christian thing, but on my own. I was striving to be like Jesus in my own power and strength. It was as if I embraced my need for the grace and mercy of God to be forgiven and made right with God, but I put the full weight of my ongoing transformation as a follower of Jesus on my own shoulders. I embodied the problem the Apostle Paul pointed out in Galatians 3:3. "How foolish can you be? After starting your new lives in the Spirit, why are you now trying to become perfect by your own human effort?"
Second, my life was very much about maintaining control. I avoided situations where I felt out of control and I embraced ones that left me feeling powerful and in charge. When life threw me a curve ball that left me feeling powerless and vulnerable, I cried out to God as if this was the opposite of what He wanted - the opposite of what was good for me. In my mind, God should be orchestrating circumstances that make me feel secure and in charge. (Just writing those words I see the ludicrous and ridiculous nature of my pattern, but that's the sad truth.)
Third, my life was marked by ongoing worry and anxiety. Due to the consistent pattern of surprises that made me feel vulnerable and not in control, a sense of worry became more and more common. I expected bad things to happen rather than good things. When a situation was unresolved, I expected a negative resolution rather than a positive one.
It was during this time that I began feeling profoundly convicted that something needed to change. The change wasn't quick nor superficial. The change was something God wanted for me. As I began to lean in and listen to what God was trying to speak through the events of my life and my awareness about my pattern of responding to those events, the invitation began to clarify for me. The invitation could be summed up in one word.
Surrender.
Surrender is the opposite of striving. It's the end of control. Surrender is the antidote to worry and anxiety. The verse God began to use in my life to clarify what this invitation looked like was Romans 12:1. In that verse, Paul went beyond invitation and made a plea to the Jesus-followers in Rome.
"And so, dear brothers and sisters, I plead with you to give your bodies to God because of all he has done for you. Let them be a living and holy sacrifice—the kind he will find acceptable. This is truly the way to worship him."
In the New Living Translation, Paul begins chapter 12 with the words "And so." In other translations, that opening word is translated "therefore." Whenever you see the word "therefore" in writing, it's important to read back and review what has just been said or described. As many preachers have said, you need to ask yourself "what is the 'therefore' there for?"
Paul spent the first 11 chapters of Romans overviewing in great detail what God did to reconcile the Jews and Gentiles to Himself through the cross and the resurrection of Jesus. It's a grand picture that Paul painted and by the time the reader (or in the original case, the listener) got to chapter 12, a sense of awe and wonder would be appropriate.
So, in light of "all God has done for you," Paul says, "I plead with you to give your bodies to God - let them be a living and holy sacrifice." Put another way, Paul is saying…surrender!
My response to that invitation may mirror what you're feeling right now. "How can I surrender in light of these circumstances that are out of control? How can I surrender when so much is dependent on my effort? How can I surrender when there is so much to be worried and anxious about?"
My initial resistance to surrender was based on my focus on all I was facing. I eventually re-read Romans 12:1 and realized God's invitation was focused on something different. This invitation to change - to surrender - was not dependent on present or even future circumstances. This invitation to surrender was "because of all God has done for you." Other translations read "in view of God's mercy."
When we focus on our circumstances, it's easy to end up striving, controlling, and worrying. But, when we consider all God has done for us and when our view is from a place where we consider God's mercy, surrender doesn't seem unreasonable.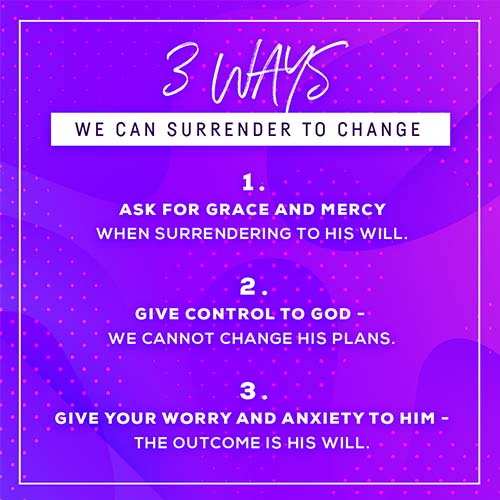 In their song, "I am Yours," @NEEDTOBREATHE sings,
"It seems like madness, I'm invited.
To the table by your side."
When our hearts and minds reflect this kind of wonder and awe, it's a sign that we're looking at life and ourselves through the lens of God's mercy. It should never be lost on us how much Christ has done for us. That's the source of true worship!
RELATED CONTENT: NEEDTOBREATHE Delivers a Joyful Reminder of Belonging to Listeners in "I Am Yours"
I'm so glad that our culture provokes us to consider changes at the beginning of the year. Change is good when we're pursuing growth and health. But, our approach to change is not complete until we ask ourselves, "What changes does God want me to make this year?"
I'm excited for God to work as powerfully in your life as He did in mine when you ask that bold, even dangerous question.
---
Scott Savage is a pastor and a writer with the coolest last name ever. He leads Cornerstone Church in Prescott, Arizona. Scott is married to Dani and they are the parents of three "little savages." He helps hurting people forgive others through his Free to Forgive course and you can read more of his writing at scottsavagelive.com