Seasons of prolonged difficulty can leave us feeling frayed, making bad habits, and addictions more attractive. How do we lead ourselves when addictions tempt us to trust in them instead of God? Here are 4 steps (S.T.E.P.) that strengthen our mindset and save us from unhealthy coping.
START talking to yourself.
Dr. Martyn Lloyd Jones once said, "Most of our unhappiness in life is because you are listening to yourself instead of talking to yourself," The Psalmist talked to himself, saying, "Why am I discouraged? Why is my heart so sad? I will praise Him again." (Psalm 42:5) God helped me defeat depression years ago when I started to 'tell myself how to think,' and 'told my cotton-candy, addiction-craving pleasures' what God said about them. (1 Corinthians 10:13) When unhealthy thoughts trap us, the way out is to replace 'bad thoughts' by putting on 'God's thoughts.' (Colossians 3:8-14)
TALK to others.
We can easily 'talk ourselves' into the quicksand of avoiding others. Some relationship-enriching strategies that help me are hopping on a zoom call with friends, texting encouraging words, and untangling my thoughts by sharing my feelings with others. We had a blast playing Pictionary on Zoom with 12 family members last weekend. Talking, drawing, laughing, and competing (loudly!) created family memories. God made us to communicate in community. (Acts 2:44-47)
EXPECT good results.
Binge-watching TV, over-eating, alcohol, even drugs do not disqualify us from God's love. Maybe you are doubting or have even walked away from Jesus. Though God is saddened by our wanderings, He receives and loves us-always! He keeps our tears in a bottle (Psalm56:8), is full of compassion, (Lam. 3:22), and ready to forgive. (Psalm 86:5) Even when we are a mess, His grace is greater than our sin (Romans 5:20). What helps me keep perspective and expect good results, is knowing the struggle is a gift since "God causes all things to work together for my good." (Romans 8:28)
PRIORITIZE our life.
When I was overwhelmed, my mentor would say, "Simplify. Eliminate. Focus. Prioritize." Being quarantined can remove life's non-essentials. Since fear multiplies problems, one way to simplify is to avoid worry. A second way to help prioritize is by eliminating non-essentials. Enjoy your hobbies, but regain focus by tossing junk food, monitoring media consumption, and decluttering your living space so that (Hebrews 12:1) we can love God and others better. (Matthew 22:37-40) Let's enjoy today, (Psalm 118:24) S.T.E.P to the next level and live with a mindset of encouragement and service to others.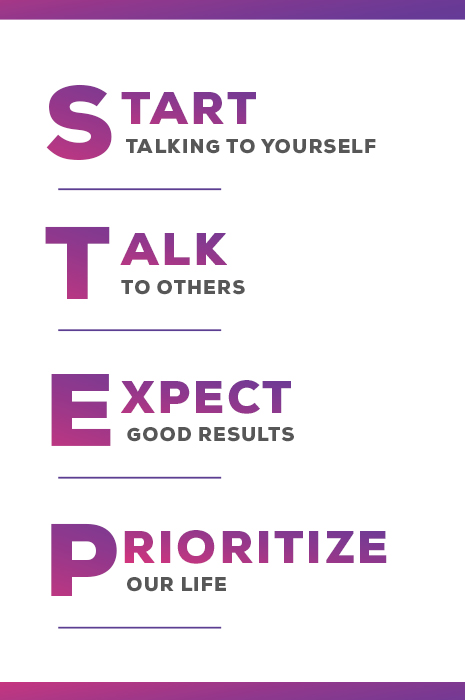 Soak and Reflect:
Start 'talking to yourself' by hoping in Jesus. Let him become your stable rock and overcomer of discouragement.