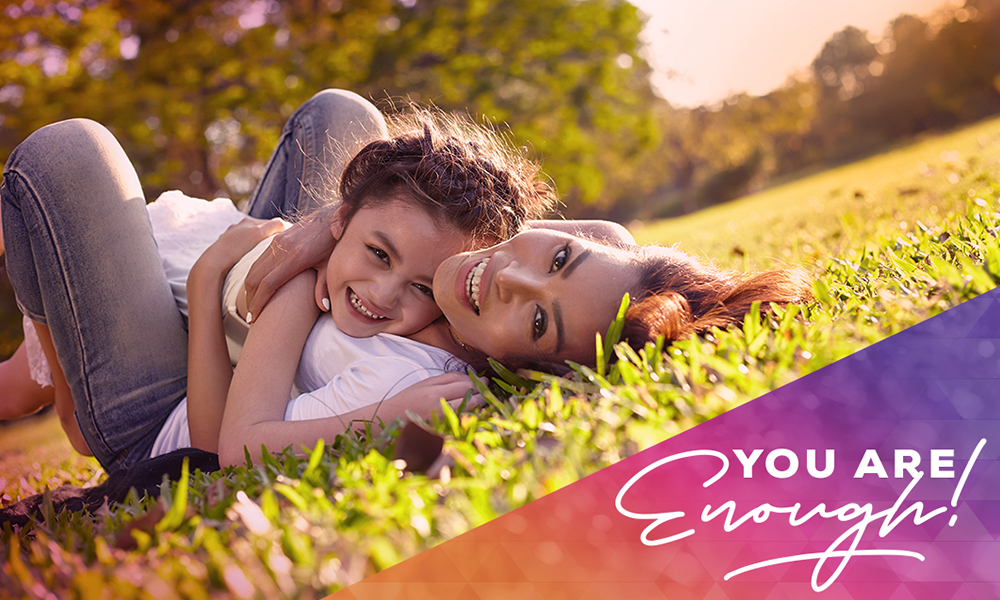 "It is challenging to be a mom today."
Between the constant comparisons of social media, parenting during a pandemic, and the strain of daily life for families, it shouldn't be surprising that moms feel overwhelmed and discouraged.
This week, I texted three moms that I respect who are in various seasons of motherhood. I asked them, "What toxic or unhelpful thoughts do you struggle with as a mom?"
Over the next few minutes, my phone exploded with messages as they shared in an unfiltered way. Message after message revealed the silent soundtrack that's running in the minds of many moms.
I summarized their answers into 5 Lies Moms Believe. These five lies are echoed in many conversations I've had with moms over the years as a pastor.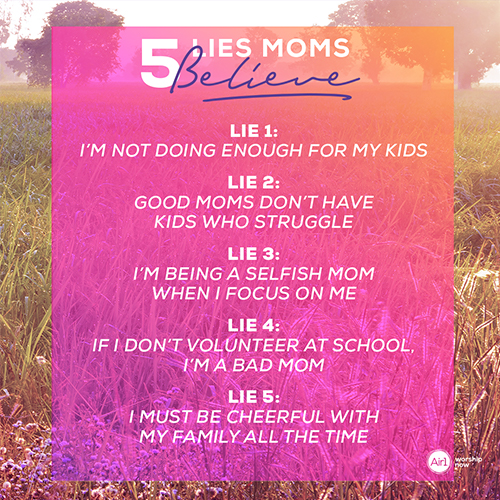 LIE 1: "I'm not doing enough for my kids."
Like the well-known song from The Greatest Showman, moms can feel like their sacrificial work is "never enough." Working a job to provide for your family? Then you're not available enough for your kids, and that makes you a bad mom. If you were a good mom (the thinking goes), you would be able to do all of this. "Based upon Instagram, other moms are pulling it off; why can't I?"
LIE 2: "Good moms don't have kids who struggle with ________________."
Many moms wrestle with their worth and value being a direct reflection of their child's performance and achievements. When one child struggles in a way that other children from the same family don't, it's very easy to turn the blame on oneself. For Christian moms, there may also be a worry that their kid's salvation is dependent on them.
LIE 3: "I'm being a selfish mom when I try to care for myself."
For too many moms, caring for themselves is a reward that they get only after caring for everyone else. "I cannot rest until I've gotten everything done." There's a narrative that moms must always be focused on their family and others first. To practice self-care or take time for themselves have been described as selfish, entitled, and indulgent.
LIE 4: "If I don't volunteer at school, I'm a bad mom."
It can feel like there is a never-ending flow of requests and invitations coming a mom's way. The pressure from one's culture and community can make moms feel like they must say yes to every request and invitation. But, as most moms know, that's the path to exhaustion, resentment, and family conflict. Contrary to a similar lie that says setting boundaries as a mom is selfish, it is not only healthy and right, but imperative that moms set boundaries.
LIE 5: "I must be cheerful with my family all the time."
If you're a mom, can you be honest when you're having a bad day? Do you feel the need to keep a mask on in front of your kids and family? Can you admit when something is challenging, and you're struggling with it? Many moms feel they cannot ever lose their temper. They cannot be overly emotional. They cannot make mistakes.
Naming and describing these lies are an essential step in defeating the shame, exhaustion, and bondage they create for moms. As someone once said, what cannot be named cannot be healed, and what cannot be defined cannot be defeated.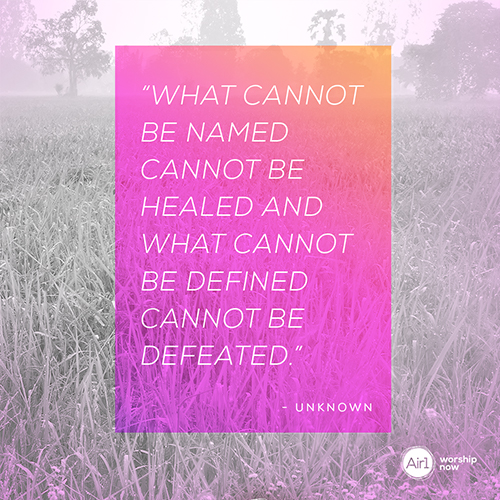 This vital yet challenging work is described repeatedly in the Scriptures. Romans 12:2 describes that work like this, "Don't copy the behavior and customs of this world, but let God transform you into a new person by changing the way you think."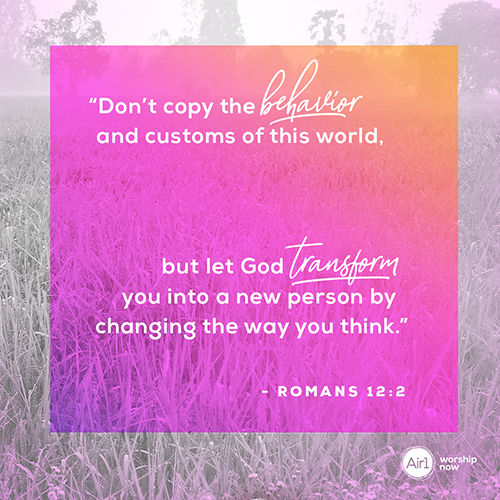 Just a couple of books later, in 2 Corinthians 10:3-5, we read, "For though we live in the world, we do not wage war as the world does. The weapons we fight with are not the weapons of the world. On the contrary, they have divine power to demolish strongholds. We demolish arguments and every pretension that sets itself up against the knowledge of God, and we take captive every thought to make it obedient to Christ."
Taking every thought captive to make it obedient to Christ looks like naming lies and replacing them with truth.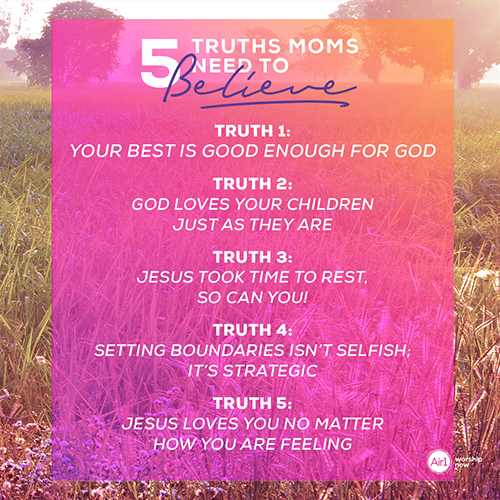 When you think, "I'm not doing enough for my kids," you need to hear the truth of Ephesians 2:10. Your best is good enough for God, and it's going to have to be good enough for everyone else.
When you believe, "Good moms don't have kids who struggle with ________________," you need to remember the truth within 2 Corinthians 12:8-10 - your kid's struggles are the place where they can encounter God's grace and mercy.
When you hear, "I'm being a selfish mom when I try to care for myself," you need to consider the pattern of Jesus. If Jesus repeatedly took time to step away from the incessant needs of the crowds to allow God to refresh and renew Him, then you can take a break to care for yourself and allow God to refill your heart and soul.
When you believe, "If I don't volunteer at school, I'm a bad mom," then it's time to heed the words Jethro spoke to his son-in-law, Moses. ("This is not good! You're going to wear yourself out—and the people, too. This job is too heavy a burden for you to handle all by yourself.") Setting boundaries isn't selfish; it's strategic. You have limited time and energy as a mom, and you have a limited calendar as a family. Saying yes to the most essential things means saying no to things others value differently than you do.
When you think, "I must be cheerful with my family all the time," consider how Jesus sees you. In Jesus, you are completely known and loved. As Timothy Keller has written, "Jesus knows us better than anyone else and loves us more than everyone else." As you learn to embrace and live from that experience of love, you can grow in your confidence to share authentically where you've held back in the past.
The challenge of motherhood in 2021 can seem overwhelming. The expectations seem daunting, and the comparisons feel defeating. However, in the face of those obstacles and the lies that are often believed, the impact moms have, cannot be overstated.
Moms, we need you. We love you. We believe in you. May you experience the truth of who Jesus says you are and who He has called and created you to be. May those truths set you free!
---
Scott Savage is a pastor and a writer with the coolest last name ever. He leads Cornerstone Church in Prescott, Arizona. Scott is married to Dani, and they are the parents of three "little savages." He helps hurting people forgive others through his Free to Forgive course, and you can read more of his writing at scottsavagelive.com