Has anyone else picked up unhealthy habits in the last year? I know I have.
Over-indulging in comfort foods?
Squandering more time online?
Bingeing more shows?
Abandoning structure in how you spend your time?
Struggling to fall asleep?
Exercising less?
Increasing time indoors and decreasing time outdoors?
Spending irregular amounts of time with God in prayer, Scripture, and even at church?
Frederick Langbridge once wrote, "We are our own potters; for our habits make us, and we make our habits." We tend to underestimate the power of our habits to shape our bodies, minds, and character.
We see the power of habits in the pages of the Bible, especially in the story of the early church. In Acts 2, we read, "All the believers devoted themselves to the apostles' teaching, and to fellowship, and to sharing in meals (including the Lord's Supper), and to prayer. A deep sense of awe came over them all, and the apostles performed many miraculous signs and wonders. And all the believers met together in one place and shared everything they had. They sold their property and possessions and shared the money with those in need. They worshiped together at the Temple each day, met in homes for the Lord's Supper, and shared their meals with great joy and generosity — all the while praising God and enjoying the goodwill of all the people. And each day the Lord added to their fellowship those who were being saved."
The daily habits of those early believers shaped the growth and health of the first church in Jerusalem and the impact the Holy Spirit made through them.
However, it's not merely important to embrace healthy habits. We need to also be aware of unhealthy habits or neglected habits. One verse that has been quoted millions of times during the last year is Hebrews 10:25. "And let us not neglect our meeting together, as some people do, but encourage one another, especially now that the day of his return is drawing near." At one point last year, one study determined that 25% of church attendees in America stopped attending their church (either online or in-person) entirely!
In a recent podcast interview with Annie F. Downs on her show, That Sounds Fun, Christine Caine talked about her own battle with habits. She noted, "What do I have to do in order to drift? Nothing."
Just like we didn't have to work hard to develop unhealthy habits over the last year, it takes little to no effort to drift away from intimacy with God or connection with our church.
Author John Maxwell once wrote, "You'll never change your life until you change something you do daily. The secret of your success is found in your daily routine."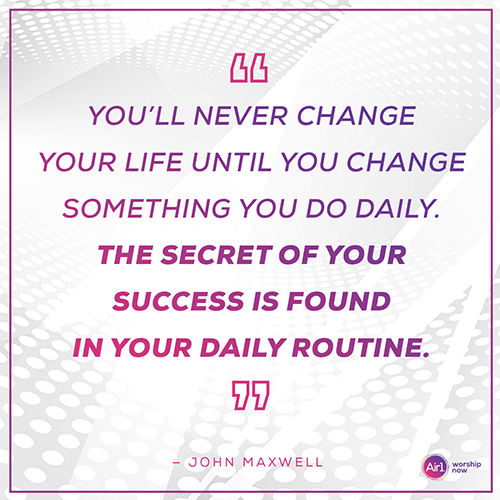 So if you're feeling the need to re-establish healthy habits, here are three places you can start.
1. Remember the "why" behind your habits.
Healthy habits aren't a way to earn God's love; they are a way to embrace and live out God's unconditional love for you. I need to remember this because I often fall into falsely thinking I can perform to earn other's approval and achieve my value.
Earlier this year, I began listening to @Maverick City Music's song, "Jireh" every morning. The song starts by saying,
"I'll never be more loved than I am right now...
So there's nothing I can do to let You down
It doesn't take a trophy to make You proud."
RELATED CONTENT: "Jireh" by Elevation Worship (Feat. Maverick City Music)
I regularly need to be reminded both that I'll never be more loved than I am right now and that I don't need to perform to earn my identity and security with Christ. The habit of listening helps me re-root my identity in Christ and remember the "why" behind my new habits.
2. Keep the important stuff in front of you.
With our increased time online and a loss of structure, it's easy to find our focus hijacked. I set a number of goals this January and I knew I would forget them if I didn't see them. So, I created an image of them for my computer background, my phone lock screen, and a printed copy that hangs on my whiteboard. I look at them daily, weekly, and monthly, so I spend my time on what matters.
3. Empower someone you trust to check in with you.
If there are healthy habits you need to renew, you could use some help. I know I certainly need help when it comes to replacing unhealthy habits with healthy ones. What if you texted a friend and asked "Hey ________, I want to ______________________ more consistently. Will you ask me about ___________ about once a ___________? And if you have any ideas about how I can ___________________________ more consistently, I'd love your advice."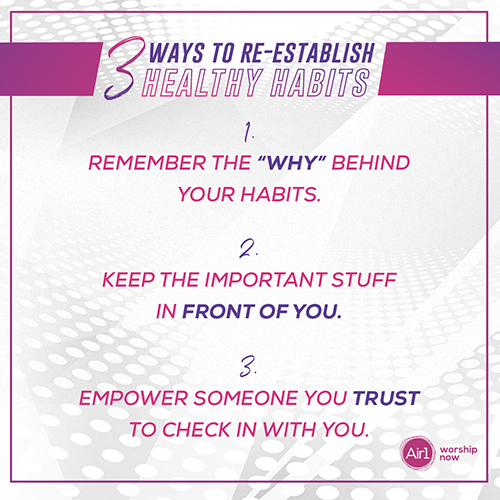 We don't break unhealthy habits overnight and we don't build healthy habits quickly either. So, be as patient with yourself as Jesus Christ is with you.
---
Scott Savage is a pastor and a writer with the coolest last name ever. He leads Cornerstone Church in Prescott, Arizona. Scott is married to Dani, and they are the parents of three "little savages." He helps hurting people forgive others through his Free to Forgive course, and you can read more of his writing at scottsavagelive.com