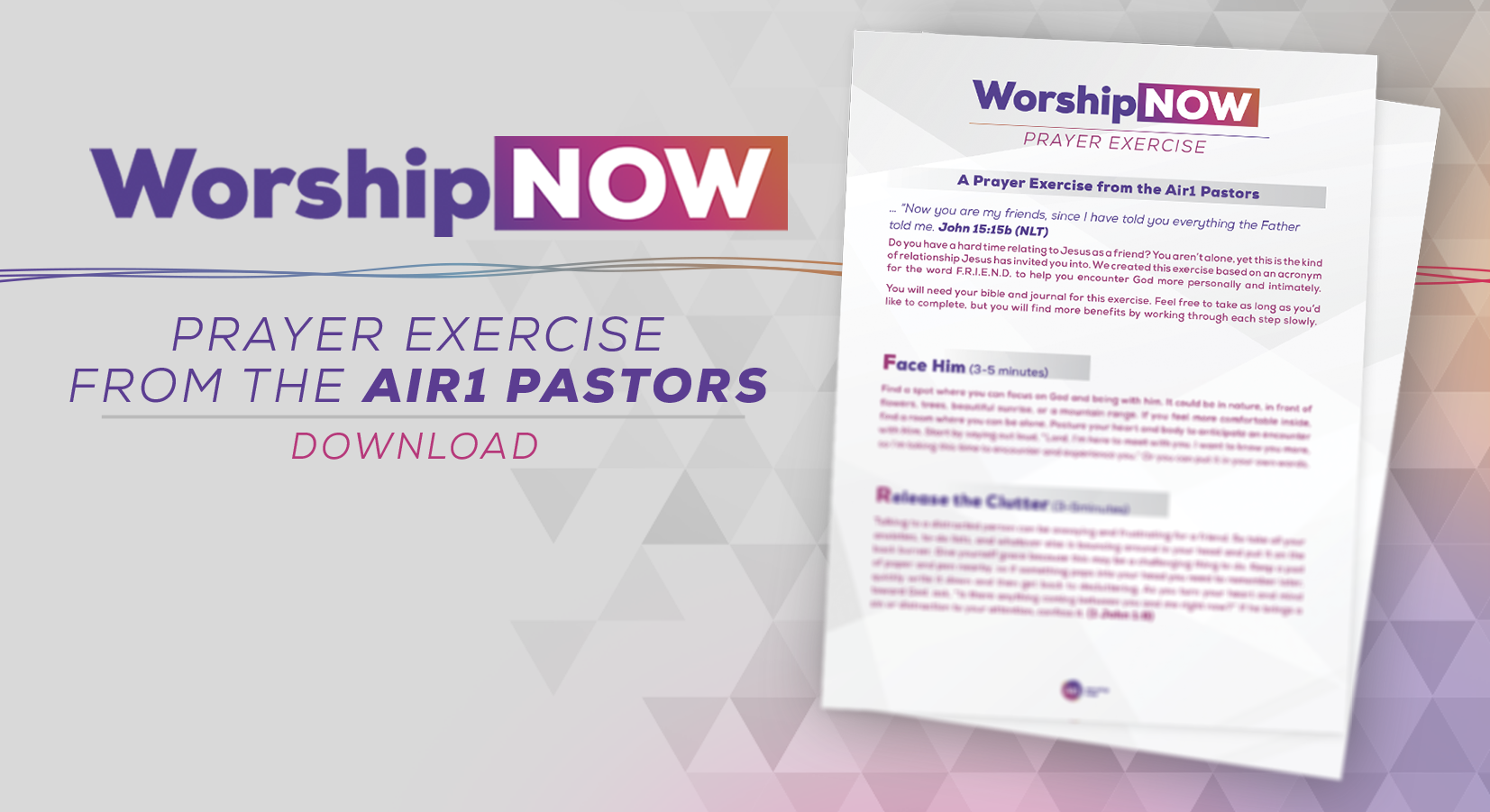 "Now you are my friends, since I have told you everything the Father told me. John 15:15b (NLT)
Do you have a hard time relating to Jesus as a friend? You aren't alone, yet this is the kind of relationship Jesus has invited you into. We created this exercise based on an acronym for the word F.R.I.E.N.D. to help you encounter God more personally and intimately. You will need your bible and journal for this exercise. Feel free to take as long as you'd like to complete, but you will find more benefits by working through each step slowly.
Face Him (3-5 minutes)
Find a spot where you can focus on God and being with him. It could be in nature, in front of flowers, trees, beautiful sunrise, or a mountain range. If you feel more comfortable inside, find a room where you can be alone. Posture your heart and body to anticipate an encounter with Him. Start by saying out loud, "Lord, I'm here to meet with you. I want to know you more, so I'm taking this time to encounter and experience you." Or you can put it in your own words.
Release the Clutter (3-5minutes)
Talking to a distracted person can be annoying and frustrating for a friend. So take all your anxieties, to-do lists, and whatever else is bouncing around in your head and put it on the back burner. Give yourself grace because this may be a challenging thing to do. Keep a pad of paper and pen nearby, so if something pops into your head you need to remember later, quickly write it down and then get back to decluttering. As you turn your heart and mind toward God, ask, "Is there anything coming between you and me right now?" If he brings a sin or distraction to your attention, confess it. (1 John 1:9)
Intentionally Focus on God. (3-5minutes)
Now it's time to lock in and think about the attributes, personality, and character of Jesus. There are many ways to do this, but we suggest finding one verse that describes something about God and meditating on it. Read it aloud softly to yourself at least 3 times, thinking about the words. This also may be an excellent place to listen to your favorite AIR1 worship song. Make sure it helps you focus on God and not be a distraction.
Engage with God. (3-5 minutes)
If God reveals something from the scripture, write it down in your journal. Talk to him about what you see and feel from what you just learned. Celebrate what God has shown you by thanking and praising him out loud. Example: "Thank you, Lord, for always being faithful to me even when I'm not faithful to you."
Need Him. (3-5 minutes)
Start by saying, "Speak, Lord, your child is listening." This is when you stop talking to wait, listen and rest in his presence. This signifies you don't need anything or anyone else more than him at this moment. If he does speak something to you, record it in your journal for future reflection.
Dedicate yourself. (3-5 minutes)
Finish your time with a prayer of dedication. You can use your own words or follow the example below.
"Lord, thank you for this time I've spent with you. Help me to keep this conversation going throughout the day. I dedicate my life and all who I am to you as a living sacrifice (Rom 12:2) to you. As our friendship continues to grow, may it spill over into every area of my life so others may see and know you as their friend. Amen."