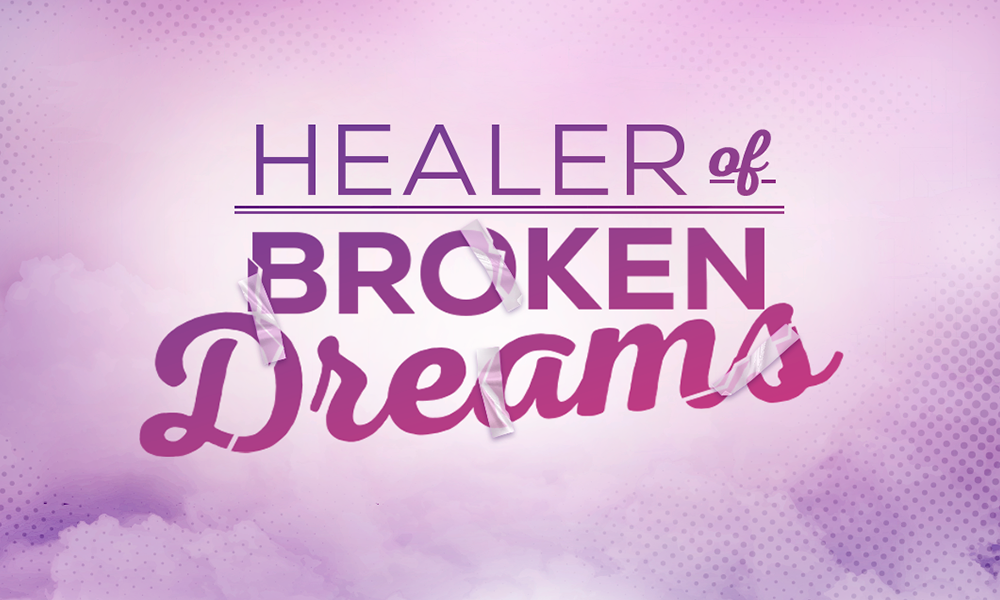 What is your craziest dream?
Is it something you experienced while asleep at night or something that lives deep in your heart? If it's the latter, maybe you've experienced a lot of life between the birth of that dream and where you are now. I know I have."
Many of those dreams didn't work out the way I expected. Many of them still haven't happened. At times, I've wondered whether I got the dream wrong in the first place.
If that's your story too, we're not alone. Throughout the Scriptures, we see men and women who end up walking what one modern writer called "the boulevard of broken dreams."
What leads us to that painful road? Though a long list exists, consider these three experiences.

1. Detours.
We often have a sense of the path between our current location and our dream's destination. However, life's events and God's plan often lead us on long detours where we feel we are going in the opposite direction of our dream.
Take Joseph for example. In Genesis 37-50, we read Joseph's story. He begins with two literal dreams of his brothers and father bowing down to him. The content of those dreams seem quite opposite of what happens next. His brothers plot to murder him. He is sold into slavery. He is imprisoned based upon a false accusation of attempted sexual assault. He helps someone get out of prison and is promptly forgotten. After years in that Egyptian prison, Joseph's dreams must have seemed far away.
2. Delays.
When a dream is born inside of us, we begin doing the mental math. How long is it going to take to get from here to there? We have a sense of an amount of time according to our calculations, but God's math is often different from our own.
Take David for example. In 1 Samuel 16, this 16-year-old boy is called in from the pasture and anointed as the future king of Israel by the priest Samuel. What followed was a long period of waiting. David had highs, slaying Goliath and marrying the king's daughter, along with lows like fleeing as the king tried to kill him and watching his wife be taken by another man. Most difficult of all, it was up to twenty years between when David was anointed king and when he was appointed king. That's quite a delay!
3. Doubt.
When our plan for how a dream will be fulfilled is destroyed, it's normal to have doubts. We can begin to doubt the dream. We can doubt ourselves, wondering "did I mishear God?" We can even begin to doubt God himself.
This is the story of John the Baptist. In John 2, John pointed out Jesus and told the crowd, "Look! The Lamb of God who takes away the sin of the world! He is the one I was talking about when I said, 'A man is coming after me who is far greater than I am, for he existed long before me.'"
Nevertheless, Jesus didn't do what John expected. Later, while in prison for criticizing King Herod, John sent a message to Jesus asking, "Are you the Messiah we've been expecting, or should we keep looking for someone else?"
John declared Jesus to be the Messiah, but Jesus' actions (which were different from John's expectations and dreams) caused him to doubt.
Detours, delays, and doubts are normal when it comes to dreams. So how do we overcome them? What does God do when we're struggling in the midst of one of those three spaces?
Each of these three situations invite a unique prayer to a healing God. God is always at work healing us and our world. We experience His healing as we turn to Him in trust and dependence.
Consider which of these three prayers you need to pray today, as you ask your Healer to meet you amidst your broken dreams.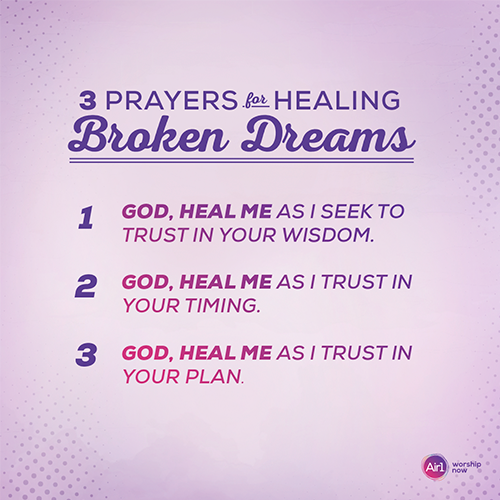 1. "God, heal me as I seek to trust in Your wisdom."
When we're living through a detour, our challenge is to trust God's wisdom because it's certainly not ours. We're tempted to trust in our understanding and distrust God's. But, as we pursue trusting God's wisdom and not our own, we open ourselves up to God's healing power, ensuring that nothing comes between us and God.
2. "God, heal me as I trust in Your timing."
When we're living through a delay, our challenge is to trust God's timing since we think we should already be "there" (wherever there is). Like a small child on a road trip repeatedly asking "are we there yet?", we often feel frustrated and indignant with God because of an incomprehensible delay. However, as we actively put our trust in God's timing, we open ourselves up to the healing and transformation God needs to do in us before we reach our destination.
3. "God, heal me as I trust in your plan."
When we're living through doubt, our challenge is to trust God's plan when it doesn't meet our expectations. Unmet expectations are fertile ground for resentment, conflict, and a battle for control. Yet, it is as we surrender ourselves in trust to God that we are able to be used by Him, in places and ways that exceed our original expectations.
It's this kind of trust that @Blanca and @Dante Bowe sing about in their song, "The Healing."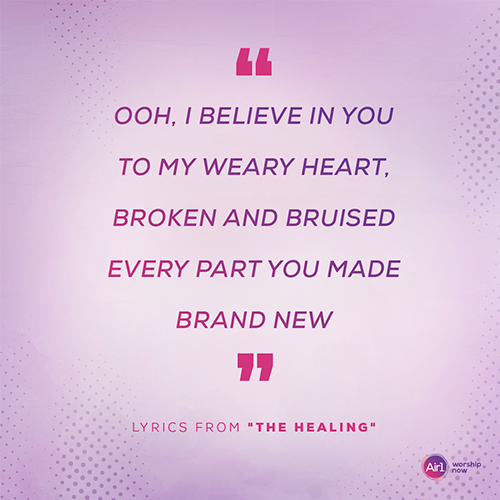 No matter how far you feel from your dreams today, this invitation and promise from James remains for you. "Come close to God, and God will come close to you." May you experience Him making your broken heart and broken dreams brand new.
---
Scott Savage is a pastor and a writer with the coolest last name ever. He leads Cornerstone Church in Prescott, Arizona. Scott is married to Dani and they are the parents of three "little savages." He helps hurting people forgive others through his Free to Forgive course and you can read more of his writing at scottsavagelive.com.