Posted on Monday, Nov 29, 2021 by Lindsay Williams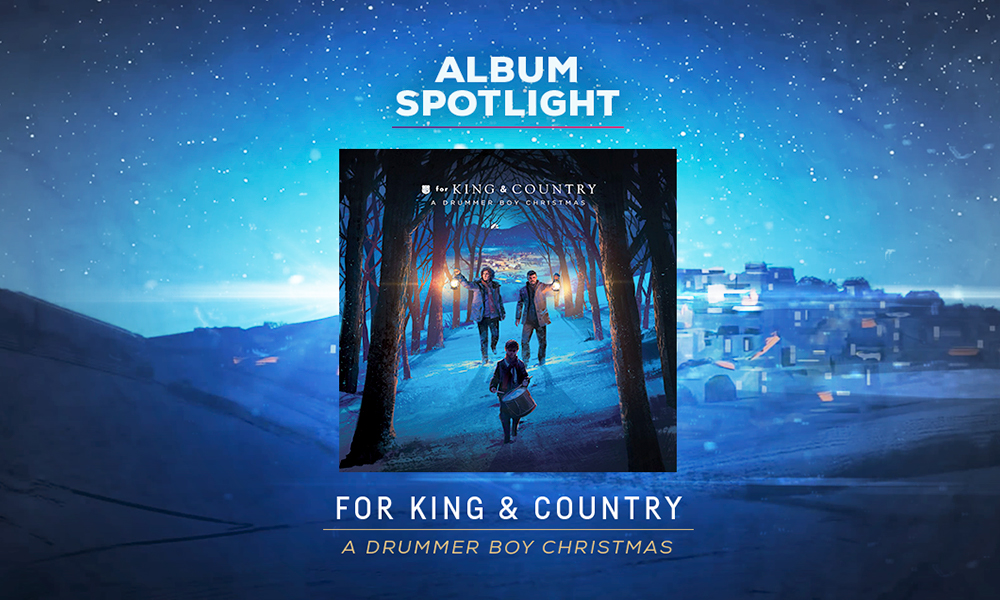 @for KING & COUNTRY is getting into the holiday spirit with an expanded edition of their first full-length Christmas collection. A Drummer Boy Christmas + boasts 2020's entire holiday project, with the addition of the duo's triumphant version of "Do You Hear What I Hear?"—released last year as an Amazon exclusive and now forever integrated into the record's tracklisting. The amped-up version reminds listeners why for KING & COUNTRY's official foray into seasonal music is so celebrated.
WATCH NOW: "Do You Hear What I Hear?" (Lyric Video)
If there's ever been an album that hinges solely on one song, for KING & COUNTRY's A Drummer Boy Christmas +, would be it. The award-winning duo reimagined the record's title track nine years ago as they put their exuberant stamp on "Little Drummer Boy." The song went on to become something of a showpiece for brothers Joel and Luke Smallbone and their agile backing band as they began to perform their epic rendition of the holiday favorite year-round.
WATCH NOW: "Little Drummer Boy" (Official Music Video)
In 2019, for KING & COUNTRY even had a chance to debut the triumphant song on national television as part of the annual "CMA Country Christmas" special on ABC. Although they were one of only a few non-Country artists who were a part of the widely-watched event, the duo received a standing ovation following their heart-pounding performance.
WATCH NOW: "Little Drummer Boy" (live, "CMA Country Christmas")
They decided to build on the magic they were able to capture with their acclaimed cover of that seasonal song to create A Drummer Boy Christmas +. The project quickly turned into a global affair with strings recorded in Copenhagen; production executed in Bath, England; mixing completed in London and recording tracked in Nashville with their live band.
Bookended by a gentle prologue and an epilogue of "In The Bleak Midwinter," the 14-track set takes listeners on an odyssey as the project hones in on the Christmas story, making A Drummer Boy Christmas + arguably the most spiritual offering of the group's career thus far.
With a dynamic live show overflowing with gear and bandmates who fearlessly jump from one instrument to the next, the group's dexterity as creative multi-instrumentalists shines through on their debut Christmas LP. Bright bells, aggressive strings and amplified drums ignite the songs with the progressive pop for KING & COUNTRY continues to propel to the top of the charts.
Joel and Luke add their lyrical prowess to two originals: the worshipful "Heavenly Hosts" and the emotional "The Carol of Joseph (I Believe In You)," a sparsely-produced ballad sung from the perspective of Jesus' earthly father.
In addition, two special guests are featured on the project. Country music's newest hitmaker Gabby Barrett ("I Hope")—a 21-year-old "American Idol" alum who's consistently outspoken about her faith—contributes a strong female vocal to the duo's pop-heavy version of "Go Tell It On The Mountain." Meanwhile, @NEEDTOBREATHE's Bear Rinehart lends his unmistakable grit and passion to "O Come, O Come Emmanuel."
With some spoken-word vignettes sprinkled into the setlist, it's evident A Drummer Boy Christmas + was intentionally crafted to be enjoyed in full. A front to back listen certainly allows you to appreciate the project for what it is—a true work of art crafted by an act who's currently at the top of their game.
While the album tells a complete narrative pointing toward the Hope of Christmas, the title-cut remains the pinnacle. The group brings the song to life in the official music video that features Luke's six-year-old son, Phoenix.
There's no doubt "Little Drummer Boy" will remain a signature live staple for the duo for years to come, but fans won't have to wait long to experience the album the song inspired. Following last year's drive-in edition, this holiday season, for KING & COUNTRY will present A Drummer Boy Christmas live, making 14 stops along the way. Fans are encouraged to bring a new, unwrapped toy, which will then be collected by The Salvation Army in each city and distributed to families in need this Christmas.