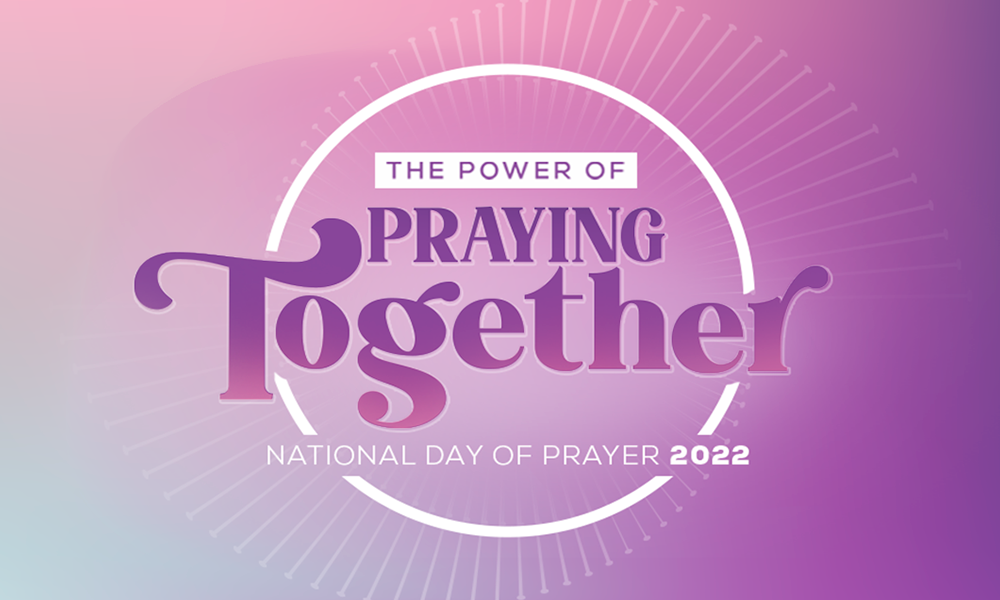 "All the believers devoted themselves to the apostles teaching and to fellowship, and to sharing in meals(including the Lord's supper) and to prayer." - Acts 2:42 (NLT)
I used to neglect prayer gatherings when I was a teenager. I never felt "qualified" to pray in a group setting. Why? I couldn't see the benefit of praying in a group. And to be quite honest, it was terrifying!
I'll never forget receiving an invitation from my friend to attend a city-wide prayer meeting, including twelve churches. What I witnessed that night blew my mind. A unity that I still remember to this day. Tears, hugs, and people who were praying with passion. The result? A unified church that loved each other deeply and loved the presence of God.
The Bible tells us that the world will know us by our love for one another. A lot happens when we pray together! When we unite as a body of Christ and pray corporately, we grow in love for one another. We grow in our love for the Lord. We are witnesses to the world by our love for one another. So what is the benefit of corporate prayer? Here are four reasons and steps we can take to move towards corporate prayer.
1. We grow in our love for one another when we participate in corporate prayer
Our love for believers will grow when we participate in corporate prayer. There is nothing more powerful than a united church on its knees seeking the Lord. We will also notice our relationships are deepened when we are involved in corporate prayer.
2. We become a testimony to the world
The world will realize our testimony is genuine, and the love of God has been shed abroad in our hearts. The love we receive from Jesus will be evident to the world.
3. We realize we are not alone in our struggles
When we unite as a church, we will notice we are not alone in our struggles. As we pray for each other, our nation, and God to awaken people's souls, we also see that our prayer requests are not foreign. We are not alone in our battles.
4. We realize it's not about us but Christ alone
The purpose of corporate prayer is to elevate the name of Jesus. Our prayers will change when we pray corporately. We move from self-centered prayers to Christ-centered prayers. This ultimately Spotlights the name of Jesus.
Dig Deeper
Instead of using "I" in your prayer, use "We" and pray for the global church as a whole.
Who can you partner with in prayer?
---
Together Matters
T ogether. We see His handiwork, and we praise Him for it.
O pen One of the characteristics of God's people is our openness to one another. We do not walk around with a wall up, but we allow ourselves to share and be shared with, making room for faults, and giving grace, too
G athered The Church is, by definition, a gathered people. We cannot "be the church" or "do church" by ourselves. We acknowledge that we must get together personally.
E ager As members of God's family, we are excited to gather together. We make it a priority and listen to Scripture's encouragement to break isolation, and to make togetherness a top priority.
T houghtful As members of the Bride of Christ, we commit to thoughtful living, considering the needs of others as being a higher priority than our own.
H elpful In scripture, the church is described as being a body made of many parts, all of which exist to serve God and one another. We are gifted to be helpful, to serve, and to honor God above all. It's in our spiritual DNA.
E xamples Because of what Christ has done for us, we live as examples of His love to each other and to the world around us. The Bible says we are Christ's ambassadors, it also says we were created with the good works God wants to accomplish in us already planned out.
R eal Just as we are open with one another, we also make determinations for authenticity, not hiding our struggles, but choosing to be real with one another, so that God might help us minister to each other well.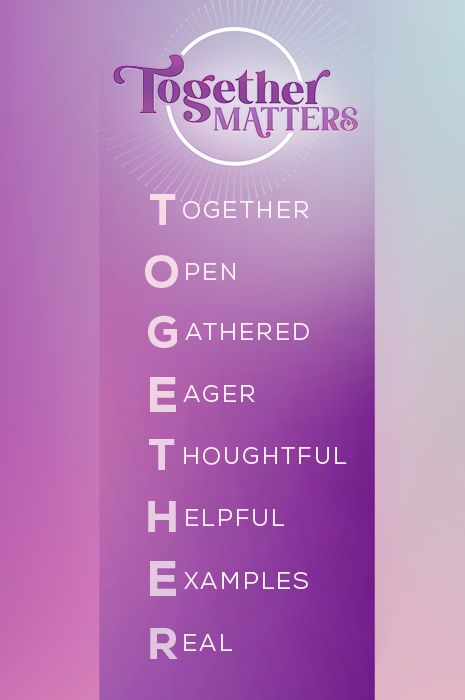 10 Verses on Praying Together
The Benefits of Praying Together
1. Brings unity
2. Brings encouragement
3. Brings glory to God
4. Brings awareness that we are not alone in our struggles
5. Brings the world a testimony