Posted on Monday, Jul 04, 2022 by Katie Clinebell
"Hallelujah, thank You, Jesus
For Your patience with me
I was blinded, but now I'm seeing
And Lord, I'm looking at You"
When God brings us through a difficult time, we are likely to praise Him. There is no better feeling than being set free from a bad situation by the power of God. In these moments, we raise up passionate thanks to our savior for His kindness and mercy, but we can often forget to raise our voices in gratitude when things are easy. In "All My Praise," @Ryan Ellis sends up a grateful sound to Christ in simplicity and sanctuary. This joyful song helps us to thank God in moments of peace and prosperity, remembering that God is the one who gave us that peace.
WATCH NOW: Ryan Ellis "All My Praise"
"All My Praise" keeps a mellow energy throughout the song, producing a sound that would be at home under the shade of an umbrella on a quiet beach. Ellis' voice confidently proclaims that only Jesus is deserving of all of our praise. Like Ellis, whenever we think of God, no matter where we are, we should give Him our praise and our prayers.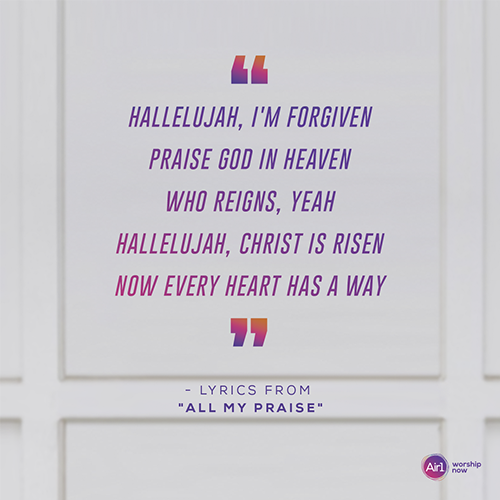 We often think that when God gets us through a challenge, our faith in Him will never falter again. However, the danger of serenity is that we can feel as though we do not need God anymore, and begin to drift away from Him now that our battle is over. This is why we must always remember to renew our praise for Christ's faithfulness, even when the waters we sail through are smooth. With this song, Ellis gives us the perfect sound for enjoying a tranquil moment, while also bringing our praise back to Christ.
RELATED CONTENT: "Heart Of The Father" by Ryan Ellis
"Hallelujah, I'm forgiven
Praise God in Heaven Who reigns
Hallelujah, Christ is risen
Now every heart has a way"
"All My Praise" was released in April 2022 as a single. Ellis shares, "I know for myself this isn't always how I feel, but I also know that Gratitude shifts your attitude! So I'm excited to sing this song forever because it will always be true."