Posted on Monday, Jan 03, 2022 by Katie Clinebell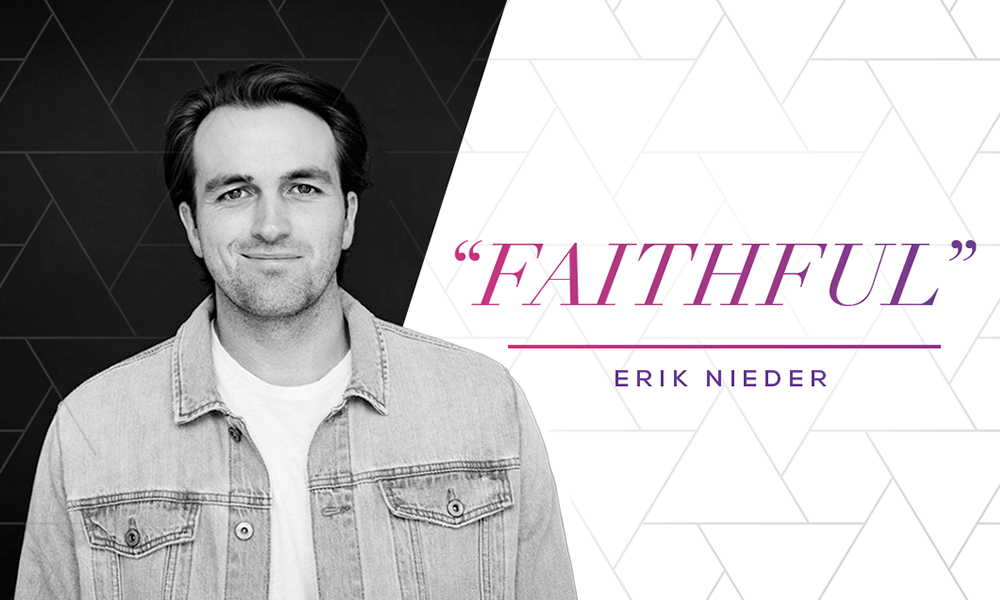 "When my heart is dry your grace flows
No matter where I run, I'm not far from home
Yea, I may be weak but you're able
Even when I'm not, you're faithful"
Everyone has been a prodigal son or daughter at some point in their lives. When the world throws new and exciting things our way, it can be difficult to turn them down, even if they will take us farther from God. We are all susceptible to following our own desires and our own flawed ways of thinking, and when we do so, we can easily get discouraged, thinking that God is disappointed in or is finished with us. In these moments, the fear of being unworthy of love sets in, and we can think to ourselves, "Do I even deserve God's love?" When we fall down and make mistakes, we quickly jump to the conclusion that God's love will disappear because we were not worthy of it. In his song, "Faithful," @Erik Nieder affirms that God's love does not fade away like the temporary things of this world with a smooth vocal and a classic worship sound. Even when we run away from God, no matter where we are, "Faithful" reminds us that God will always love us and be eager for us to return to him.
WATCH NOW: Erik Nieder "Faithful"
Nieder begins the song with a lyric inspired by Psalm 139, which serves as a scriptural basis for the song's sentiments, as Nieder declares that even though we might wander away from God, He still loves us and continues to pursue us. Nieder's song also verses like Hebrews 10:23 and the story of the prodigal son in the book of Luke to bring us a revelation about God's faithfulness. Nieder's connection with the prodigal son is one that we all share, as every one of us has wandered far from our loving father, getting ourselves into trouble, and needing to run back home to Him.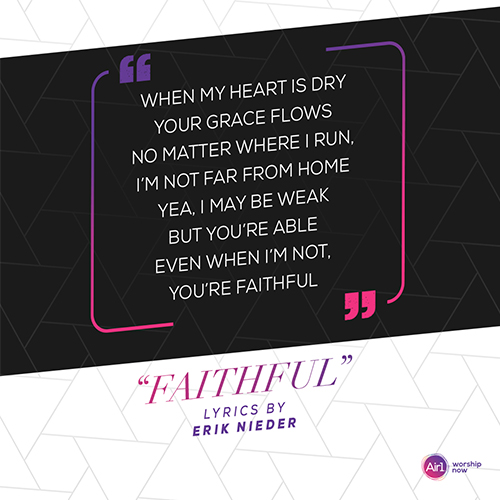 When we run astray, we can become convinced that God's love must be consistently earned, and lose sight of the truth. We obsess about perfection, and are hard on ourselves whenever we make even minor mistakes. Once we get in this mindset, it takes a revelation about God's perfect character to remind us that we do not need to be as perfect in order to receive His love. "Faithful" brings us a reminder that God's love and providence is a constant, even when our lives and attitudes are constantly shifting like sand. By focusing our minds on the promises that God's Word brings us, we can avoid a perfectionist mindset, being content with who we are and allowing God's grace to carry us.
"If I rise to the heavens you're with me
If I fall to the depths of the sea
Even there it's your hand that will lead me
Wherever I go, wherever I go"
"Faithful" was released in July 2018 as part of the "Faithful" EP. "Faithful" is a song to bring hope in dark and difficult times. The success of "Faithful" has brought Nieder new hope through tough circumstances, as he shares, "The past couple years have been some of the hardest for our family. But the Lord continues to tangibly remind us of his faithfulness in every season."