UPDATE: SPRINGFIELD, MO. — May 21, 2020 — Convoy of Hope has delivered more than 17 million meals (and counting) to partners, community organizations, and churches across the nation in response to COVID-19. COH has also distributed more than 3.3 million meals in more than 250 communities around the world since the pandemic began.
(Air1 Closer Look) -- "We serve a big God, we wanted to see what He can do," says Convoy of Hope spokesperson Jeff Nene about their commitment to serve millions of people left hungry by the 2020 economic shutdown.
As COVID-19 forced quarantines and mass employment, big rigs filled with groceries began rolling to affected communities where COH partners with local churches. "Who better than the local church to know what the communities need, the families need?" says Nene. Thousands of parking lots, lobbies and sanctuaries became packaging centers where volunteers practiced loving their neighbors – even while social distancing.
"To see the parents and hear the comments as they drive through they're so excited and thankful... to see the kids smiling and parents weeping.. just to restore hope in people is a huge thing."
Each meal costs the ministry about $1.00 and costs are covered by charitable donations. People who prefer to physically join Convoy of Hope efforts are encouraged to start close to home. "The best thing they (volunteers) can do is contact their local churches first, see if they are doing anything either with Convoy or something else." But he offers a word of caution: take responsibility for your own safety. "Don't expect the church or whoever you volunteer for to have everything you need – take your own mask and gloves."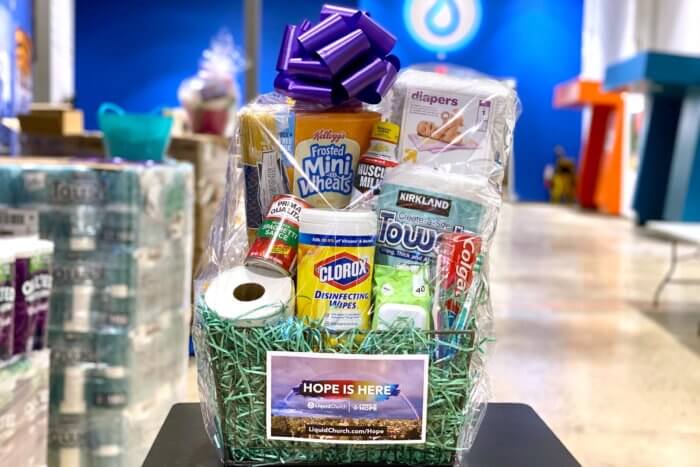 The Convoy of Hope ongoing campaign to provide meals during the global pandemic is on top of its regular efforts in the United States and overseas. More than 25 years ago, Nene says the ministry was launched with a simple premise: "We wanted to use food to share the Gospel." The ministry now feeds school-aged children in 18 countries, more than 300,000 every day. COH later added programs that teach families how to feed themselves, through training mothers how to start and run small businesses and training parents how to grow their own food.