Posted on Monday, Sep 28, 2020 by Air1 Staff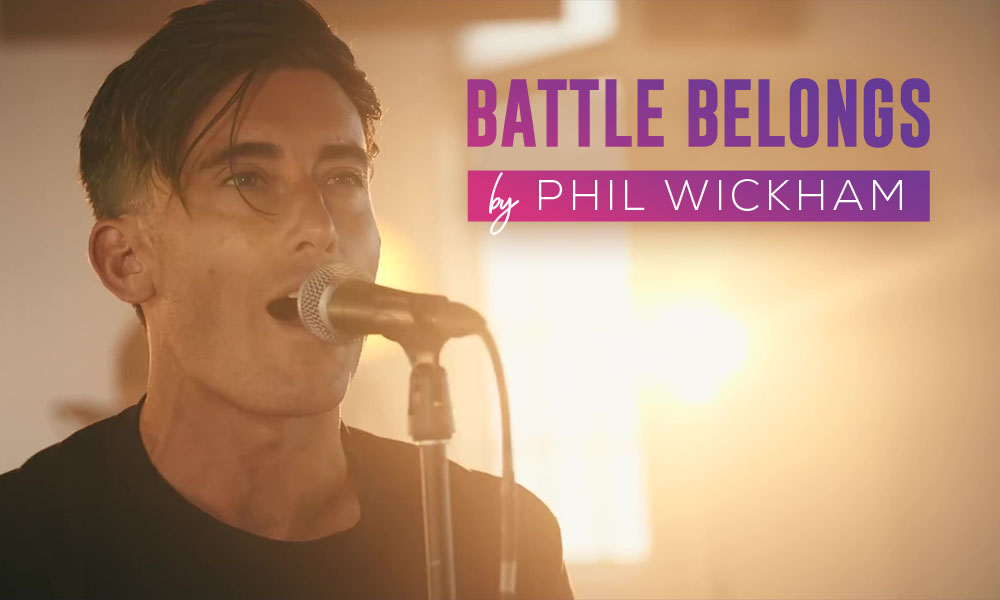 "When all I see is the battle, You see my victory
When all I see is the mountain, You see a mountain moved
And as I walk through the shadow, Your love surrounds me"
Watch The Official Music Video of "Battle Belongs"
"In 2 Chronicles 20, one of my favorite stories in the Bible, a huge army has amassed to come against the people of God," Wickham explains. "Every time I sing "Battle Belongs," it pumps me up because we know that in anything we might face, our God is bigger. I hope this song reminds people that He is with us and for us. If we stand firm and hold our position, we will see the salvation of the Lord on our behalf!" - @Phil Wickham
Lyrical Video
Check Out The Story Behind The Song
I sat down and talked about some of the inspiration behind the song "Battle Belongs". One of my favorite stories in all of scripture comes from 2 Chronicles 20 where it says "You will not have to fight in this battle. Stand firm, hold your position, and see the salvation of the Lord on your behalf". - Phil Wickham
You'll Just Love This Acoustic Performance!

When @brianjohnsonm and I wrote "Battle Belongs" we had a sense that it was a special song, but you never really know with a song that is FOR the church until you sing it WITH the church. This video was captured on tour with @bethelmusic last fall right after we finished writing it. It was incredible to see the response! It felt like the room was with us from the first line. Hands lifted high🙌🏼🙌🏼🙌🏼. I can't wait to get back to these moments! Singing together!! When we wrote this song we had no idea what 2020 would bring, but now these words hold more weight than ever for me. "When I fight I'll fight on my knees with my hands lifted high. Oh God the battle belongs to You"🙌🏼🙌🏼 -Phil Wickham


"You shine in the shadows, You Win Every Battle" #BATTLEBELONGS

"Worship is a weapon against the darkness. Never underestimate the power of prayer." #BATTLEBELONGS

About the Artist
Singer/songwriter Phil Wickham began leading worship at thirteen after feeling the need to make his faith his own. Known for his beautiful melodies and inspirational lyrics, Phil was raised by parents who are both worship leaders, and he and his siblings (Evan and Jillian), grew up with music all around them. After graduating from Calvary Christian School in Vista, California, Phil decided to pursue a career in music, and in 2003 released the independent album, Give You My World. Following that, the singer signed a record deal and released his self-titled debut in 2006 featuring the songs, "Divine Romance" and "Grace."
"I want to leave the fragrance of Christ wherever I go," Phil says. "I want to lead people to Jesus, to encounter Him, so they want more of Him. It's more than just knowing who God is, it's seeking Him with your heart."
Hailed as having one of the best voices in the industry, Phil continued to grow as an artist with his release of Cannons in 2007 featuring the song "Jesus Lord of Heaven;" Heaven & Earth in 2009, featuring the songs "Heaven & Earth" and "Safe;" Response in 2011 with "Heaven Fall Down" and The Ascension in 2013, featuring "This Is Amazing Grace."
Now, several years down the road, it's still all a bit surreal for Phil who knows reaching this level of success is not something he could have done on his own...
"I can't believe that this dude from San Diego who wrote songs in his bedroom when he was a teenager, now has songs that are being sung in churches!" he says. "It's nothing I could have done myself. It's God using something. You are not too young to find out and seek what God wants you to do with your life right now ... your voice isn't too small."