Posted on Monday, Oct 25, 2021 by Katie Clinebell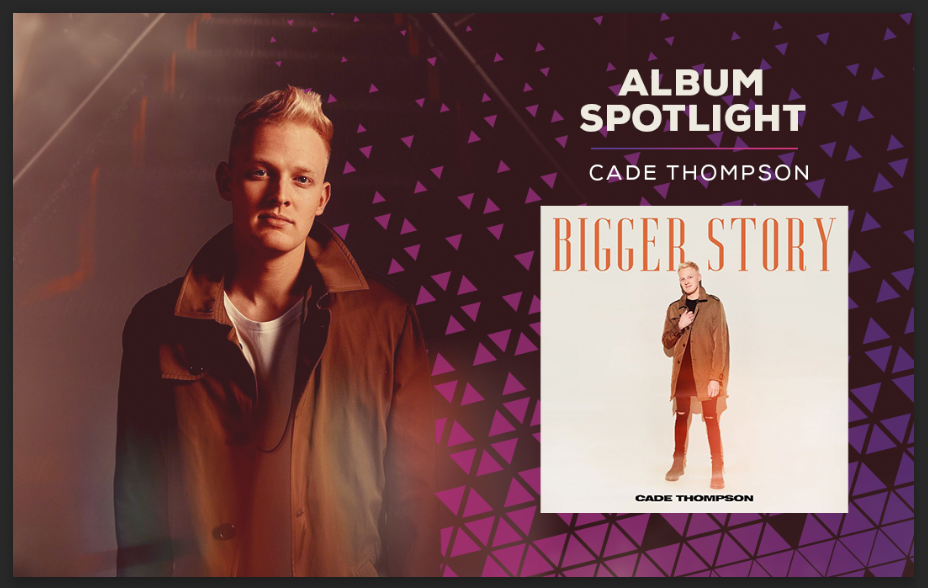 Album Spotlight: "Bigger Story" by Cade Thompson Shares the Narrative of Hope with Listeners
@Cade Thompson has entered the room with his debut album "Bigger Story". This upbeat and encouraging album is filled with rhythmic, fun songs that groove just as much as they share the Truth of a bigger story than the one we can see.
In its title track, Thompson sings that there is a better hero and better ending to our stories than what we might behold on the surface. This theme rings true throughout the album as each track has a way of gently reorienting listeners to remain hopeful in the God who is writing our stories.
Here's a breakdown of each track on the "Bigger Story" album.
---
Every Step of the Way
In this upbeat opener, Thompson reminds listeners that God is with them through every step of their lives. With a catchy hook and driving electronic sounds, listeners can enjoy this easy-listening groove as they are reminded that God can be trusted in every step of their lives as He is paving the roads they walk down.
---
Never Too Late
With "Never Too Late" Thompson brings the beat down but keeps the tone elevated. As the title would suggest, Never Too Late is a poignant reminder that grace is always an available choice and that change is just on the other side of it. "Never Too Late" serves as a grace-filled call home for anyone who thinks they are too far gone.
---
Source of Life
Thompson sings of the place he goes to be restored when life leaves him exhausted. By returning to God through the river of grace, Thompson finds himself being filled again when he's empty and dry. As Thompson sings of the toll life takes on him, he is quick to remind himself that he can find the restoration he needs in God — his always-present source of life
---
Voices
"Voices" applies r&b flavored beats and tones as it narrates the never-ending barrage of voices Thompson faces on a daily basis. With a phone that's always on and demands that are constantly streaming in, Thompson orients himself back in the voice of God — which is the only voice he needs and wants to hear. By elevating God's voice Thompson finds himself steadied and reminded of his true identity amidst the various demands he faces.
---
Bigger Story
Using the resonance of the story to speak to a questioning soul, Thompson encourages listeners with the Truth that the narrative they are living is bigger than what they are experiencing. By painting Jesus as the better hero and the gospel as the better ending, Thompson reaches listeners with a message that transcends whatever part of their story they find themselves in. "Bigger Story" serves as the title track and anchoring theme of the album.
---
New Beginnings
In another encouraging groove, Thompson sings about the hope that comes with remembering that God loves new beginnings. Each ending and each parting is simply an opportunity for a fresh start with God. Thompson encourages listeners not to lose heart as a rhythmic electric guitar and keyboard-driven groove move the song along with speed and joy in the reality that they can always start over with God.
---
Provider
In the first piano and synth-driven ballad of the album, Thompson shares an intimate look into his propensity to strive for more. As Thompson examines his tireless drive for more, he centers himself on the Truth that God provides more for him than he could ever desire. By focusing on God's abundant provision, Thompson finds the need to strive for more quiet time.
---
Anything Yet
In keeping with the theme of expanding listeners' perspectives on the meaning of their lives, Thompson shares a warming song that proclaims God still has more to do. As Thompson enters the bridge, he proclaims that we have just begun to taste the glory and experience the story God is telling. "Anything Yet" utilizes a repetitive lyrical chorus to ground listeners in the Truth that there's still much more to be seen in all God is doing.
---
New Normal
"New Normal" paints a tender picture of the reality of fear and pain that many face daily. Thompson begins the song depicting the reality of high school students as they enter the halls each day scared that tragedy will strike. The chorus swells with a passionate plea to God as Thompson asks for a new normal filled with peace and love as he encourages listeners to take heart.
---
Eyes of God
Thompson closes the album with a beautiful perspective on the way God sees goodness in everything — especially in Thompson himself. This piano ballad reminds the listener that there is no high too high or low too low for God to step in and transform. By taking on the eyes of God, listeners do away with hopelessness as they reorient their vision to behold a God whose good plan will not be stopped.