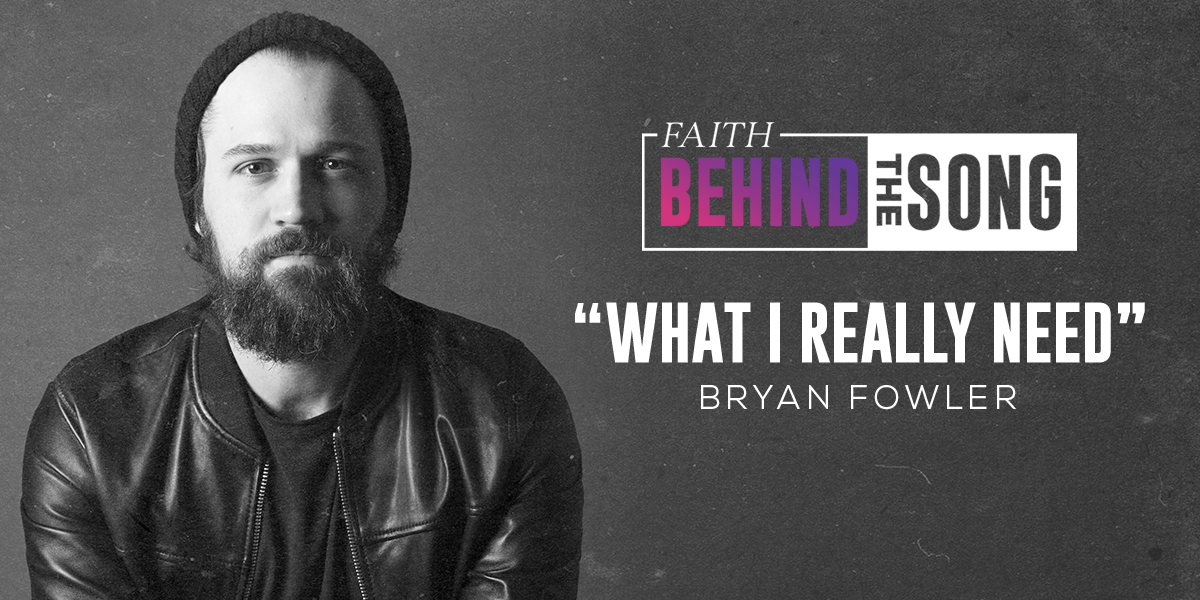 "What do you need?"
I hate hearing this question. When I'm hurting or struggling, people around me pick up on it. I don't have a good enough poker face and I lead from an authentic place. So, when people have concerns and want to help me, they ask me, "What do you need?"
Now, it's a good question and I appreciate the compassion. But, I often have no idea! I don't know what I need and I'm not sure how they can help. Sometimes, I want to answer, "Well, I know what I don't need! I don't need any more drama. I don't need any more problems to solve. And I definitely don't need to hear any clichés or Bible verses which feel like someone's efforts to make themselves feel better about a messed-up and unresolved situation."
If you're nodding as you read that rant of a response, then I think you'll truly appreciate @Bryan Fowler's song, "What I Really Need." Fowler writes honestly about both what he's seen as he's followed Jesus, as well as what he needs in the most difficult seasons of his life today.
The song opens with a reflection on the highlights of his faith journey.
"I've seen mountains move,
I've seen giants fall
I've watched oceans part in front of me"
However, even though he's got mighty memories, Fowler is honest about how past highlights don't immunize us from future low points.
"Every battle won, every miracle
Couldn't stop my heart from questioning"
Some people have a hard time imagining how someone who saw God move like that could struggle. But, if you study the Bible, you know that this is extremely common.
In 1 Kings 18, Elijah calls down fire from heaven and experiences God ended a long drought. In Kings 19, however, Elijah's exhaustion leads him to ask God to end his life and he shares his feeling of loneliness as "the only one who has not compromised faith in God." The 12 apostles watched Jesus heal the blind, the lame, the deaf, and feed thousands with very little. Then, in Jesus' moment of great need, they abandoned Him and Peter denies even knowing Him.
"What I Really Need" certainly brings it when it comes to honesty. But, what really sets the song apart is the wisdom in the way it responds to the question "What do you need when you're struggling, questioning, and wavering?"
Fowler brings that response in the chorus.
"I need truth instead of answers
I need faith instead of sight
I need trust when I can't find the reasons why
I need presence over blessings
I need promise over proof
I need hope instead of healing in my life
What I really need is You"
What Fowler says he needs are things which are far more substantive and mature than the list of things he says he doesn't need. It takes a lot of growth to move from living by sight to living by faith. It takes real trust to move from relying on healing to relying on hope. It's very human to want answers and reasons for what's happening to us, which makes the ability to endure based upon truth and trust a higher aspiration and goal.
"What I Really Need" doesn't shame those who are hungering for the things Fowler says he doesn't need. Rather, the song shows how and why one can no longer rely on them. This story and the transformation it includes is chronicled in verse 2.
"I've seen gardens grow from the desert place
I've seen purpose drawn from my pain
There's no tear that falls that isn't met with grace
There's no suffering here that goes to waste"
One promise and truth that I share with people who are struggling to make sense of their pain and loss is that we serve a God who wastes nothing. In Isaiah 64, the prophet states,"And yet, O Lord, you are our Father. We are the clay, and you are the potter. We all are formed by your hand."
I once read about a potter who during an interview corrected the myth that there are wasted pieces. This artist shared how she redeems and reworks pieces which are not sent through the kiln to be cooked. She shared how nothing is wasted in her work and art.
If that's how a human potter treats her clay, how much more does Jesus treat us - His masterpieces as Ephesians 2 states - with care, attention, purpose, and grace?
When someone you know is hurting, they may not know what they need. I always look for basic, physical needs I can meet. Even if they don't know what they need, I know they're human - they need food, shelter, clothing, and rest.
If you're hurting, you may have a hard time seeing beyond your pain. But, when that moment comes when you're ready to hear from someone who's been through darkness and pain, turn on Bryan Fowler's "What I Really Need." Ask God to meet you where you are and show you how He sees where you are and the future He has for you.
Because all of us need to know God's nearness when we're struggling.
---
Scott Savage is a pastor and a writer with the best last name in the world. Scott's writing helps you laugh, challenges you to think, and invites you to grow. He leads Cornerstone Church in Prescott, Arizona. Scott is married to Dani, an award-winning attorney, and they are the parents of three growing savages. You can learn more about Scott's newest resource, The Start-Over Guide, at scottsavagelive.com.