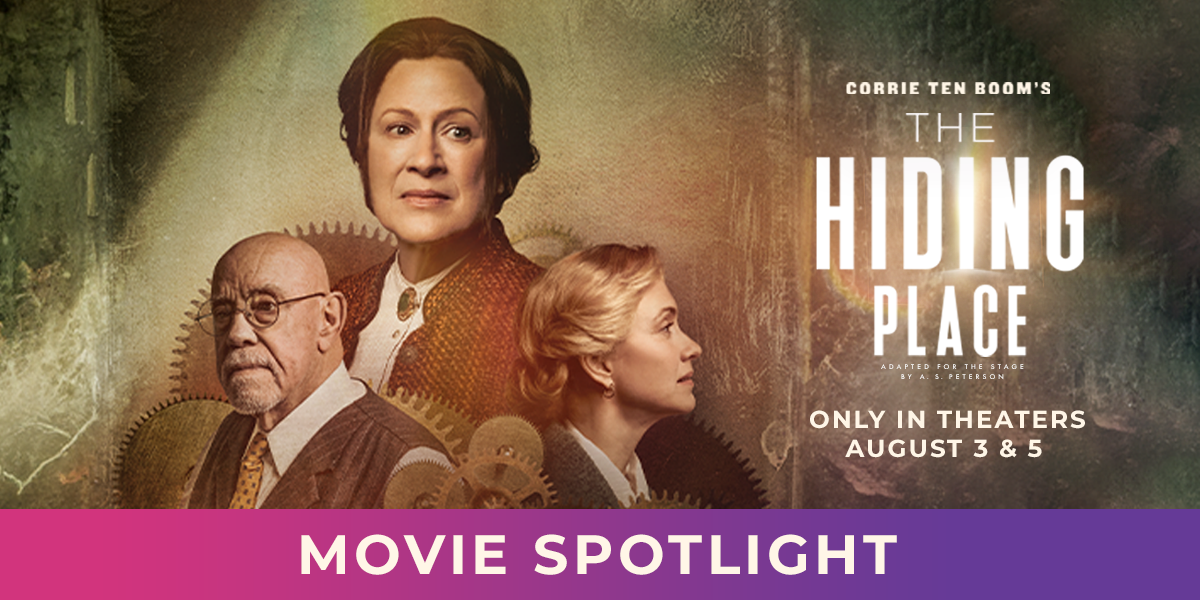 'The Hiding Place' Brings an All-New Cinematic Presentation of Corrie Ten Boom's Moving Story to Theaters Nationwide For Two Nights Only
"Every experience God gives us, every person He puts in our lives, is the perfect preparation for the future that only He can see."
—Corrie Ten Boom, "The Hiding Place"
The Rabbit Room's first theatrical production, "The Hiding Place," was met with such wide acclaim when it played for four weeks in Nashville, Tenn., in the summer of 2022 that its creators decided to make a way for the rest of the world to experience the moving story told on the small stage.
Founded by singer/songwriter Andrew Peterson and his brother, Pete, The Rabbit Room's mission is to "cultivate and curate stories, music and art to nourish Christ-centered communities for the life of the world." Their new venture into theatre supports this vision in every way, and "The Hiding Place" provides a perfect foray into the creative medium.
Watch The Trailer for "The Hiding Place"
Exclusive to theaters in the U.S. and Canada Aug. 3 and 5, 2023, with international showings beginning Aug. 16, 2023, this all-new film is a cinematic presentation of The Rabbit Room's stage adaptation of "The Hiding Place," which honors not only the original 1975 movie starring Jeanette Clift George, but also the celebrated autobiography by Corrie Ten Boom published in 1971. This fresh take on the beloved memoir paints the fearless heroine of faith in a new light.
A family of watchmakers, the Ten Booms welcomed hundreds of Jews into their home in the Netherlands, hiding them in a small secret compartment as the Nazis infiltrated Europe during World War II. Following a home raid, Corrie, her father, Casper, and her sister, Betsie, were all arrested and taken to a concentration camp in Germany, where only Corrie survived. While imprisoned, Corrie and Betsie were able to share their faith with the women and children living in captivity alongside them. Due to a clerical error, Corrie was eventually released. She famously spent the remaining years of her life sharing about the real mercy, comfort and provision of God she encountered in the midst of horrifying circumstances and unimaginable suffering.
"The Hiding Place" stars Nashville theatre virtuoso, singer, actress and writer Nan Gurley as Corrie; Carrie Tillis — daughter of country music legend Mel Tillis— as Betsie; and as Casper, movie, television and stage veteran Conrad John Schuck, whose credits include "M*A*S*H," "Star Trek" and the 1997 Broadway revival of "Annie."
"I don't think I've ever had a character that I've thought about more," Tillis observes. "It makes me think about my family, the strength of my family, how a family goes through happiness and tragedies together, how they learn from each other."
Indeed, family is at the forefront of the Ten Boom story. The Dutch-born clan is one of relatively simple means and simple faith. On the outset, their patriarch, Casper, might be a watchmaker, but in truth, he is somewhat of a sage, constantly relaying his wisdom — deeply rooted in the Bible — to his daughters. It's his astute advice, solid theology and consistent rituals of reading Scripture and praying that permeate the Ten Boom home. Led by the example of their father, the Ten Boom sisters grow into women of valor and conviction. In fact, it is this family's uncanny depth of rich love and warm hospitality that reaches beyond the lines of religion as their home becomes a refuge for people with beliefs different from their own.
"One of the beauties of telling a story like this is reflecting and going, 'What would I have done if I had been faced with a situation like this? Would I have had this courage?'" Gurley remarks.
A linear storyline plays out on stage as Corrie undergoes an unrelenting interrogation by a cunning German lieutenant. Meanwhile, well-placed flashbacks provide contrasted snapshots of Corrie's innocent childhood. The thought-provoking production is housed on a minimalistic set with a stage that creatively rotates like that of a clock — a key theme throughout and a fascinating parallel considering the family business.
The breathtaking fearlessness of the Ten Booms is simultaneously frightening and inspiring as viewers are forced to consider bravery in the face of miserable odds. Though set in the '40s, the period piece remains a relevant portrait of love conquering hate — a resounding theme that feels as timely as ever in 2023.
"It's thrilling at this moment in time to tell a timeless story of eternal value," Gurley asserts. "I have been privileged to play many roles in my life — all of them taught me something. This one feels like an opus, and if it was the last story I ever got to tell, this would be the one I'd want to tell."
While unrated, due to the difficult nature of the Holocaust and the mature themes explored throughout the production, "The Hiding Place" is not recommended for young children.
Learn more here.