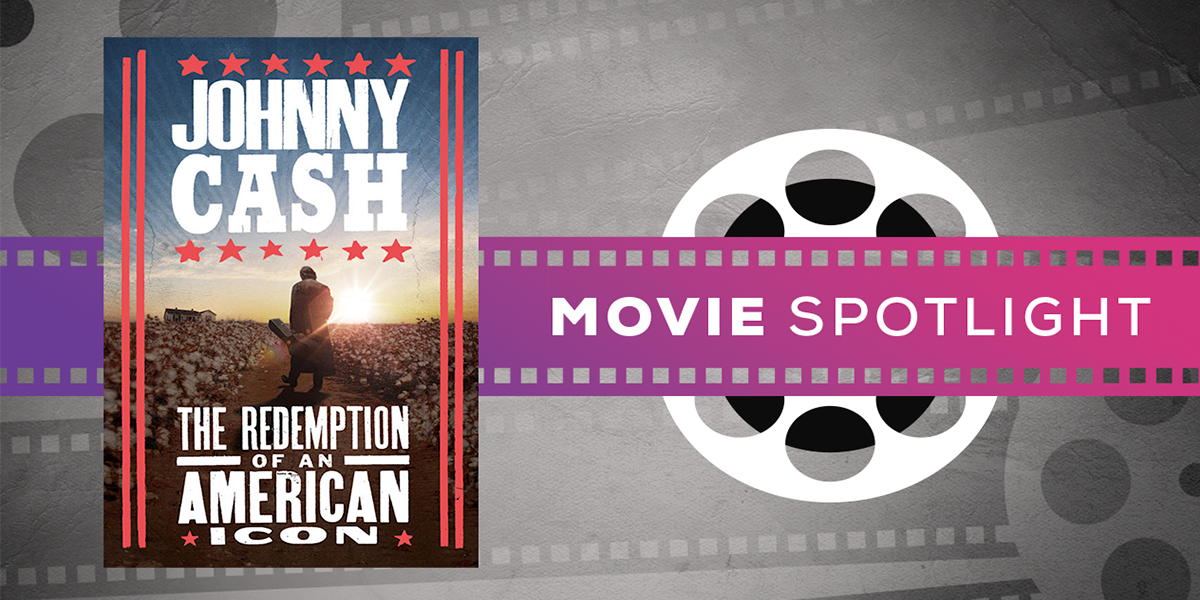 The casual music fan has likely obtained all their information about legendary singer/songwriter Johnny Cash via 2005's theatrical release of "Walk the Line," starring Joaquin Phoenix and Reese Witherspoon. While the blockbuster gave viewers a (mostly) accurate glimpse into the mysterious recording artist, the keen observer knows the story of the beloved star goes much deeper than his signature voice, massive hits and fairytale romance with June Carter. The Man in Black was, in fact, a man of faith, and brand new documentary "Johnny Cash: The Redemption of an American Icon" travels the winding road he took to rediscover the God of his youth.
In theaters Dec. 5-7, 2022, "Johnny Cash: The Redemption of an American Icon" is based on a book written by pastor Greg Laurie, who also frequently adds his insightful commentary throughout the nearly two-hour documentary. The new feature-length film follows the silver screen adaptation of Laurie's book, "Steve McQueen: The Salvation of an American Icon."
Helmed by the Erwin Brothers ("I Can Only Imagine," "The Jesus Music"), the fresh look at Cash includes interviews with the only child he shared with June, son John Carter Cash, and the trailblazer's sister, Joanne Cash Yates. In addition, music superstars like Tim McGraw, Wynonna Judd, Jimmie Allen, Sheryl Crow and Alice Cooper, among others, share their observations on the rise and fall of one of the greatest musicians to ever grace the stage. Moreover, the documentary is narrated by Cash's close friend, fellow musician Marty Stuart. Cash's unmistakable voice is also heard throughout the piece as brothers Jon and Andrew Erwin were given access to more than 100 tapes originally recorded for Cash's autobiography that have never been heard outside the Cash family until now.
"I think of all the documentaries made about my dad, he'd be most excited about this one," remarks John Carter Cash of the film. Perhaps it would be a favorite of his late father's because it centers on the thing that was most important to him — his faith.
Cash's faith was hard-won. His love affair with June Carter while married to his first wife, Vivian Liberto; multiple arrests; and his long struggle with alcohol, drugs and prescription pills are as well known as his numerous hits like "I Walk the Line," "Ring of Fire," and "Jackson," among many others. However, few realize the depths of his faith and where his journey to find God took him.
Growing up on a cotton farm in Arkansas, Johnny's mother taught her children hymns out in the fields laying the foundation for both Cash's love of music and his love of God. In fact, the documentary reveals Cash originally set out to become a Gospel singer. When he signed a record deal with Sun Records, they told him Gospel wouldn't sell, so they marketed his then groundbreaking sound as country music's "next big thing." Fans of popular music at large, however, quickly fell in love with his curious image, rhythmic guitar and larger-than-life personality. The label put him on tour with rising star Elvis Presley, and the rest — as they say — is history.
While success took its toll on both his marriage and his health, his rigorous touring schedule connected him with June Carter, who was on the road performing with her family. June was eventually instrumental in helping Cash get clean and sober, but his rocky road to redemption was paved with trouble with the law, a divorce and a desire to end it all.
"Johnny Cash: The Redemption of an American Icon" hones in on a key moment in the star's history where he went down into a cave in Chattanooga, Tennessee, to die. It was a turning point for the weary addict. After some intense soul-searching and, some say, a word from God, he emerged from that underground cave a new man — a man committed to seeking help and getting well.
He rededicated his life to Christ after his sister, Joanne, invited him to church, and from then on, he spent the remainder of his life pointing people to the God who saved him from himself. Despite pushback from record label and television executives, Cash boldly shared his faith on "The Johnny Cash Show," where he regularly invited Gospel singers to perform, much to the network's chagrin. He ministered to the incarcerated he readily identified with at Folsom Prison before recording his landmark album live with the inmates there. He filmed a salvation-driven, documentary-style film in the Holy Land called "The Gospel Road" and eventually recorded a collection of songs in the Holy Land as well. In addition, he became good friends with Billy Graham and performed at more than 30 of the evangelist's crusades.
"Johnny Cash is an American icon who undoubtedly shaped the musical landscape," shares the film's producer, Jon Erwin. "Behind the fame is the true story of a man who was haunted by his own inner demons, and through facing them, ultimately found an unshakable faith in God."
That's the man "Johnny Cash: The Redemption of an American Icon" seeks to portray as his story is told through the lens of people who were both influenced by his music and knew him best, as well as through vintage performance footage, rare personal photos and real family artifacts. The result is a visually compelling documentary that examines an often untold facet of one of American music's most important artists.