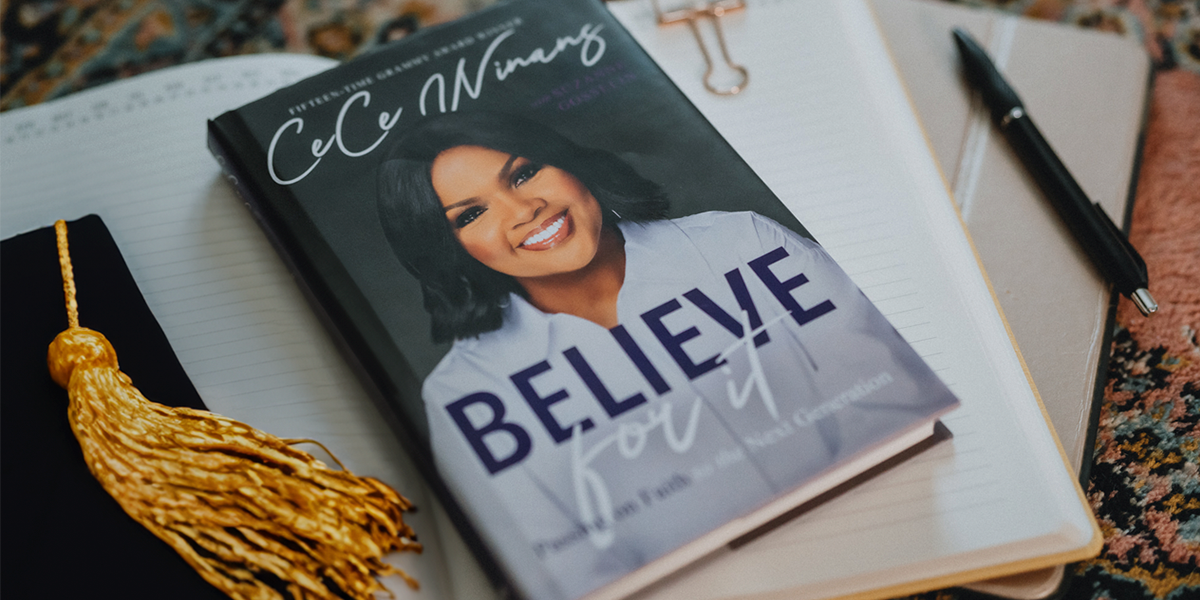 Discover the inspiring story of @CeCe Winans as she delves into the depths of faith in her new book, "Believe for It: Passing on Faith to the Next Generation." Through personal anecdotes and reflections from her illustrious career, Winans imparts invaluable lessons on the importance of transmitting biblical values from one generation to the next. Winans demonstrates that a steadfast commitment to faith has the power to influence future generations in remarkable ways, making "Believe for It" an essential guide for parents of young graduates seeking to establish a lasting foundation of faith.
Watch the "Believe for It" Book Trailer
Winans reveals all this and more in "Believe for It: Passing on Faith to the Next Generation," her first book in more than a decade. Recently recognized as the first Black female solo act to earn Artist of the Year honors at the 53rd annual GMA Dove Awards, Winans is passionate about generational faith. She's so fervent about the subject, in fact, that she now hosts both a YouTube series and a conference centered around this very topic.

Purchase Your Copy of "Believe for It"

Perhaps it's also a theme near and dear to her heart because her parents came from homes void of the faith they passed down to her. When they married at the young ages of 19 and 17, respectively, her father and mother made a commitment to raise their babies in a home that looked nothing like the ones they came from. Therefore, Winans, her seven older brothers and her two younger sisters grew up in an environment filled with Christian music and the Word of God. This laid a firm foundation for the entire Winans brood and allowed each of the siblings to pass on that same faith to their children and, eventually, their children's children.
Watch the "Believe for It" Music Video
In "Believe for It," Winans shares anecdotes from her personal life and lessons from her storied career that highlight the importance of passing down biblical values from one generation to the next. The powerhouse vocalist previously penned a memoir back in 1999 titled "On a Positive Note," which she mentions multiple times in her first project for K-LOVE Books. Thus, "Believe for It" is less a chronological narrative of her life and more a teaching tool where Winans offers wisdom on various aspects of faith, family and fame. Moreover, all 10 chapters end with reflective questions to get readers thinking about their own spiritual health.
She talks frequently about the church she and her husband, Alvin Love, planted in Nashville within the last 10 years. Although they never dreamed they'd ever co-pastor a church together, the couple founded the church after hosting a gathering in their living room for a group of young people — mainly friends of their children — who were looking for Christ-centered guidance and community. From there, Nashville Life Church grew into a multigenerational, multicultural congregation that Winans and her husband began to shepherd. They have recently turned the leadership of the church over to their son. Throughout "Believe for It," Winans often references the lessons she's learned in leading a church, including the way her heart continues to beat for younger generations as she's watched the young people at Nashville Life grow in their individual journeys with Jesus.
In a tone exuding warmth, love and friendship, Winans tackles the importance of finding community, staying involved in a local church, working from a place of fulfillment, and tending to your mental health. In addition, she's candid about her own challenges along the way, including overcoming intense shyness as a new artist while performing with her bother, @Bebe Winans, and grieving the early, unexpected death of her oldest brother, Ronald. She concludes by bringing the book up to present day, recounting the story behind her mega-hit, "Believe for It." The song was a last-minute addition to her first live album, which she recorded during the pandemic despite not being able to entertain a live audience.
Not only did the single perform above and beyond her wildest aspirations, topping multiple charts and winning all manner of accolades, but it also inspired the name of this book. Winans' story as told in "Believe for It" is a testament to what can happen when one person commits to a life of faith. A ripple effect ensues, and Winans is living proof that the faith of one generation affects the next in extraordinary ways.