Posted on Sunday, Oct 03, 2021 by Elevation Worship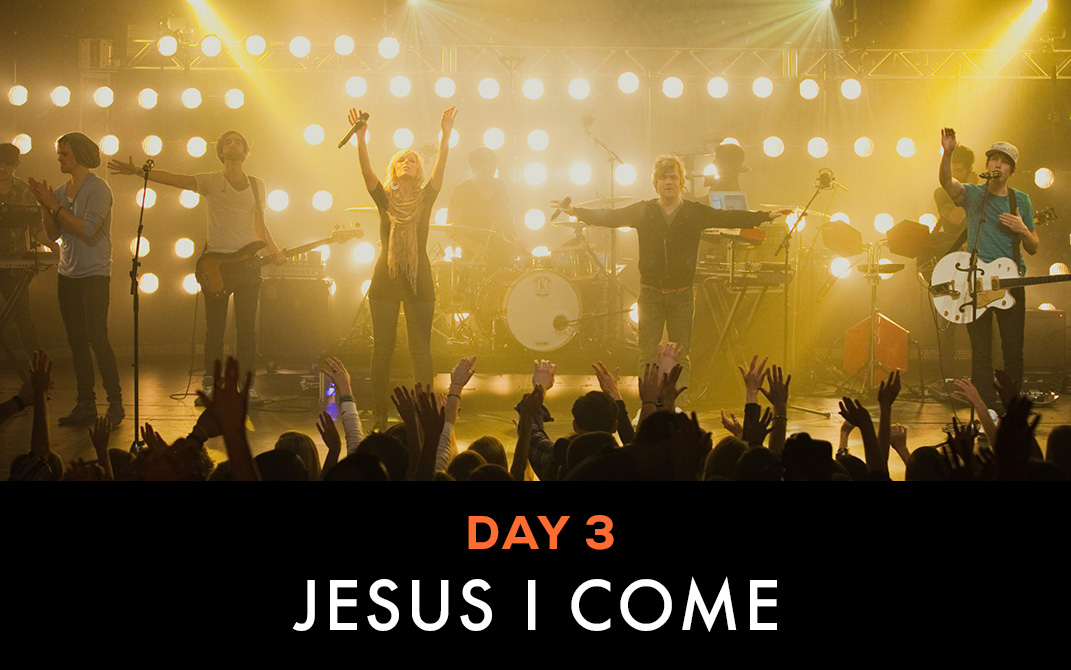 DAY THREE || JESUS COME
Gratitude is never invisible or silent; it must be expressed.
"Jesus I Come" is an anthem of gratitude. Thankfulness should be the foundation of our worship, and praise opens our eyes to become more aware of His presence in our lives:
Thank You Jesus
Just as I am I come.
Hallelujah
Oh what amazing love.
When we come to Him, we come to Him unashamed. Though our sin separates us from God, Jesus accepts us just as we are. We don't have to clean ourselves up to come to Him; He awaits us with anticipation.
When we enter the presence of Jesus, we do not leave unchanged.
LISTEN NOW: Jesus I Come (LIVE)
I will rise and stand redeemed
Heaven open over me
To Your name, eternally
Endless glory I will bring.
By entering His presence with a posture of surrender—bowing down before Jesus—we can stand redeemed, unashamed of the new hope we have in Him. As Heaven opens over us, God smiles down upon us and calls us His children, sending us into the world to glorify Him.
Shout with joy to the Lord, all the earth!
Worship the Lord with gladness.
Come before him, singing with joy.
Acknowledge that the Lord is God!
He made us, and we are his.
We are his people, the sheep of his pasture.
Enter his gates with thanksgiving;
go into his courts with praise.
Give thanks to him and praise his name.
For the Lord is good.
His unfailing love continues forever,
and his faithfulness continues to each generation. - Psalms 100
---
Elevation Worship began in 2006, when pastor and songwriter Steven Furtick was just launching Elevation Church in Charlotte, NC, he and his worship team began writing songs and eventually started releasing albums to the general public. His vision was to create a strong, unifying worship culture that made a place for people to connect with God.
Article reposted with permission from Essential Records