Pictured above, 84-year-old Paul Marshall, who has been living with Alzheimer's for about six years. His faith in Christ still shines through the awful barrier of the disease, but other memories and abilities are failing.
His son, Scott, pastors Wichita First Church of the Nazarene in Kansas, and shared with the congregation about what his family is experiencing. In a newsletter he recently wrote:
Three things are true.
#1 If you care, you make a tremendous difference, just by caring.
#2 If you don't, making a difference is almost impossible.
#3 If you care, you will hurt.
And what the Marshall family is going through is not uncommon. "I deal with more and more families it seems that are struggling with Alzheimer's," Pastor Scott shares with us. As for his father's condition, "He came to our house recently for about two weeks to stay with us" and it became very clear the impact the disease was having on the elderly Paul. "He couldn't remember the name of our dog. And he would ask the name of our dog about ten times a day. His grandchildren, my kids, my oldest is 17 and my youngest is 12, and every day he would ask them their names. And sometimes he would remember them, but he would ask their names again and again and again." Paul had trouble navigating the pastor's home, not recalling which room was his, where the bathroom was, and couldn't recall what he had for breakfast. "But then by the same token, when we would talk to him about something a long time ago" - about his missionary work - "he could remember."
Pastor Scott explains, "My mom and he were missionaries in Africa, and I was born in Malawi, Africa, while they were missionaries there." It appears most of his father's memories of that are still accessible for now.
During Paul's visit, "We would always have him pray for dinner, and when he would pray for dinner, it was like there he was. And there was his mind, and it was clear again and he knew what he was thinking and saying. So, it's just that rocky road of watching the normal things dissipate and go away and that's the sadness I think, probably it is for me, of Alzheimer's."
After the two-week Kansas visit, Paul returned to his daughter's home and "I called him. And I said, 'Dad, how are you doing, what are you doing?' and he tells me what he's done that day and I said, 'Do you remember when you were at my house?,' he said, 'What!,' I said 'Yeah, you were at my house for two weeks.' He said 'N-o-o-o, I wasn't. I wasn't at your house. What are you talking about?'"
The memory of those 14 days didn't exist.
our complete interview podcast is a bit further below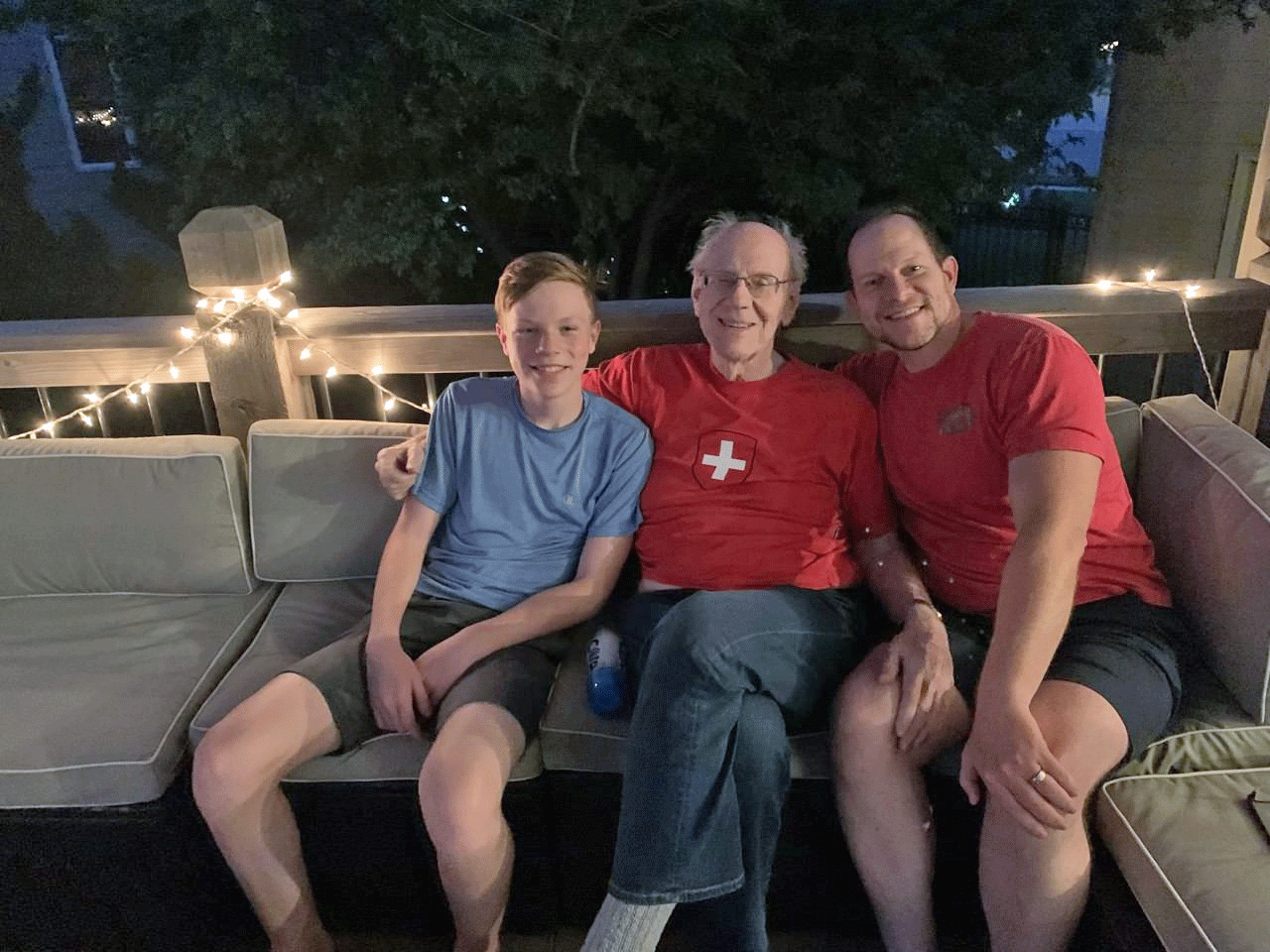 For Pastor Scott, who professionally comforts families under stress, or who have lost a loved one and are going through grief, "I was shocked at how overwhelmingly sad it was for me to watch my dad … when I would put him to bed at night, I felt like I was putting my kids to bed when they were four and five, and he would talk to me in the same way, and I'd give him a hug and a kiss and I'd tuck him in – just like I do with my kids – and I, very honestly, I told our congregation on Sunday, I was not ready for the sadness of seeing my own dad go through that."
Reflecting on how his father was able to pray without difficulty, we asked Pastor Scott if the spiritual segment in the brain might have better staying power? "You know, it certainly seems that way. And, again, I don't understand the brain, but the little bit that I've tried to make sense of, those long-standing pathways have a level of persistence. So, I would assume the fact that my dad has been a follower of Jesus for years, I'm assuming that the imprinting in the brain is what persists. Again, as a Christian pastor, I look at that's how God designed us, so from that angle it's kind of beautiful to watch."
We asked Pastor Scott if his very personal heartbreaking experience has enabled him to minister to other people who have similar situations in their families? "Sometimes we only understand something once we've gone through it ourselves – even though we can watch other people go through it – and my level of empathy for anyone who's going through any kind of long-term care for someone who's disabled, whether that's a person who has a permanent disability or it is a memory care issue like Alzheimer's dementia - man!, I feel that on a level I didn't before - so in that sense, I'm grateful because I can understand a little bit more of what that must be like, but yeah, it's absolutely helped me to see it in a different light."
A quote from C.S. Lewis has come to mean so much to Pastor Scott:
"To love at all is to be vulnerable. Love anything and your heart will be wrung and possibly broken. If you want to make sure of keeping it intact you must give it to no one, not even an animal. Wrap it carefully round with hobbies and little luxuries; avoid all entanglements. Lock it up safe in the casket or coffin of your selfishness. But in that casket, safe, dark, motionless, airless, it will change. It will not be broken; it will become unbreakable, impenetrable, irredeemable. To love is to be vulnerable."
In our complete podcast, just below, learn a method Pastor Scott found to interact with his father by way of the older still-solid memories, and what a blessing that is.