(Air1 Closer Look) – Inflation, simply defined, is a rise in the cost of things we need to live – like food. When COVID-19 forced shutdowns, foodstuffs no longer flowed easily and inexpensively from farms to factories and stores to your kitchen. This global disruption, combined with federal fiscal policies to fight economic slowdown, nearly guaranteed that Americans would feel checkout sticker shock.
Food prices are especially vulnerable to pressures of the pandemic, says Joe Balagtas, Associate Professor of Agricultural Economics at Purdue University. "Higher farming costs, like fertilizer, fuel," make basic ingredients more expensive. Even the Russian invasion of Ukraine in early-2022 "created uncertainty" as both nations had previously been major exporters of global wheat. The tight labor market in the U.S. also affects your total at the register. "Labor along the food supply chain accounts for something like half of the cost of our food," he says, so "while good for individual worker, rising wages increase the price of food we purchase -- because the cost of delivering those goods to us in the grocery stores and restaurants is rising."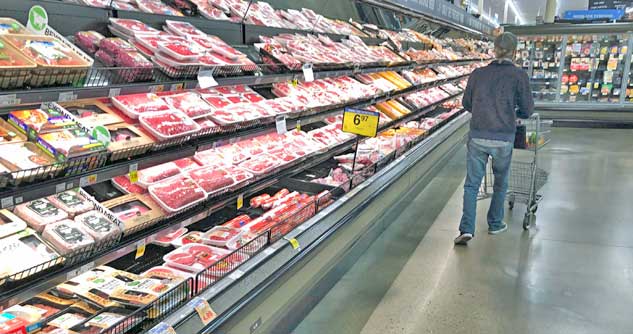 So what can we do? Does 'panic buying' items like meat or toilet paper only make things worse? "I'd be hesitant to tell people not to buy if they see the price is low," Balagtas says. Instead, he suggests you fight inflation with aggressive comparison shopping.
"Picking where you purchase: choose across brands, choose across stores, choose across items – take advantage of the fact that grocery stores, food manufacturers and restaurants are competing for our business."
While our grocery bills are undeniably afflicted by global factors, lifestyle blogger Jordan Page challenges us to focus less on prices and more on waste. Americans are "riding the Pinterest wave," she says, which can lead to overspending. "We've kind of been in this habit of finding a recipe online, going to the store to buy the ingredients for that recipe -- maybe we make it, maybe we don't -- but the rest of the ingredients rot in the back of our fridge."
Page, herself a mother of 8 hungry children, recommends Shelf Cooking, defined as planning your meals around what you already have in the fridge, freezer and pantry. "Do you have a little bit mustard lingering in a bottle? Do you have half a thing of spinach kind of wilting in the back of the fridge?" she asks. Plan around what you have! Grocery runs would then just supplement your existing stock.
"Try to waste less and stretch more," she urges, especially when it comes to leftovers. Teriyaki chicken and rice made on Sunday can be re-purposed for meals all week. Rice can become stir-fry with veggies on Monday and the chicken can be frozen for a future soup or casserole.
Another strategy for eating on a budget? "Make your protein the sidekick and not the hero," she offers. "Take that steak, cut it up, make fajitas with lots of veggies and tortillas and rice, things that fill you up they have a variety of nutrients -- but cuts down on your cost exponentially."
"Take 15-mins and look at what you have and really plan your meals – including eating out – that is probably one of the top things that can save people the most money."