Posted on Sunday, Aug 02, 2020 by Scott Savage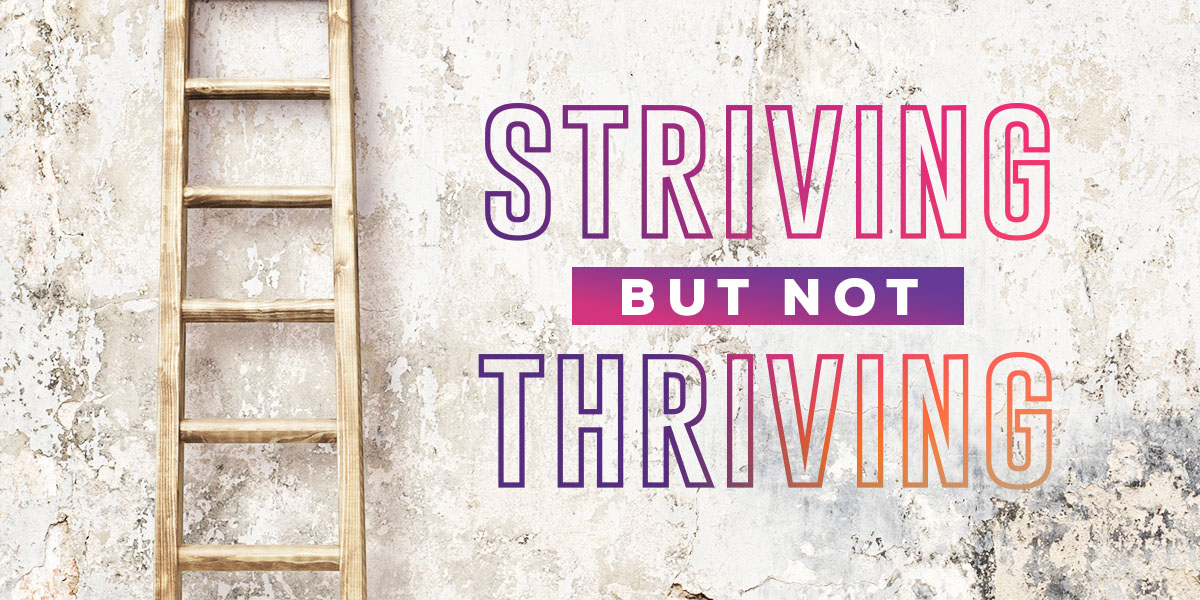 One of my best analogies for 2020 is the board game, Chutes & Ladders. If you've never played, you roll a set of dice and move forward through squares numbers 0-100. However, along the way, you encounter ladders (which enable you to advance up the board quickly) and chutes (which send you sliding back down the board).
For a large portion of this year, I've worked longer hours, prayed harder, and stressed like crazy, feeling like I'm making progress. However, my progress feels like it's as quickly undone as an unfortunate dice roll that sends me sliding down a chute from square 83 to square 16.
In addition to often feeling out of control, I've felt like my habits have gotten in the way of me experiencing God's power and presence, not helped me to live from God's power and feel His presence.
We all are tempted by one habit that won't lead us to the life we want. It lures us before we adopt it and then buries us after we've been practicing it.
What's the habit?
Striving.
According to the dictionary's definition, striving isn't a bad thing. Merriam-Webster states that to strive means "to devote serious effort or energy; to struggle in opposition." Multiple verses in Scripture commend striving to us based on these definitions.
In 1 Timothy 4:10, we read, "This is why we work hard and continue to struggle, for our hope is in the living God, who is the Savior of all people and particularly of all believers." In Philippians 1:27, Paul notes, "Only conduct yourselves in a manner worthy of the gospel of Christ, so that whether I come and see you or remain absent, I will hear of you that you are standing firm in one spirit, with one mind striving together for the faith of the gospel."
So if striving is good in this sense, then how and where could it be wrong? How could Satan tempt us with striving?
There is a kind of striving I've battled for many years, especially since COVID-19 changed our lives, and it's a striving that suffocates the Spirit of God in me. It's the opposite of the words of Psalm 46:10, where we read, "Be still, and know that I am God." The word picture presented in the Hebrew words we translate as "be still" paint a picture of two hands clenched in fists releasing their grip and opening up. This is why some translations render these words "cease striving" instead of "be still."
The kind of striving Satan tempts us with is hard work accomplished by white-knuckling our way through life, in our own power and strength. I asked a few friends what it's like when they're striving in a way that is not life-giving. Their answers paint a bleak picture.
Working to "make it happen"
Going it alone
Driven by unhealthy expectations
Inability to rest
Stressed
Trying to control the uncontrollable
Migraines
Overworking with less focus
One step forward, two steps back
Does that list describe your experience at any point this year? Can you relate to these experiences?
I think the difference between striving that honors God and striving that helps Satan occur around two questions.
Where is the power coming from that enables the striving - God's Spirit or my flesh?
Is the striving leading me into a deeper surrender, or is it an effort to control what isn't mine to control?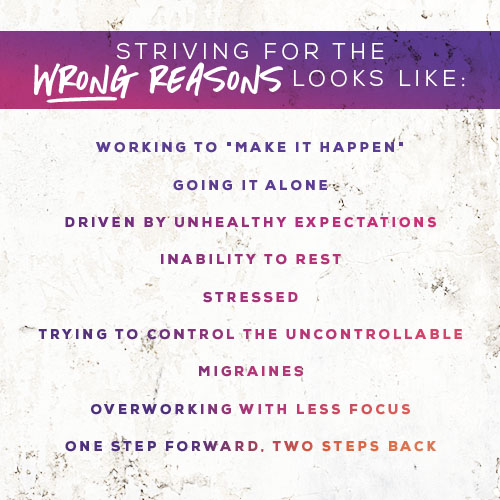 In his book Kill The Spider, Carlos Whittaker shares a statement that has permanently clarified this issue. He writes, "Freedom isn't found in striving; freedom is found in surrender."
Carlos is pushing back against the self-righteous striving, which causes us to think we can set ourselves free with enough effort and energy. But freedom in Christ doesn't result from our effort and energy; freedom in Christ comes from His effort and energy. We must surrender to Him to experience that freedom!
This is why Paul pleads with the Galatian believers in Galatians 5:1. "So Christ has truly set us free. Now make sure that you stay free, and don't get tied up again in slavery to the law." Paul knew striving to keep the law in their power would lead the people away from freedom.
When I shared the Whittaker quote from above with those friends who helped me make that list of what life-sapping striving felt like, we talked about surrender and life-giving striving. This second list was as compelling as the first list had been concerning.
Going with others
Driven by passions
Healthy pattern of work and rest
At peace
Accepting the uncontrollable
Feeling good physically
Focusing on the important stuff
Making progress
It's super easy to get caught up in the currents sweeping through our world today. The water current we swim in daily includes anxiety, stress, a sense of being overwhelmed, overwork, control, overreactions, rage, and an inability to rest.
In that current, there is no "be still and know that I am God." There is no "now make sure you stay free." There is no "peace which exceeds anything we can understand."
The freedom we want is not found in striving to swim with our world's currents. The freedom we yearn for and have in Christ is found when we cease striving like the world does, in order to surrender to the current that is Christ and His Spirit within our hearts. That Spirit enables us to strive in a way that doesn't sap life from us, but gives life to us.
We will find true freedom in that river!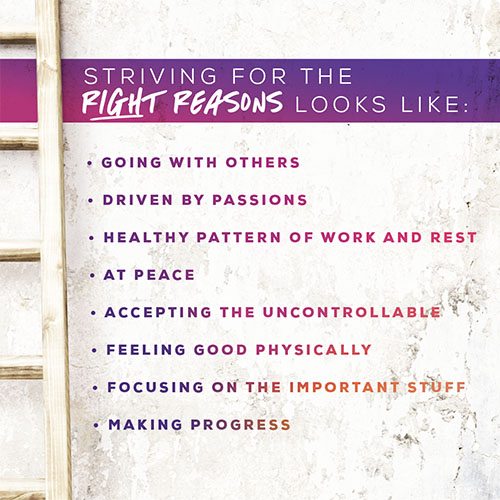 ---
Scott Savage is a pastor and a writer who believes he has the best last name ever. He leads Cornerstone Church in Prescott, Arizona. Scott is married to Dani and they are the parents of three "little savages." He is the creator of the Free to Forgive course and you can read more of his writing at scottsavagelive.com.