Posted on Monday, Nov 08, 2021 by Scott Savage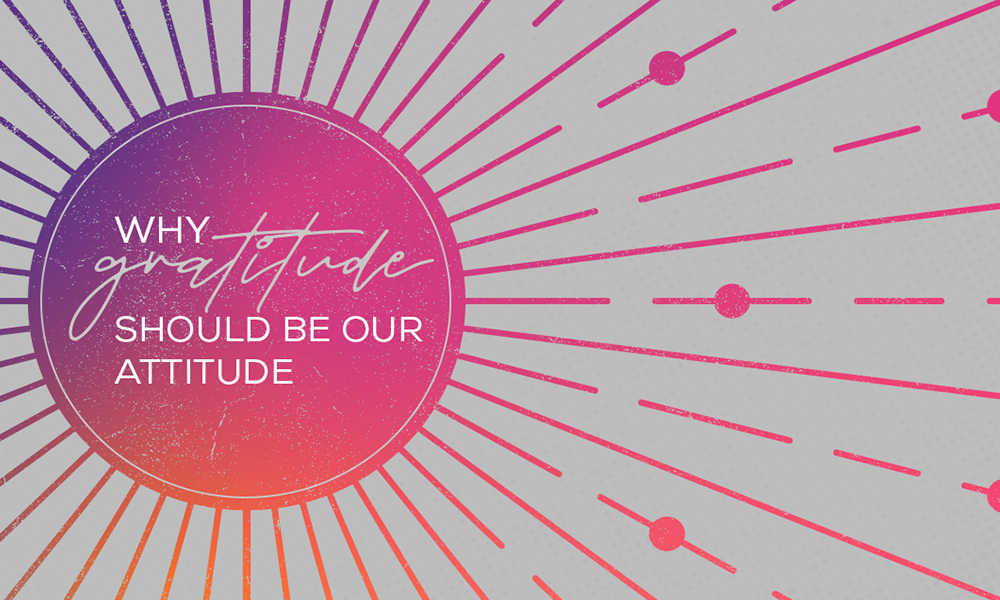 Jamie began 2020 with big plans for the non-profit she leads.
She looked ahead to a new year with anticipation and excitement. She imagined the good her team would do with kids and students.
A few months later, those plans were wrecked by the chaos and challenges of 2020. Instead of imagining the good her team would be able to do, her focus was on keeping the doors of the non-profit open with revenue dropping by 80% and their ability to provide in-person events drastically reduced.
How would you have responded in a moment like that? Would you have given up? Started raging at forces you couldn't control? Turned inward in despair? All of those reactions would've made sense. But that's not what Jamie did.
Jamie sent me an email in 2020 that caused my jaw to drop in shock. Jamie reminded me that I shared a message with our church about gratitude in November 2019. In that message, I issued a gratitude challenge to our church, encouraging them to write down three things they are grateful for each day for three weeks.
Jamie shared that she took that challenge and began a daily gratitude practice. Each evening before she went to sleep, she would reflect on her day and write down three things she was grateful for. She shared that since that Sunday in November, for over six months, she had not missed a day. For 187 straight days, she paused and gave thanks to God. Her list was over 500 items long at that point.
A few months later, when we were together at an in-person event, Jamie shared with me how this gratitude practice helped her fight intense mental battles during this difficult time. Even at the end of what she felt like was a terrible day, she learned that there was something there for which she could give thanks to God.
Jamie embodied the words of the Apostle Paul in 1 Thessalonians 5:16-18.
"Always be joyful. Never stop praying. Be thankful in all circumstances, for this is God's will for you who belong to Christ Jesus."
Paul described a radical approach to thankfulness and gratitude in this passage. Our normal and natural approach to gratitude is quite different from his. We give thanks to God when we see Him obviously working in our midst. We give thanks to God when times are good. We give thanks to God when we feel like giving thanks.
But Paul says, "No, give thanks, even when you don't feel like it. Give thanks in bad times. Give thanks even when you don't see God working. Give thanks in all circumstances."
Why does Paul carve this counter-intuitive path? He says, "This is God's will for you in Christ Jesus." Gratitude is God's will for us, in every circumstance.
I spent my first 15 years as an adult leading and mentoring college students and young adults, on a college campus and on staff with a church. The number one question I heard from students was "How do I know God's will for my life?" The question was a difficult one to answer; walking through those discussions and decisions was not easy.
Yet, right here in 1 Thessalonians, we see it in black and white. We can know God's will for our lives. God's will for us is for us to give thanks in all circumstances.
Gratitude helps us reset our perspective, so we can see God's will and purposes in every circumstance. What our natural eyes cannot see, gratitude gives us the eyes to see.
After reflecting on Jamie's experience and Paul's words to the church in Thessalonika, here are three reasons why gratitude is so important.
1. Gratitude helps us navigate our questions about God.
Our circumstances often lead us to question whether God is at work and whether God's will is trustworthy and happening. @Tasha Layton reflects this in her song "Look What You've Done". She reflects on her experience, singing,
"The lies I believed,
they got some roots that run deep.
I let 'em take a hold of my life."
Gratitude reminds us who God is and what God has done in our lives. We're able to contrast our momentary trials and our fleeting feelings with the enduring character and work of God we've experienced.
2. Gratitude sustains us through adversity.
In the opening chapter of the book of Job, the man famous for suffering, n suffers incomprehensible loss after incomprehensible loss. After all of that adversity, the text says, "Job stood up and tore his robe in grief. Then he shaved his head and fell to the ground to worship. He said, 'I came naked from my mother's womb, and I will be naked when I leave. The Lord gave me what I had, and the Lord has taken it away. Praise the name of the Lord!"
It was this same kind of thanksgiving that led Jamie which sustained Job that led Jamie.
3. Gratitude helps us to see the opportunities being born in our adversity.
As Jamie wrote the things she was grateful for each evening, she was able to see how God was at work, even creating new opportunities amidst the adversity. She saw clearly the opportunities that were lost, but she also saw the opportunities that were being born. She saw how God was providing for her employees even as they had to be temporarily furloughed. She saw how God was birthing creative ideas they would've never considered otherwise.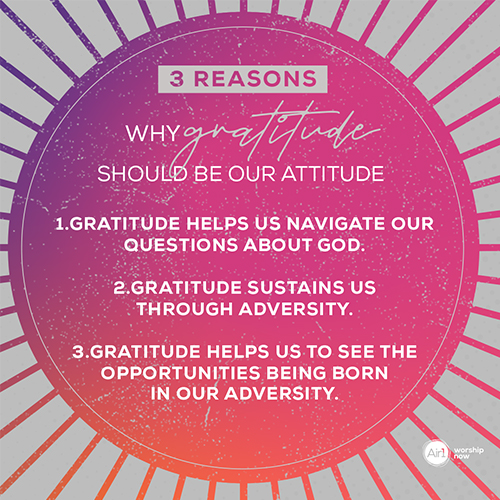 This Seems Crazy!
If you're in the middle of a tremendous season of adversity, gratitude and thanking God may seem crazy. It certainly feels counter-intuitive. But consider Jamie's six month streak in her daily gratitude practice. Consider how thanking God each day sustained her.
Whatever you're facing next or whatever you're enduring today, may giving thanks to God be a source of sustenance and encouragement for you each day.
RELATED CONTENT: "Look What You've Done" by Tasha Layton
**Jamie is a pseudonym to protect the identity of the individual whose story is shared in this devotional.
---
Scott Savage is a pastor and a writer with the coolest last name ever. He leads Cornerstone Church in Prescott, Arizona. Scott is married to Dani and they are the parents of three "little savages." He helps hurting people forgive others through his Free to Forgive course and you can read more of his writing at scottsavagelive.com