Posted on Monday, Nov 22, 2021 by Scott Savage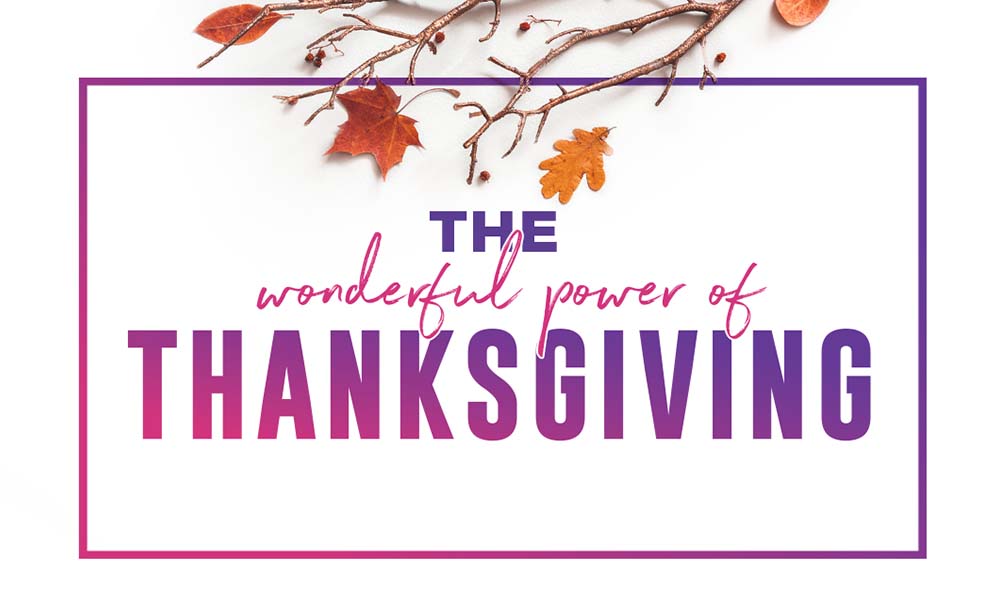 Don't you hate those people who encourage you to be thankful and grateful when you don't feel like it?
They are the worst!
I never want to be that person. For years I struggled with gratitude and thought picking things to be thankful for was forced, contrived, and unhelpful.
That changed when I began practicing gratitude during a very difficult season professionally and in my marriage. Thanking God didn't change those circumstances, but it sure changed me.
So, I'm not writing to you today to hype you or sell you on thanksgiving like a creepy time-share salesman.
I just want to point you to the power thanksgiving has had in my life and how the Scriptures affirm this truth. At the end of this devotional, you'll get to decide whether to roll your eyes and close the article or give this practice a shot the way I did.
I've discovered that thanksgiving has tremendous power. Consider these five things that thanksgiving has the power to do
1. Thanksgiving has the power to turn a crisis into deeper intimacy with God.
In Psalm 106:1-2, the psalmist writes, "Give thanks to the Lord, for he is good! His faithful love endures forever. Who can list the glorious miracles of the Lord? Who can ever praise him enough?"
You might be wondering what the circumstance was when the writer wrote those words. "Certainly he couldn't have been thanking God in the middle of a crisis. Why would you give thanks to God for a season of crisis or suffering?" We don't know for sure when this psalm was written, but it's very possible it was written by the Jews in exile.
Regardless of the context of Pslam 106's authorship, I'd point to an observation author John Ortberg made. "People who doubt God's existence list suffering as their primary objection, while people who follow Jesus list suffering as the main thing God used to transform them."
Our seasons of hardship and times of crisis provide us an opportunity to see God's love and care in ways seasons of ease may not.
2. Thanksgiving has the power to reinterpret a difficult circumstance.
James, the half-brother of Jesus, wrote, "So don't be misled, my dear brothers and sisters. Whatever is good and perfect is a gift coming down to us from God our Father, who created all the lights in the heavens." James wrote these words to a group of believers who had been scattered by persecution - a difficult circumstance, for sure! Yet, James invited them to recognize that any good thing that was part of their life was a gift from God.
I had a similar experience when I began practicing gratitude during challenges both in my marriage and career. I discovered that thanksgiving didn't change my circumstances. However, giving thanks did reinterpret my circumstances. Instead of only seeing the adversity, I saw the ways God was providing gifts on a daily basis. Practicing thanksgiving gave me a new and much needed attitude.
3. Thanksgiving has the power to bring peace to our hearts.
In his most hope-filled letter, Philippians, the Apostle Paul writes, "Don't worry about anything; instead, pray about everything. Tell God what you need, and thank him for all he has done. Then you will experience God's peace, which exceeds anything we can understand. His peace will guard your hearts and minds as you live in Christ Jesus." Thanksgiving, according to Paul, is the gateway to peace.
This idea is hard to embrace if we believe inner peace is only possible amidst peaceful moments. But, the peace God offers is so much bigger than that.
Alexander MacLaren once wrote, "True peace comes not from the absence of trouble, but from the presence of God." When we give thanks to God for what He's done, even in the middle of a storm, we lean into the opportunity to experience God's presence and His peace.
4. Thanksgiving has the power to grow our contentment.
In his first letter to Timothy, Paul encourages Timothy. "Yet true godliness with contentment is itself great wealth. After all, we brought nothing with us when we came into the world, and we can't take anything with us when we leave it. So if we have enough food and clothing, let us be content."
As Aesop once wrote, "gratitude turns what we have into enough." Giving thanks to God takes our eyes off what we don't have, or want to have in the future, and puts them on Him. When we give thanks, we focus on what we do have from God that we do not deserve.
5. Thanksgiving has the power to increase our joy.
Psalm 126, a song of pilgrims headed to Jerusalem, opens with an incredible expression of celebration. "When the Lord brought back his exiles to Jerusalem, it was like a dream! We were filled with laughter, and we sang for joy. And the other nations said, 'What amazing things the Lord has done for them.' Yes, the Lord has done amazing things for us! What joy!"
Notice I said joy, not happiness. Happiness is directly connected to our present experience. The English word "happiness" comes from the Latin word "hap" which means luck or chance.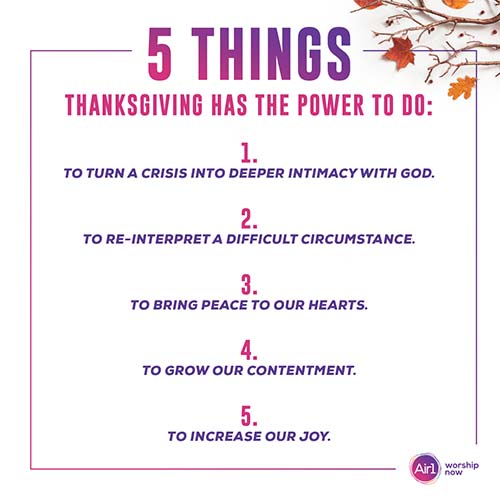 On the other hand, joy is not circumstantial. The kind of joy expressed in Psalm 126 is not a reflection of the present circumstances of those singing. Instead, it's rooted in something deeper. Dave Erickson made an important observation about joy. "Joy is the hopeful confidence we have from knowing and trusting God regardless of the circumstances."
The attitude Erickson describes is sung beautifully by @Cory Asbury in his song, "Homecoming." He sings,
"You nailed my debt to that old rugged cross.
An empty slate, at the empty grave.
Thank God that stone was rolled away."
Even when we find ourselves in circumstances where we struggle to see anything to thank God for, we always have opportunities to thank God for our salvation. That same power that rolled the stone away is with us, in us, and working through us.
RELATED CONTENT: Listeners Are Swept Away in the Wonder of Heaven in Cory Asbury's "Homecoming"
That's the power of thanksgiving!
---
Scott Savage is a pastor and a writer with the coolest last name ever. He leads Cornerstone Church in Prescott, Arizona. Scott is married to Dani and they are the parents of three "little savages." He helps hurting people forgive others through his Free to Forgive course and you can read more of his writing at scottsavagelive.com