Posted on Monday, Jan 25, 2021 by Scott Savage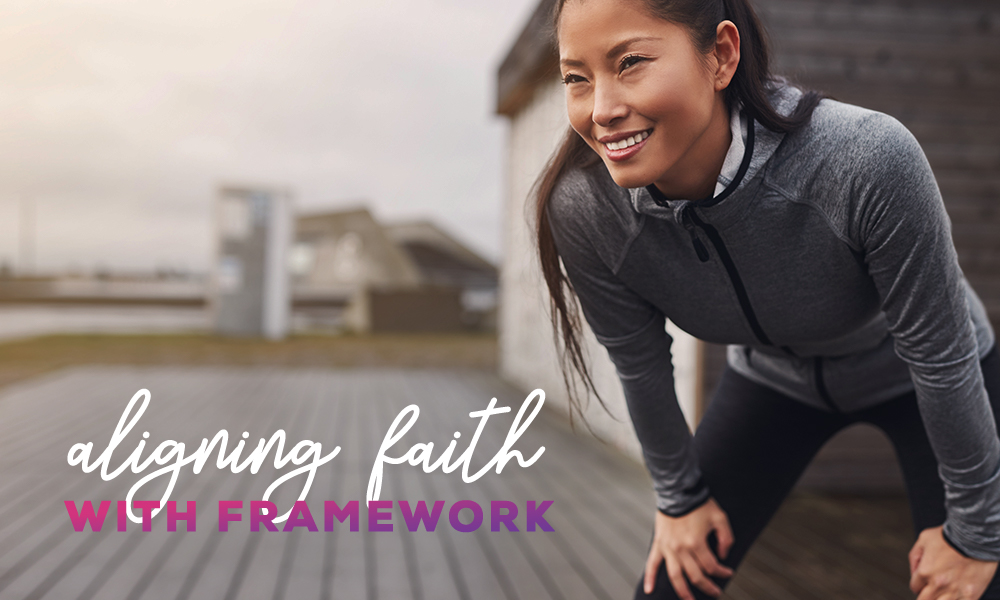 The human body is amazing and every facet of its anatomy and biology points to a creator.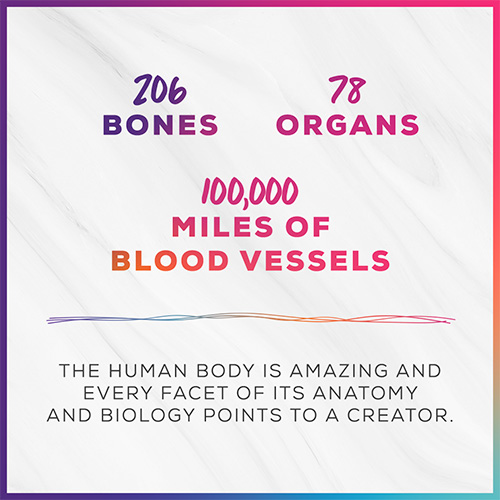 Francis S. Collins, the scientist who directed the mapping of the human genome, described how his work as a scientist led him to faith. "For me, the experience of sequencing the human genome, and uncovering this most remarkable of all texts, was both a stunning scientific achievement and an occasion of worship."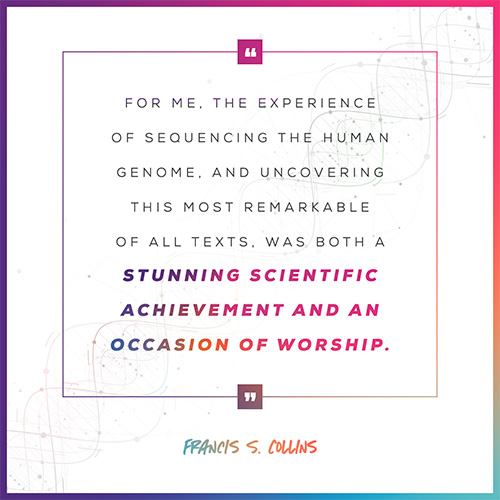 While some might say that their view of the body easily merges with faith, many others don't emphasize the body nearly as much. While Jesus said the greatest commandment is "to love the Lord your God with your heart, soul, mind, and strength," a great deal of our focus as Christians centers on the first three items on that list.
We've all read books, sat in studies, and listened to sermons about our hearts, souls, and minds. But how much teaching have we received about our bodies? What we eat? How we sleep? Exercise and fitness?
Yet, all of these are important to God. He cares about our physical wellness, along with our relational, emotional, mental, and spiritual wellness.
So, let's consider three questions in light of this.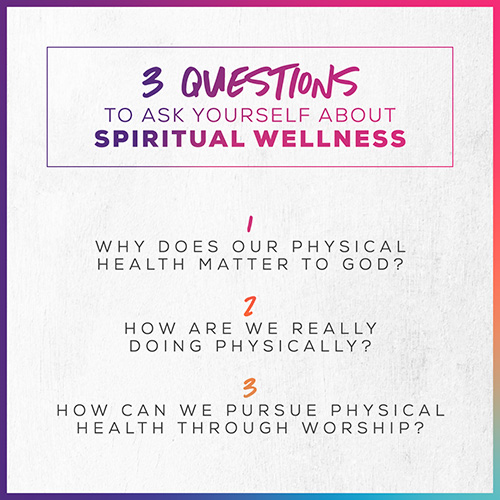 First, why does our physical health matter to God?
We reflect God's image, including our bodies. Genesis 1:27 tells us that "God created human beings in His image. In the image of God he created them." As image-bearers, our bodies reflect God's glory.
We are God's temple, called to honor God with our bodies. 1 Corinthians 6:19-20 calls us to physical stewardship. "Don't you realize that your body is the temple of the Holy Spirit, who lives in you and was given to you by God? You do not belong to yourself, for God bought you with a high price. So, you must honor God with your body."
Worshiping God requires surrendering our bodies to God. In Romans 12:1, Paul tells us "And so, dear brothers and sisters, I plead with you to give your bodies to God because of all he has done for you. Let them be a living and holy sacrifice—the kind he will find acceptable. This is truly the way to worship him."
Jesus dignified the physical body. Jesus took one on in the Incarnation, which we read about in John 1:14. "So the Word became human and made his home among us. He was full of unfailing love and faithfulness. And we have seen His glory, the glory of the Father's one and only Son." Jesus went on to inhabit a new body in the Resurrection, described in Luke 24. "'Look at my hands. Look at my feet. You can see that it's really me. Touch me and make sure that I am not a ghost because ghosts don't have bodies, as you see that I do.' As he spoke, he showed them his hands and his feet."
It's obvious that despite a focus on the spiritual that often overlooks the physical, the physical world and our physical bodies matter to God.

Second, how are we really doing physically?
Reflect on these questions about your physical health honestly.
How many hours do you sleep per night?
How would you describe your diet to someone who doesn't know you?
How do you engage in physical activity during the day?
How do you care for the cleanliness and health of the body God has given you?
What does rest look like for you in a day? Week? Year?
Even as I write this article, my reflection revealed places where I've made excuses and perpetuated unhealthy habits.
If asking or answering these questions feels "shallow," "wordy," or "unspiritual," reconsider the Biblical passages above. Caring for our physical health is an act of worship and responsible stewardship!

Third, how can we more intentionally pursue physical health as an act of worship and stewardship?
Identify a sleep goal and pursue it intentionally. When my twins were newborns, I slept about 4 hours per night. While that season was exhausting, they started sleeping and I found excuses to continue staying up late. Even if you are in the middle of a challenging season, pick a number, push it 30 minutes longer, and then pursue it intentionally. Remember the words of Psalm 127:2. "God gives rest to his loved ones."
Identify one step you can take towards a healthier diet. Instead of attempting a complete overhaul overnight, look for a small victory. Perhaps it's adding something to your daily diet or reducing/removing something.
Become more active. How could you merge physical activity with a spiritual habit? Could you listen to Air1 while working out? Pray for neighbors and friends while walking through your neighborhood?
Be as intentional with resting as you do working. Schedule times of rest on a daily, weekly, and annual basis. Sit outside for 30 minutes without your phone while taking your lunch. Set aside 30 minutes before bed to read a book rather than scrolling social media. Pick a half-day on your weekend to fast from all media and enjoy a hobby. Plan a trip for later this year and begin researching the area and potential activities.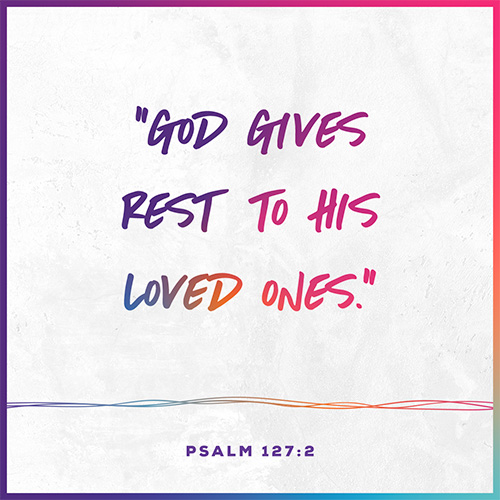 I'm not yet where God wants me to be with my physical wellness. But I know that what I do with my body, matters. God has plans for me to accomplish, and my body is an essential part of that plan.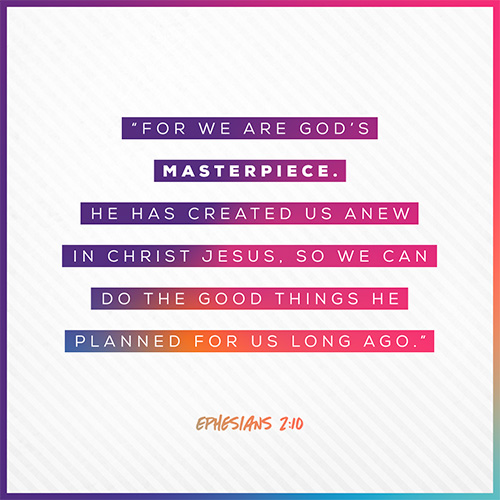 "For we are God's masterpiece. He has created us anew in Christ Jesus, so we can do the good things he planned for us long ago." - Ephesians 2:10
---
Scott Savage is a pastor and a writer with the coolest last name ever. He leads Cornerstone Church in Prescott, Arizona. Scott is married to Dani and they are the parents of three "little savages." He is the creator of the Free to Forgive course and you can read more of his writing at scottsavagelive.com