Posted on Monday, Nov 15, 2021 by Scott Savage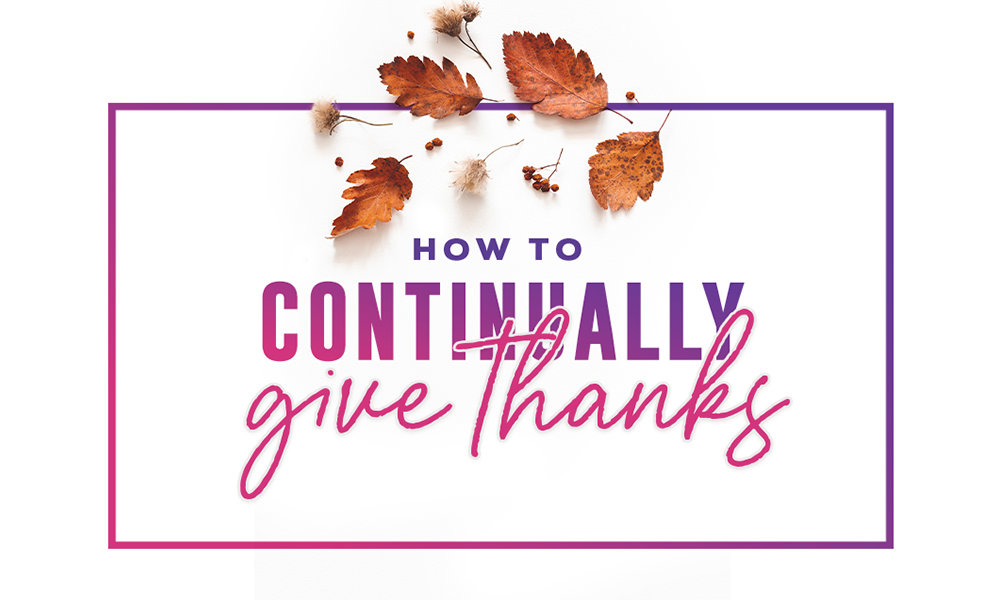 In the past five to seven years, there has been a growing emergence of data around the power of gratitude, what the Bible calls "thanksgiving."
It's been incredible to see secular scientific research verify what Scripture has taught for thousands of years. If you want to read more about that research and corresponding Scripture passages, check out How Giving Thanks Can Change Your Life.
Despite the volume of science and Scripture aligning here, many people I meet continue to resist the value of gratitude. I've heard people say, "Be careful when you give thanks because it will make you too complacent." I want to say in return, "If I don't give thanks, I may lose hope and give up." I need to give thanks to keep going!
Some people think you need to "be careful when you give thanks because you deserve more credit." The problem is many of us think we deserve more credit than we actually do. When our church has our annual celebration of what God has done in the previous year, I tell them, "If we don't give thanks for what God did in the past, we'll be tempted to take credit for what God does in the future. "
There are people who are hesitant about talking to someone about gratitude who is in a hard or painful season of life. "Be careful when you give thanks in adversity - you know you can't paper over the hard stuff." I never want to encourage anyone to ignore grief, pain, and loss. After all, in Matthew 5, Jesus says, "Blessed are those who mourn." At the same time, no season of life is without an opportunity for thanksgiving. I've learned that if you don't give thanks when you're in the darkness, you may not give thanks when you step into the light.
My cynical friends have brought their skepticism to this subject, too. "Be careful when you give thanks, so that you don't become overly positive." I want to share with those folks about how I've given thanks and grieved on the same day - about the same situation. We can hold a variety of emotions at the same time and the presence of gratitude doesn't blind us to our pain.
As a result of these fears and hesitations around gratitude and thanksgiving, our culture has established a conditional approach to gratitude.
Our culture says…
Give thanks when it's culturally appropriate (late November is ideal).
Give thanks when you feel like it.
Give thanks when things are going great.
Give thanks when you are living out #RelationshipGoals.
Give thanks when you are doing spiritual things.
Give thanks when you are successful.
Give thanks when you feel lovable.
Give thanks when you're in an easy season.
This "conditional gratitude" can be genuine, even helpful. Giving thanks to God in these situations isn't inherently bad. But, conditional gratitude is at its core incomplete and insufficient. It fails to go all the way to complete obedience.
Several years ago, my wife and I were in a very difficult season. Buried under $200,000 in debt and working four jobs between us with 100 combined hours per week, we didn't see each other much and we were exhausted (physically, emotionally, spiritually, and mentally). It was during this season that I discovered the power of gratitude. I began thanking God daily.
I didn't feel like it. Things weren't going great. Our relationship wasn't anywhere near our goals. I was cleaning bathrooms and passing out programs. I didn't feel successful. And it was not an easy season.
If I had embraced "conditional gratitude," I would've missed out on God's approach to thanksgiving that began to renew my mind and reframe my attitude about this season in life.
In contrast to our world's "conditional gratitude," God says…
Give thanks in all circumstances (1 Thessalonians 5:18)
Give thanks when you're worried (Philippians 4:6)
Give thanks when you enter into worship (Psalm 100:4)
Give thanks when you think about "your people" (Philippians 1:3)
Give thanks when you feel God is near (Psalm 75:1)
Give thanks when you do whatever you do (Colossians 3:17)
Give thanks when you read Scripture (Psalm 119:62)
Give thanks when you marvel at nature (Psalm 136:6-9)
Give thanks when you think about God's plan (Hebrews 12:28-29)
Give thanks when you experience God's forgiveness (Isaiah 12:1)
Give thanks when you discover wisdom (Daniel 2:23)
Give thanks when you realize how much God loves you (Psalm 106:1)
Give thanks when you wake up with what you need in a hard season (Lamentations 3:22-23)
What God says about thanksgiving is unique. His approach goes far beyond one day in late November. Rather, it calls for an everyday thanksgiving; a year-round gratitude that has the power to transform every moment, every day, and every season into an altar on which to praise God's faithfulness and love.
In their song, "Wait on You," @Maverick City Music sings of two very different moments in life.
"I've tasted your goodness.
I'll trust in Your promise.
I'm gonna wait on you."
The first line speaks of an experience - a condition which naturally leads to thanksgiving. The second and third lines speak of a moment to come that hasn't yet happened. A watching world says "Why give thanks now? Nothing has happened yet."
But, God says give thanks for the promise, in the waiting, and when the fulfillment happens. For a world that is afraid to give thanks when the conditions don't seem right, this doesn't make sense.
Yet, this is why the Apostle Paul wrote with such passion. "The message of the cross is foolish to those who are headed for destruction! But we who are being saved know it is the very power of God."
What seems foolish to our world looks like faith to our God.
RELATED CONTENT: Elevation Worship and Maverick City Music Showcase the Power of Waiting in "Wait On You"
---
Scott Savage is a pastor and a writer with the coolest last name ever. He leads Cornerstone Church in Prescott, Arizona. Scott is married to Dani and they are the parents of three "little savages." He helps hurting people forgive others through his Free to Forgive course and you can read more of his writing at scottsavagelive.com