Posted on Sunday, May 16, 2021 by Scott Savage
Human hope often wilts in the face of adversity. Consider parents reeling from their child's diagnosis with multiple sclerosis or activists fighting to help families overcome poverty—even professionals seeking a new job after being fired or downsized.
What makes these individuals take their next steps in the face of adversity and intense negative emotions?
Hope.
Hope powers our endurance, sacrifice, and work in the face of difficult odds.
But hope doesn't exist in a vacuum. In her book, Fast Company, researcher Jacqueline Mattis shares her work on the connection between hope and relationships. She states that parents of children with MS who rely on others to navigate the uncertainty their new diagnosis creates in their lives are more hopeful. Activists who lean on each other to continue working to improve the lives of those for whom they advocate are more likely to remain committed to the cause.
Mattis' research is best summed up in her statement that "Hope is hard to sustain in isolation." When the odds are against us, and the emotions are intense within us, it's hard to be hopeful. Without hopeful people around us or even friends and co-laborers to help shoulder the load, even the strongest can lose heart.
Hope alone isn't enough to sustain us. But hope is rarely sustained alone. These research-based examples affirm what we see throughout the Bible.
Ecclesiastes 4 proclaims the value of relationships in simple terms, especially given the inevitability of adversity. "Two people are better off than one, for they can help each other succeed. If one person falls, the other can reach out and help. But someone who falls alone is in real trouble."
In Nehemiah 4, the people are rebuilding the walls of Jerusalem in the face of opposition and violent threats from surrounding peoples. Nehemiah creates a system of interdependence to sustain their hope and work. "The work is very spread out, and we are widely separated from each other along the wall. When you hear the blast of the trumpet, rush to wherever it is sounding. Then our God will fight for us!"
In Acts 4, Peter and John are arrested and threatened by the Jewish religious leaders for their preaching and healing ministry. Yet, on the heels of those threats and in the face of that danger, Luke records one of the most compelling pictures of the Christian community. "All the believers were united in heart and mind. And they felt that what they owned was not their own, so they shared everything they had. The apostles testified powerfully to the resurrection of the Lord Jesus, and God's great blessing was upon them all. There were no needy people among them because those who owned land or houses would sell them and bring the money to the apostles to give to those in need."
The kind of hope needed to endure trouble and failure is the same kind of hope demanded to endure persecution. It's the same kind of hope we need today as we rebuild. Unlike the people serving under Nehemiah's leadership, we are not rebuilding the walls of our city. We are rebuilding our lives, relationships, churches, and finances after one of the most challenging years in recent memory.
While I consider myself a "hope-dealer," especially on the other side of a long personal battle with cynicism, the last 14 months have put that title to the test. Recently, I've noticed myself resorting to cynicism more often.
In the face of this personal experience and our more universal challenges, how do we build that kind of hope? What habits help us to sustain it?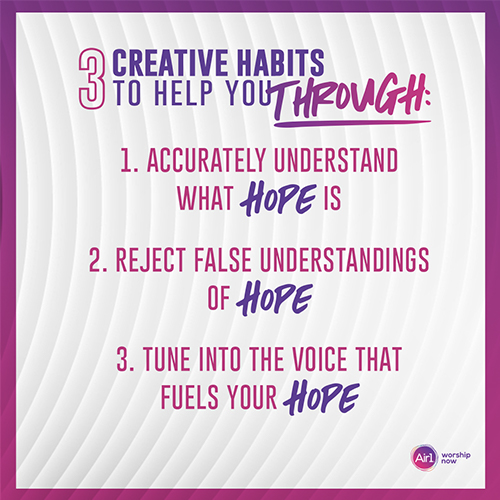 1. Accurately understand what hope is.
I define hope this way - "a strong and confident expectation for something good that God will bring about in the future." Hope doesn't deny reality; hope looks reality square in the face, choosing to believe in something or someone who defies it.
Biblical hope doesn't deny reality; it defies reality as we see it because we trust in our God, who is more significant than our circumstances and at work, in ways we cannot see. As Paul wrote in 2 Corinthians 4, "So we don't look at the troubles we can see now; rather, we fix our gaze on things that cannot be seen. For the things we see now will soon be gone, but the things we cannot see will last forever."
2. Reject false understandings of hope.
Many people who hear the word hope think, "Hope? That's pretty weak. We need something more than hope at a time like this." If that's you, I feel you. I was once one of those people. I thought hope was something superficial. I didn't know hope made a real difference…I was wrong.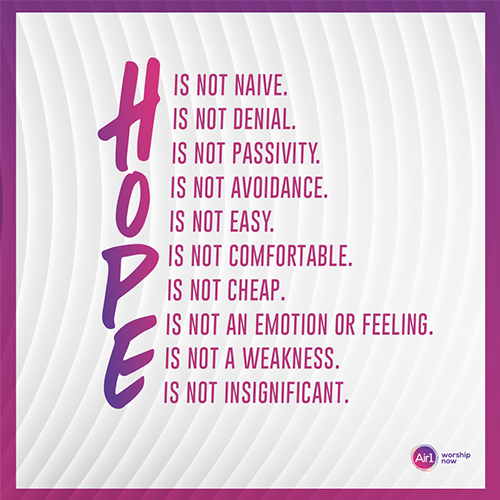 None of those words describes the hope of a believer. In Psalm 33, the writer describes the nature of our hope, "We put our hope in the Lord. He is our help and our shield. In him, our hearts rejoice, for we trust in his holy name. Let your unfailing love surround us, Lord, for our hope is in you alone."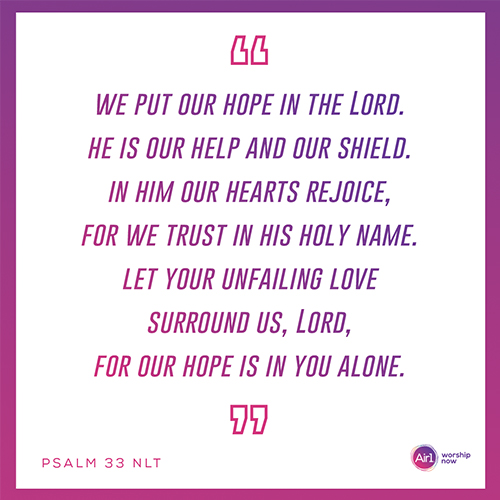 3. Tune into voices that fuel your hope.
In Numbers 13 and 14, we see 12 spies return from the Promised Land with two different reports. Two spies share a message of hope, while ten spies spread a message of fear. The people at large lean into the fearful message leading to 40 years wandering in the wilderness after which none enter Canaan themselves.
The voices we listen to shape our focus, moving us towards hope or fear. Since we all have hard days and varying levels of strength and motivation, we'd be wise to anticipate those difficult days by enlisting the help of hopeful friends.
Reflecting on where hopeful people direct their attention, researcher Jacqueline Mattis writes, "In a world in which we are overwhelmed with options for what we read, watch and listen to, maintaining hope may not require us to go after positive information, but it does require that we avoid negative images and messages."
If research reveals that hopeful people focus on positive information, how much more should we, as followers of Jesus amid great battles, seek out people who encourage us to cultivate our hope?
---
Scott Savage is a pastor and a writer with the coolest last name ever. He leads Cornerstone Church in Prescott, Arizona. Scott is married to Dani, and they are the parents of three "little savages." He helps hurting people forgive others through his Free to Forgive course, and you can read more of his writing at scottsavagelive.com