Posted on Monday, Mar 15, 2021 by Scott Savage

"Why can't I just take the easy route?!"
These are the words my friend texted me as she was wrestling with a growing sense of clarity about what following Jesus was going to lead her to do next. Over several months, she had continued to hear friends and acquaintances ask her about a potential career change. They saw her potential, but she couldn't imagine the possibility. They would open the door and she would quickly shut it.
Later in our conversation, she texted me, "I fear that my inadequacies & brokenness will lead me to colossal failure. But what I fear more is the possibility of the extraordinary. I feel like God is asking me am I willing to trust Him and accept this call?"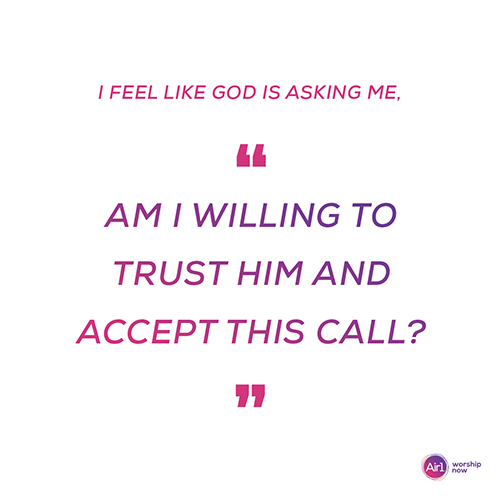 Once we moved past the insecurity, the fear underneath her resistance to obeying God's calling was a recognition of what this step would mean. "What if I take this step and I'm actually called, gifted, and equipped for this? What kind of pain would I have to endure to make this transition? What kind of changes would I have to make? What would I have to let go of?"
I could relate. I was terrified as I considered the pain and change I would face if I stepped into what I felt stirring within me. For several years, I resisted God calling me to full-time pastoral ministry in light of what I had watched my dad endure as a pastor.
The Scriptures describe the growth that is possible when we surrender ourselves to Christ, no matter what the consequences.
In Romans 12:1-2, the Apostle Paul writes, "And so, dear brothers and sisters, I plead with you to give your bodies to God because of all he has done for you. Let them be a living and holy sacrifice—the kind he will find acceptable. This is truly the way to worship him. Don't copy the behavior and customs of this world, but let God transform you into a new person by changing the way you think. Then you will learn to know God's will for you, which is good and pleasing and perfect."
God wants to transform us to be like Jesus. That process occurs through being a living sacrifice, surrendered and open to the methods God would use to bring about that change.
Jesus wanted his disciples to know their future path included surrender and trust. He told his followers, "If any of you wants to be my follower, you must give up your own way, take up your cross daily, and follow me. If you try to hang on to your life, you will lose it. But if you give up your life for my sake, you will save it." Jesus was preparing his disciples for what lay ahead - both for Himself facing the cross, and for them about to face persecution and adversity.
Samuel Chand's book Leadership Pain applies this reality to the growth of leaders. The analogy he explores equates our capacity with growth with our capacity for pain. In a manner that one might remember from math class as a child, Chand writes:
Growth = change. Change = pain. Therefore, growth = pain. Your capacity for growth = Your capacity for pain.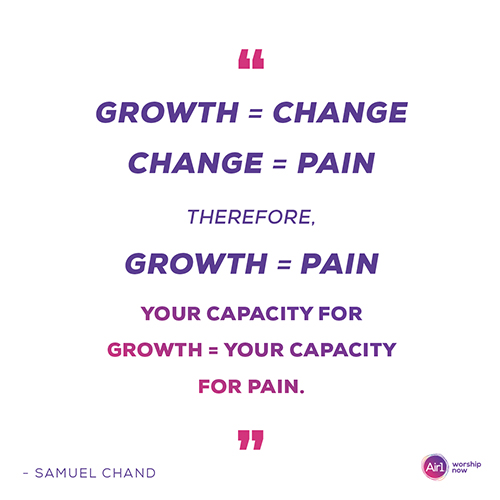 This intense commentary seems counter to our culture's preference for happiness, comfort, and positive self-esteem. But, within the Biblical narrative and church history, we see that growth involves change and change often leads to pain.
That was Jacob's story. He became Israel; he had a new name, a new identity, a new level of faith, and a new sense of mission. But, all of that came as a result of a night of wrestling with God that left him with a permanent limp.
Martin Luther, the recipient of intense persecution for his refusal to compromise his faith convictions, declared, "Affliction is the best book in my library."
So, if you're considering a step and wary of what it will lead to, or if you are in the middle of a difficult season, consider these words of encouragement.
1. If you're in the middle of change and pain, don't give up.
In their song, "My Testimony," Elevation Worship sings "If I'm not dead, You're not done. Greater things are still to come." When God is involved in our stories, we need to endure. We don't always see how God is working in the moment and as long as there is life in us, there's an opportunity for us to be surprised and awed by His mighty power.
RELATED CONTENT: "My Testimony" by Elevation Worship
2. Stop viewing pain as a disqualifier; start viewing it as preparation.
John Wimber, the founder of the Vineyard Church movement, wrote a book entitled, Never Trust a Leader Without a Limp. Wimber viewed brokenness and authenticity as a sign of qualification, not disqualification. When we move through seasons of change and intense pain, we may find ourselves limping like Jacob did.
Our world often looks on followers of Jesus with skepticism and cynicism. Our past pain gives us credibility that easy, comfortable experiences would not.
3. Imagine what lay on the other side of your struggle.
I know how hard it is to see beyond your current struggle. Even as I write this, I've been texting my friend who has been encouraging me about an area where I am discouraged. It's been hard for me to see beyond this current season of pain and change. Reading his words reminded me of a talk I heard two years ago by a man named Jason Jaggard. Jaggard had just finished sharing about the impact his dad had on his own sense of belief and possibility. The closing statement Jaggard made in his talk sits in my office today. I re-read it today. It encouraged me and I hope it encourages you as well.
"There are things meant for you that are currently beyond your imagination. And if you would have the courage to look foolish, if you would have the courage to suffer, if you would have the courage to let go of the judgments we think about ourselves and other people, I wonder what would happen. Maybe you are more powerful than you realize. Maybe you are more talented than you realize. Maybe there is something for you...a story to be told."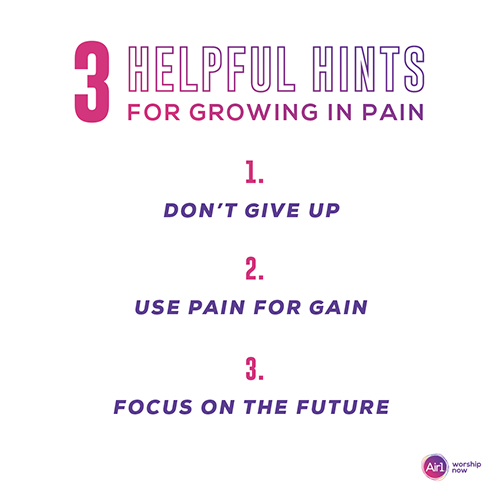 Your story won't always be a story of change and pain. One day, it will be a story of growth, transformation, and eternal impact. The path between today and one day, though, is a step away from comfort and into the uncomfortable unknown.
Take that next step with Jesus today!
---
Scott Savage is a pastor and a writer with the coolest last name ever. He leads Cornerstone Church in Prescott, Arizona. Scott is married to Dani and they are the parents of three "little savages." He helps hurting people forgive others through his Free to Forgive course and you can read more of his writing at scottsavagelive.com