Posted on Monday, Nov 16, 2020 by Scott Savage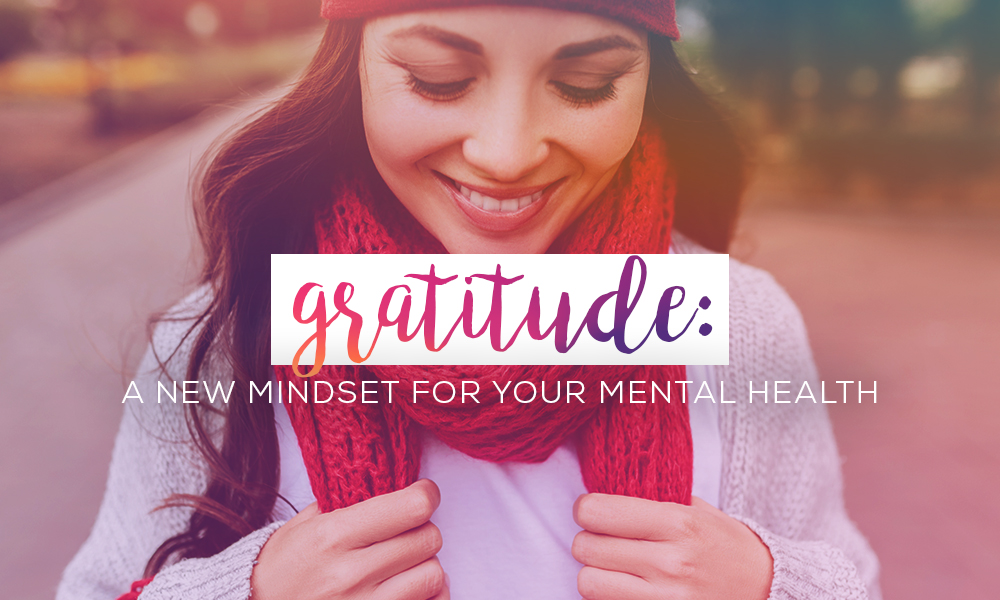 Overwhelmed. Anxious. Stressed. Exhausted.
Any of those words describe your mental state today? I've felt all 4 in the last 48 hours.
But, have you stopped to consider why we're feeling this way?
I started doing some research this week on just how overloaded we are in terms of information. Here's what I discovered.
We encounter 6,000-10,000 ads on any given day.
The average businessperson receives 150 emails per day.
The average American sends and receives 94 texts per day.
Today, each of us will consume 5x more information than we consumed in a day in 1986. The information we consume in one day in 2020 is equal to the information a person consumed in an entire lifetime in the 1400s.
Is it any wonder we are depressed, anxious, overwhelmed, and end up in dark places, considering dark things, when we're trying to process this much information?!
We weren't designed to consume this much information. We weren't intended to be aware of, and try to show compassion to, suffering, and pain around the world all at once.


God's Will for Us Is Simple But Not Easy
Under an avalanche of information like this, it's hard to focus our thoughts, much less experience an abiding sense of God's presence within them. How do you discern God's will when you're overloaded and anxious?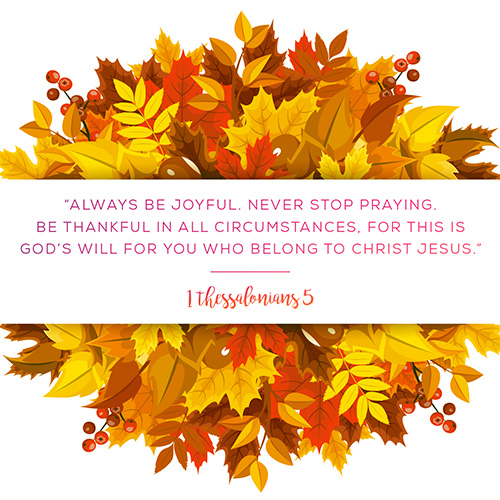 In 1 Thessalonians 5, the Apostle Paul reminds us that God's will for our life includes 3 daily habits. "Always be joyful. Never stop praying. Be thankful in all circumstances, for this is God's will for you who belong to Christ Jesus."
Giving thanks may be the seasonally-appropriate thing to do at this point in the year, but it's especially hard this year. After all that we've experienced, practicing gratitude feels like a lot more work than normal.
Yet, with our mental health far from flourishing, we ought to consider the power of gratitude. In her article, "7 Scientifically-Proven Benefits of Gratitude," Amy Morin, a psychotherapist, highlights how gratitude transforms our health, especially our mental health.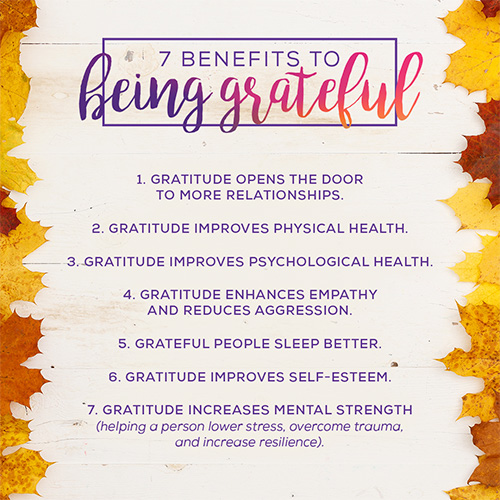 God Uses Gratitude to Transform the Minds of Scripture's Heroes
These seven benefits of gratitude show up in the pages of Scripture, long before there was research to "prove" them. On multiple occasions, we see the power of gratitude to help people rise above incredibly difficult circumstances.
The story of Joseph in the latter part of Genesis is well-known. The famous dreamer is sold into slavery by his brothers, falsely accused by his employer's wife, and forgotten in prison for many years. Yet God uses Joseph to provide food for the nation of Egypt and eventually his entire family. Upon revealing his identity to his brothers, he weeps and there is a great reunion. But, when their father Jacob dies, the brothers are scared that Joseph will finally retaliate for their evil actions. Instead, Joseph responds with gratitude to God. "You intended to harm me, but God intended it all for good. He brought me to this position so I could save the lives of many people. No, don't be afraid." Joseph is able to be grateful for how God worked through such a painful, difficult experience.
In a similar vein, the Apostle Paul begins his well-known letter to the Philippians by describing his grateful viewpoint. Writing from prison, Paul gives thanks for how God is at work. "And I want you to know, my dear brothers and sisters, that everything that has happened to me here has helped to spread the Good News. For everyone here, including the whole palace guard, knows that I am in chains because of Christ. And because of my imprisonment, most of the believers here have gained confidence and boldly speak God's message without fear."

The Gritty Truth About Gratitude
Now, notice that neither Joseph nor Paul denies the hardship of their experiences. They don't call what was hard "easy," nor do they call what was evil "good." They don't call suffering a party.
However, they do see their adversity through the lens of God and the Gospel.
That's what gratitude is - the choice to focus on what God is doing and the good that is coming from the dark, painful, yucky, and sad.
Gratitude has always required discipline and effort. I call it exercising our "gratitude muscle." This year, however, the workout seems harder than ever before. We're weary, frustrated, grieving, and disappointed. We've been through a lot and many of us have lost so much.
But, the same God who was at work through Joseph's sale into slavery, false imprisonment, and injustice is at work through our weariness and loss. The same God who used Paul's persecution, shipwrecks, imprisonment, and injustice to advance the Gospel into places it had never been is at work amidst our disappointment, frustration, and detours to open up doors for the Gospel that have never been present before.
Gratitude doesn't change our circumstances. Gratitude changes our perspective on our circumstances. Gratitude has the power to transform our mental health and our relationship with God. Science affirms it and Scripture teaches it.

A Gratitude Challenge
Here's a challenge for you this month. Open up a new page in your journal or a new note in your phone's notes app. Each day, for the next 21 days, identify and markdown 3 things that you are grateful to God for. At the end of 21 days, you'll have a list of (at least) 63 things. You can then set aside this practice as a special seasonal experience, or you can continue doing it going forward.
Remember, gratitude doesn't promise to change your circumstances. God uses gratitude to change your perspective on your circumstances.
---
Scott Savage is a pastor and a writer who believes he has the best last name ever. He leads Cornerstone Church in Prescott, Arizona. Scott is married to Dani and they are the parents of three "little savages." He is the creator of the Free to Forgive course and you can read more of his writing at scottsavagelive.com.