Posted on Monday, Jan 18, 2021 by Scott Savage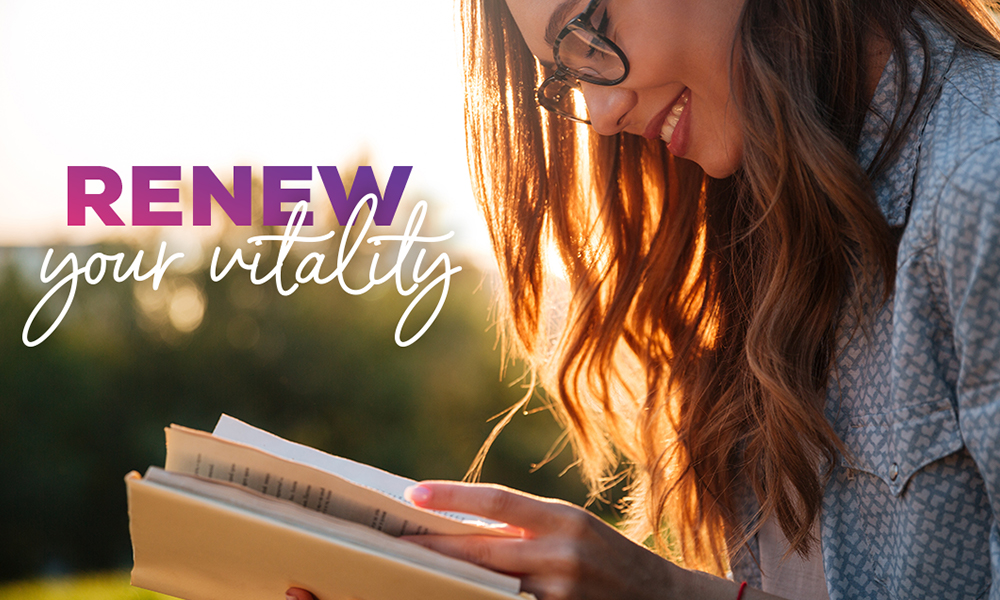 Do you remember the last time you went to the doctor's office?
When making an appointment, we're often asked to arrive 15 minutes early to fill out paperwork. On those forms, we're asked about our medical history - both in the distant and recent past. What we share with our medical providers can serve as flags of things we need to be aware of.
It takes a little bit of work to be able to remember our medical history. For many of us, it takes a lot more work to remember the medical history of our parents. This history is important because the challenges our parents faced in their health often become the challenges we face also.
A similar reality runs through the Scriptures. The challenges and threats to our spiritual wellness have not fundamentally changed. Sure, the first-century world and our twenty-first-century world are riddled with differences. But, many of the fundamental challenges to our spiritual wellness remain the same.
Consider the three following dangers that have beset followers of Jesus from the beginning.
Legalism. This is the path of following Jesus' commands as a means to secure His love and favor. Legalism is a false gospel that the entire book of Galatians is dedicated to denouncing. It moves us away from grace.
Arrogance. We're in danger when our method of following Jesus causes us to step up into arrogance rather than down into humility. We think more highly of ourselves, not with sober judgment. As 1 Peter 5 mentions, we find ourselves being opposed by God.
Obligation. We need to pay attention when our obedience is continually out of mere duty or loveless obligation. While duty and obligation are not bad in and of themselves, they are dangerous as sole motivators, when there is no love behind them.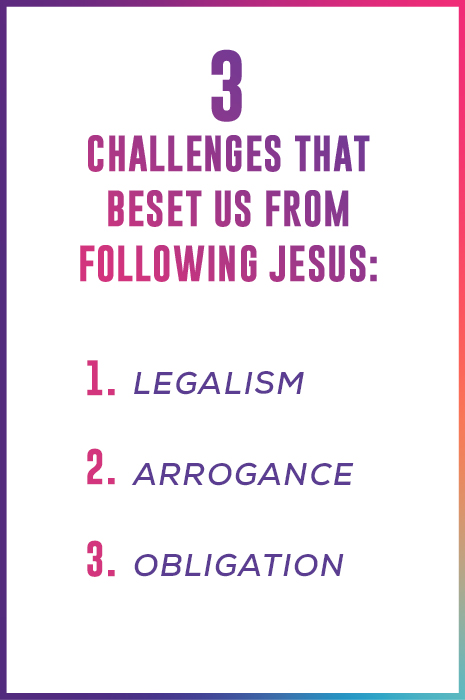 Spiritual unhealth often comes as a result of unavoidable external circumstances. It can also come as a result of conscious decisions, like abandoning healthy practices or allowing our hearts to drift.
In the book of Revelation, the angel delivers a message through the Apostle John to the church in Ephesus.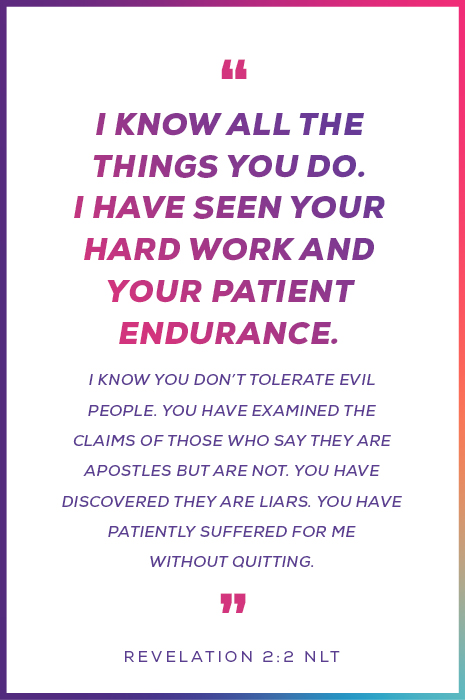 "I know all the things you do. I have seen your hard work and your patient endurance. I know you don't tolerate evil people. You have examined the claims of those who say they are apostles but are not. You have discovered they are liars. You have patiently suffered for me without quitting."
Reading that commendation, one might think this church was a model example of what it means to follow Jesus faithfully in hard times. However, the message doesn't stop there.
"But I have this complaint against you. You don't love me or each other as you did at first. Look how far you have fallen! Turn back to me and do the works you did at first. If you don't repent, I will come and remove your lampstand from its place among the churches."
These believers had begun to compromise the Great Commandment. They weren't loving God or loving people the way they once had, and as a result, they were on a dangerous path.
What's the solution to this kind of spiritual unhealthiness? Go back to what you once did. "Turn back to me and do the works you did at first."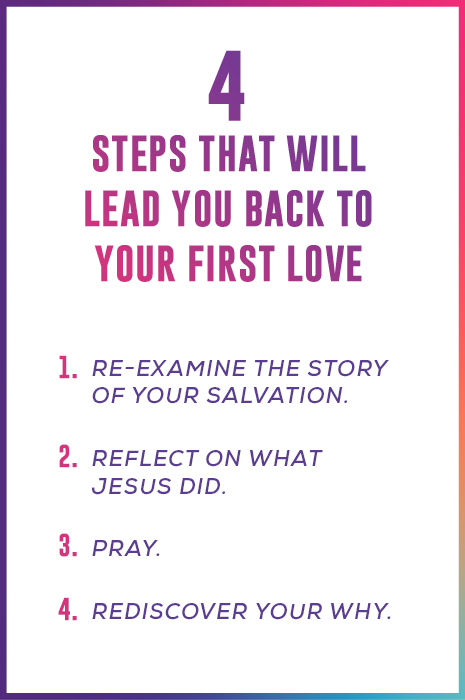 As we begin a new year, these four steps could help you turn back to your first love!
Re-examine the story of your salvation. We lose sight of our "first love" because we lose our wonder at God's love for us and His work in us! Ask yourself, "where was I when I experienced salvation? How different was I - how different was my life back then?"
Reflect on what Jesus did. Read the Gospels in a new translation over the next month. At 3 chapters a day, you can read through Matthew, Mark, Luke, and John in the next 30 days. Ask God each day to give you fresh eyes to see the words and works of Jesus.
Pray, "Restore my joy, Jesus." In her book on joy, written while battling cancer, author Margaret Feinberg wrote, "Joy emanates out of the abiding sense of God's fierce love for us." Pray that God would restore your joy as He reminds you of His love for you. Your future circumstances may not change, but the spiritual fruit of joy can be born in you anyway.
Rediscover your why. Gail Hyatt said, "People lose their way when they lose their 'why'." Go back to why you follow Jesus and why you're doing what is difficult today. Reconnect with God's calling and purpose in your life. Remember the words of Ephesians 2. "For we are God's masterpiece. He has created us anew in Christ Jesus, so we can do the good things he planned for us long ago." Even in your current difficulty, God made you new for a reason. Go back to that reason and allow that purpose to renew your vitality!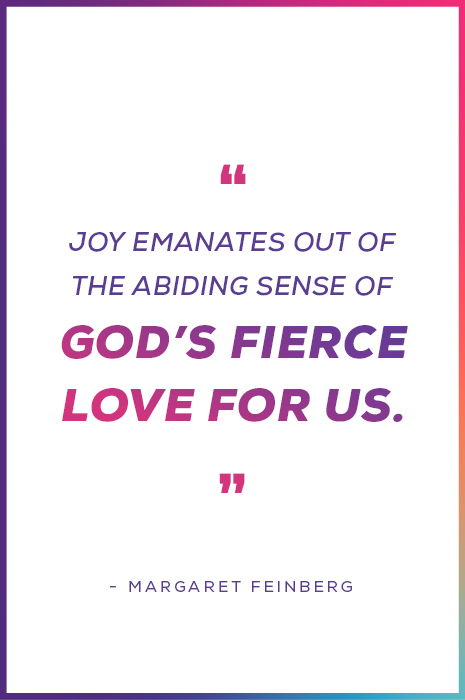 It's a lot easier to become unhealthy than it is to get healthy and stay healthy. But, remember, God has promised to finish what He started in you. He can take you from where you are today to where He wants you to be.
"And I am certain that God, who began the good work within you, will continue his work until it is finally finished on the day when Christ Jesus returns." - Philippians 1:6
---
Scott Savage is a pastor and a writer with the coolest last name ever. He leads Cornerstone Church in Prescott, Arizona. Scott is married to Dani and they are the parents of three "little savages." He is the creator of the Free to Forgive course and you can read more of his writing at scottsavagelive.com